Commentary
Lefty looking forward to Saturday
Originally Published:
June 19, 2009
By
Bob Harig
| ESPN.com
FARMINGDALE, N.Y. -- Like most of the players who got to avoid the monsoon Thursday at Bethpage Black, Phil Mickelson was more than happy to face a long day of golf on a course rendered considerably easier Friday.
And he's looking forward to more of the same conditions Saturday morning as he continues his second round, likely before more bad weather rolls onto Long Island.
"I want to play more golf because we have great conditions to play," said Mickelson, who will resume the second round of the U.S. Open on Saturday morning at the 12th hole. "It is not going to get any easier than it is right now for us. We wanted to play as many holes as we could."
[+] Enlarge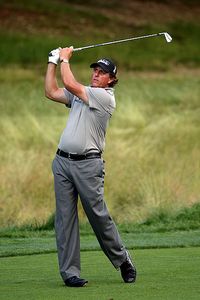 Andrew Redington/Getty ImagesPhil Mickelson completed 11 holes of his second round Friday before play was called because of darkness at 8:24 p.m. ET.
Mickelson, 39, who is the second-ranked player in the world and expects to take a lengthy break from the game after the U.S. Open to be with his wife, Amy, as she begins breast cancer treatment, shot an opening-round 69, then played 11 holes of his second round in even par.
He is at 1 under and begins play Saturday morning 5 strokes behind leader Lucas Glover, who is through 13 holes of his second round.
The plan is to resume the second round at 7:30 a.m. ET. Those who have yet to begin their second round are expected to begin teeing off at 9 a.m. ET.
Unlike Thursday, Friday offered no rain. And by the time the first 78 players had finished the first round, the sun came out and offered up a nice day on a still-saturated course.
Tiger Woods, who played seven holes of the first round in Thursday's rain and shot an opening-round 74, tried to downplay the effect of the tee times. But it was clear afterward that those in his predicament got the worst of the situation.
"Definitely," said Mike Weir, who led the first round with a 64 and is 4 under par, 2 shots behind Glover. "Our side of the draw. … I really got an advantage. And that's the way it works out sometimes. Our side definitely had a big advantage. For us to be able to play in nice conditions all day like this is huge."
Mickelson spent Thursday at the movies and went to the bookstore. "Oh, and I went and worked out, too. Don't want to leave that one out," he said.
And when he teed off Friday morning, he tried to take advantage of soft conditions and nice weather while feeding off the support of an enthusiastic gallery that hoped to carry him along the Bethpage course.
"It's hard to miss it," Mickelson joked. "You know, it's not like they whisper it. But it's very flattering and very cool."
Mickelson has long been a crowd favorite in the New York area and has had great success here. Seven years ago, he finished second to Woods in the Open at Bethpage; he was second to Retief Goosen in 2004 at Shinnecock, won the PGA Championship at Baltusrol (in northern New Jersey) in 2005, then lost the 2006 U.S. Open at Winged Foot to Geoff Ogilvy by a stroke.
Starting on the back nine, Mickelson got to 3 under through 13 holes before making two bogeys coming in to shoot 69 for his opening round. In the second round, he played the front nine in 1 under before a bogey at the 10th hole dropped him into a tie for 12th, which is where he finished the day Friday.
"I started to hit some good shots," said Mickelson, who has two PGA Tour victories this year. "I thought I played pretty well. I didn't putt as well as I would have liked. I didn't think that even though the greens were soft and they were not as fast as normal. They were tough to make because there were some little impressions and so forth, but still that's no excuse. They were rolling very good, and I should have made some of the putts that I missed. Other than that, I felt like I got into the round well and I felt like I was able to focus on the shot at hand and play well."
Bob Harig covers golf for ESPN.com. He can be reached at BobHarig@gmail.com.
SPONSORED HEADLINES
MORE GOLF HEADLINES
MOST SENT STORIES ON ESPN.COM
THE 109th U.S. OPEN

Lucas Glover never made a U.S. Open cut, much less contended for a win. That changed Monday when he captured the 109th U.S. Open. Recap | Leaderboard | Highlights
MONDAY
SUNDAY
EARLIER COVERAGE
USOPEN.com
GOLFDIGEST.com