Commentary
Long's efforts crucial to U.S. Open field
Originally Published:
May 20, 2009
By
Jason Sobel
| ESPN.com
FARMINGDALE, N.Y. -- The brisk morning air sweeps through Bethpage State Park, intermittent raindrops suggesting a prospect of further unsavory conditions throughout the day. It is the type of early-season weather that would leave most private golf clubs in this part of the country largely empty, members consumed by a fervent desire to practice their passion only in warm, sunny surroundings.
Not at Bethpage, though. On this day, four of the municipal facility's five tracks -- the Blue, Red, Yellow and Green courses -- are bustling with golfers eager to prove that overcast 50-degree April temps can be considered ideal circumstances for a leisurely round of golf.
[+] Enlarge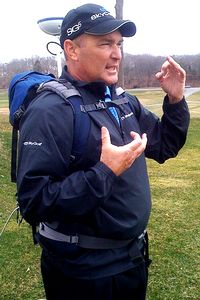 Jason Sobel for ESPN.comPGA Tour caddy Mark Long uses equipment that will measure distances at Bethpage Black down to within centimeters for the 2009 U.S. Open yardage book.
The fifth course, the state's crown jewel known simply as the Black, still hasn't opened for the season, but the devilish host of this year's U.S. Open Championship isn't completely empty. One man is spending the day walking these fairways and greens, measuring and re-measuring while shouldering not a golf bag, but a contraption that makes him look like an extra in the film "Ghostbusters."
His job? Creating the official yardage book to be utilized by players and caddies during the tournament.
The aptly named Mark Long -- after all, the course he's marking for the USGA will play a lengthy 7,426 yards come June 18 -- is no stranger to this role. The longtime caddie for PGA/Champions Tour stalwart Fred Funk estimates he has prepared yardage books for half of all PGA Tour venues this season and nearly 100 courses altogether.
"I think I'm addicted now," Long says with no hint of sarcasm in his voice. "I think I'm a workaholic. It's kind of scary. … I figured it out -- last year I worked 63 weeks. I had to borrow. I used Tiger's technique: If you only sleep five hours a night, you can get a lot of things done."
How much time does he spend mapping out each course?
Let's use the Black as an example. Long was on site each day from Nov. 21-25 walking the grounds east of New York City. He returned in April to double-check his findings. All told, he'll spend roughly 25 hours on the course and another 35-40 compiling all that data onto a half-dozen computer programs which, he contends, give unerring measurements to within centimeters of the actual distance.
That's right. Like so many traditional endeavors, course mapping has become a more precise task thanks to technological breakthroughs which allow for more specific readings. No longer are those who produce such yardage books at the mercy of a compass and pencil; the inexact science has become "deadly accurate," according to Long.
"It really matters at the pro level, as far as hand-drawing something versus using instruments. It's a huge difference for us," says Long, who played for Funk at the University of Maryland before the onetime men's golf coach became a touring pro. To bolster his claim, Long walks the perimeter of the first green on the Black course for an observer, instantly providing the measurements on a handheld device. "The equipment draws it for me, exactly how it is. I'll walk along these slope lines the same way and they'll be put on the computer and you get an exact replica of the green. It beats drawing it by hand."
Another common misconception is that Long will be able to rely on a previous version of the yardage book and simply work off that one. The reality is, with changes to 11 holes, the Black will play markedly differently from when it most recently hosted the event in 2002, meaning he commenced the current project by employing the theory of tabula rasa.
"This is a blank slate," explains Long, who believes this is his ninth time doing a U.S. Open book. "I come out here with my gear. I take a look at the course, kind of understand the routing and all that. Basically, I'm mapping all the basic features on the course -- the tees, the fairway lines, the green outlines, the bunkers, the irrigation that I might use as a reference point for distances."
Long's sole mission, of course, is to provide a definitive duplicate of every aspect of the course that can easily fit into a player's back pocket or a caddie's bib. The ultimate goal is to not only provide yardage from one spot to another, but also navigating aiming points off the tee and detailed contours of the putting surfaces.
[+] Enlarge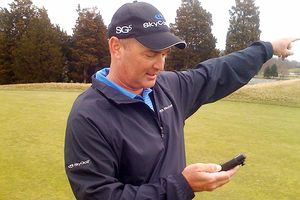 Jason Sobel for ESPN.comBefore his work is complete, Mark Long will spend several days walking the Bethpage Black course to get the most accurate measurements possible for his U.S. Open yardage book.
He maintains there is little pressure to succeed from his fellow loopers -- a finicky bunch if there ever was one -- as the technological advances have taken much of the mystery and interpretation out of the job. Fact is, though, Long has proved he knows these courses so well that even the man in charge of setup for the U.S. Open will rely on his expertise during that week.
"I've got to tell you, Mark is somebody that I sometimes bounce things off, because he's got such a good eye for it, he's been out on tour for years and he understands how players play," says Mike Davis, the USGA's senior director of rules and competitions. "Sometimes I'm just looking to reinforce an idea, saying, 'Hey, Mark, I'm thinking about doing this on a certain day. What do you think about it?' And he's been wonderful in that aspect."
Davis is hardly the only man who will consult Long during the week, either directly or indirectly. At some point on the back stretch of holes at the Black course during the final round of this year's U.S. Open, the eventual winner will consult with his caddie and they'll pore over the yardage book before sticking a clutch iron shot to pin-high or playing a little extra break on a clinching birdie putt. Afterward, that player will hold the gleaming trophy aloft, thanking his caddie and his parents and his agent and the supportive galleries.
He will thank everyone, really, except for Mark Long, the man responsible for creating the yardage book that allowed for the proper decisions to be made on such shots. Somewhere, though, Long will be smiling while no doubt en route to yet another job, content in knowing those long hours spent detailing such accurate measurements helped the champion succeed at Bethpage Black.
Jason Sobel is a golf writer for ESPN.com. He can be reached at Jason.Sobel@espn3.com.
Golf Editor, ESPN.com
Jason Sobel, who joined ESPN in 1997, earned four Sports Emmy awards as a member of ESPN's Studio Production department. He became ESPN.com's golf editor in July 2004.
ROAD TO THE U.S. OPEN

The 2008 U.S. Open was one for the ages when Tiger Woods -- on a broken leg and with a torn ACL -- held off Rocco Mediate in a playoff. What's in store for 2009 when the national championship returns to Bethpage Black on June 18? As the year's second major approaches, ESPN.com will track the story lines leading into the U.S. Open. Tee times
NEWS
PREVIEW
USOPEN.com
GOLFDIGEST.com
MOST SENT STORIES ON ESPN.COM