Commentary
No need to pack it in at 40th birthday
Originally Published:
June 13, 2010
By
Jason Sobel
| ESPN.com
Phil Mickelson isn't thrilled. Oh sure, he'll still smile and wave to the Pebble Beach galleries this week, grateful for their melodic renditions of, "Happy Birthday," but it's not exactly a milestone he's had circled on his calendar.
On Wednesday, the mercurial Lefty will turn 40 -- which is the exact birthday when most people are forced to grin and bear it while eating cake off "Over the Hill" novelty plates and opening gag gifts of Depends undergarments.
"Not excited about it," Mickelson said recently, "but it is what it is."
[+] Enlarge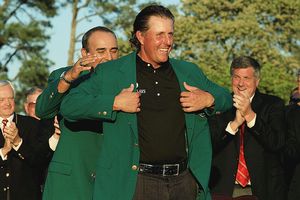 Taku Miyamoto/Getty ImagesCould a victory in Phil Mickelson's final major while still in his 30s portend a successful run at golf's biggest titles over the next decade? Lefty captured the 2010 Masters and turns 40 on June 16, 2010.
Jim Furyk knows just how he feels. One month older than Mickelson, he has already undergone the burden of the Big Four-Oh.
Furyk's professional analysis? "I guess it's better than 41."
Aging is a part of life that no amount of major championship trophies can reverse. There will always be a younger, brasher, hipper generation pushing the older folks closer to the front-porch rocking chair -- or at least the senior circuit.
And yet, the 40-year-old version is hardly something to laugh about in golf. In fact, the game's three hottest players this season are each already there or will be shortly. Allow them to serve as the latest and possibly greatest examples that the number on a player's scorecard isn't dependent upon the one shown on a birth certificate.
• Ernie Els, born Oct. 17, 1969. With victories at Bay Hill and Doral, the Big Easy has enjoyed a rejuvenation this season -- his first with multiple PGA Tour titles since 2004.
• Jim Furyk, born May 12, 1970. Ending a winless drought that dated to the summer of 2007, he has already added his 14th and 15th career wins this year.
• Phil Mickelson, born June 16, 1970. In his final major championship as a thirty-something, Lefty won his third Masters title with a brilliant final-round performance.
In what amounts to a chicken-or-the-egg type of conundrum, it's still appropriate to ask: Are these players succeeding because they have matured or are the more mature guys succeeding because, well, they happen to be pretty good players?
"We've all grown up together," Furyk said of the triumvirate. "Ernie probably had the most success at the youngest age, at the major championship level. Now Phil is probably dominating that. In between, I've been consistent throughout that period, but with fewer major championships than those guys.
"Sometime this year, there's going to be a bunch of young guys who go out and win like four, five, six events in a row and then there's going to be a writer who comes up to me and says, 'Are you afraid the game's going to pass you by, because you're older and you don't hit it that far?' I get that question every year. And then I go out and win two events and all of a sudden everyone is saying, 'Hey, these forty-somethings are really good.' It's just the hot topic at the time."
Follow Sobel on Twitter
Want to know what ESPN.com golf writer and blogger Jason Sobel is up to? Sign up now to track him on Twitter.
Follow him
• Follow ESPN_Golf on Twitter
There is more evidence that those who are already 40 -- a group which also includes past major champions Mike Weir, Angel Cabrera and Retief Goosen -- have a leg up on their peers in more areas than just birthday candles, even if such a discovery comes indirectly.
Buoyed by an artificial hip and an apparent full-body cleansing in the Fountain of Youth, Tom Watson contended into the weekend at Augusta National two months ago at the ripe ol' age of 60. Just a few weeks later, baby-faced and wild-haired Rory McIlroy claimed his initial U.S. title at Quail Hollow while still under the legal drinking age of 21.
It would be careless to base a hypothesis on these two performances alone, but it's a safe bet that the prime age for an elite golfer is somewhere between 20 and 60. We can either split the difference and call it 40 or ask the opinions of those who know such things.
"You know, maturity is very important in the game," Padraig Harrington said. "So probably your prime age is 40, as long as you're physically still there."
Considering the three-time major winner won't even turn 39 until later this summer, he contends, "I don't believe I've hit my prime, no."
"It's always been said that the early-30s is kind of the prime age," Mickelson said. "However, if I look at my game today [versus] where I was five years ago, I see a big difference. And so I feel like I still have my best golf ahead of me."
The record for oldest major champion is held by Julius Boros, who won the 1968 PGA Championship at the age of 48 years, four months and 18 days. In recent years, though, that mark has been precariously perched when Greg Norman, then 53, finished in a share of third place at the 2008 Open Championship and Kenny Perry, four months shy of his 49th birthday, lost in a playoff at the 2009 Masters.
No player, however, has done more lately to dispel any notion of ageism than Watson, who prior to contending at Augusta this year lost in a playoff last summer at Turnberry. A man who won just two of his 39 overall PGA Tour titles after the age of 40, Watson nevertheless understands the values that experience and self-belief can bring for some players later in their careers.
"The prime age varies for people," said Watson, who will be competing at Pebble Beach this week on a special exemption from the USGA. "Certain people shine young and for various reasons -- injury or other reasons -- they become average. Others like me took a while to learn how to win, learn to trust my golf swing. Frankly, I didn't learn to trust my golf swing until 1994, when I learned my secret. The last 16 years it has been a lot of pleasure to play this game, because I know where the ball is going."
Those late-career pleasures often don't come without continued pain in the form of more arduous work toward the final goal.
"A lot of people have said that the older you get, the tougher it becomes to win and that's very true," Els said. "In my 20s, I had so many chances and I didn't quite take them. Now that you're older, you don't get as many chances, so you've got to try to take them when they come. ... I just want to keep working hard. You know, I know what works for me now and that's hard work. So I'll keep working hard and enjoy it every here and there."
Mickelson understands what needs to be done.
"I have to make some accommodations," he admitted. "I've got to realize that after hitting golf balls for 30 some odd years that there's going to be a physical toll, so I've got to be aware of that. Although I haven't felt any effects, I've got to be aware of it."
For now, the exploits of Mickelson, Els and Furyk have made 40 the new, well, whatever the previous optimal age was for a golfer. Like Byron Nelson, Sam Snead and Ben Hogan -- each of whom was born within a seven-month period in 1912 -- the trio is proving that while similar ages may be coincidental, reaching that fifth decade in life actually enhances the games of many elite pros.
All of which leads to one certainty based on recent results: In golf, 40 is now a prime number.
"Hey, do I wish I was 30? Sure. But it's part of the deal," Furyk said. "I know that I still have a lot of good golf left in me. I'm not ready to go away or pack it in anytime soon."
Jason Sobel is a golf writer for ESPN.com. He can be reached at Jason.Sobel@espn.com.
Golf Editor, ESPN.com
Jason Sobel, who joined ESPN in 1997, earned four Sports Emmy awards as a member of ESPN's Studio Production department. He became ESPN.com's golf editor in July 2004.
2010 U.S. OPEN

At a U.S. Open that will likely always be defined by failure, Graeme McDowell turned what was a final-day fiasco for just about everyone else into the highlight of a lifetime. Bob Harig | Championship Central
2010 champion:
Graeme McDowell
Course:
Pebble Beach Golf Links
Where:
Pebble Beach, Calif.
Yardage, par:
7,040 yards, par-71
MONDAY
SUNDAY
SATURDAY
EARLIER COVERAGE
GOLFDIGEST.com
USOPEN.com