Commentary
Steve Williams still working this week
Updated:
June 13, 2011, 3:43 PM ET
By
Bob Harig
| ESPN.com
BETHESDA, Md. -- The sight, undoubtedly, was a bit strange. There was Steve Williams, certainly among the most recognizable of caddies, toting a bag around the front nine of Congressional Country Club -- a bag not owned by Tiger Woods.
[+] Enlarge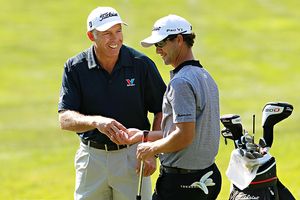 Scott Halleran/Getty ImagesThere's a sight you don't see every day. Tiger Woods' regular caddie, Steve Williams (left), is on the bag for Adam Scott this week at the U.S. Open.
The veteran caddie, who said he has not worked for anyone other than Woods since first looping for him at the 1999 Arnold Palmer Invitational, is doing the same chores this week for Adam Scott at the U.S. Open.
The duo was spotted together for the first time Saturday, and that naturally caused a bit of a stir -- as does just about everything with Woods, who is missing the tournament because of his lingering knee and Achilles injuries.
Woods had signed off on the move when Williams asked for permission, and Scott was not talking like a player who was looking to end the 12-year arrangement.
"Steve's been a good mate of mine for a lot of years out here," said Scott, 30. "He's been a bit of a confidant in my career.
"I thought it would be worth a call, seeing as I'm between guys at the moment. I'm really grateful that he hopped on a plane and came over. I've got to make the most of it. … Hopefully, I can put him in a position he is accustomed to."
That would be contending at a major championship. Williams -- who, before Woods, last caddied for Raymond Floyd -- has been part of 13 of Woods' 14 major titles.
Scott, meanwhile, has rarely contended in a major, although he did in April at the Masters, where, along with fellow Aussie Jason Day, he tied for second, 2 strokes behind winner Charl Schwartzel. Woods tied for fourth, but he hasn't completed a tournament since because of the injuries he suffered in the third round at Augusta National.
He tried to play last month's Players Championship, but withdrew after just nine holes. Last week, the three-time U.S. Open champion officially bowed out of the year's second major, which got Scott thinking about borrowing his caddie.
Follow On Twitter

Want great insight into the game of golf in 140 characters or fewer? Follow @BobHarig.
For some seven years, Scott had used the services of 25-year veteran Tony Navarro, who also has caddied for Greg Norman, among others. Scott and Navarro parted after the Players Championship.
"That's how it goes," Scott said. "It was time to make a change. It sucks because we had a lot of good times. These good things kind of come to an end at some point. You move on."
Navarro has moved on to two-time major champion Angel Cabrera, and Scott has played just three times since the Masters -- and "pretty scrappy" at that.
"But I feel really positive," said Scott, a seven-time PGA Tour winner who also has another 10 international victories. "I can't wait to play this week. I've made no secret that I've tried to put a lot of work into the majors this year and getting prepared right. I've taken a lot more time off before the majors to really knuckle down and work on my game and do the things I need to do. I feel when I get here, I don't have any concerns; I just need to know the course."
In 40 major championships, Scott has just five top-10 finishes. The tie for second at the Masters was his best result, and he was never a back-nine contender at the others.
His best finish in a U.S. Open was a tie for 21st in 2006, and he has missed the cut five times in nine appearances.
"I always think when I'm in position, I do very well," he said. "I've never got to that position [as he did at Augusta] in a major before. I could never put my finger on why. I think there are a lot of reasons why. List is too long. I think I've figured out a better way to prepare now. I'm going to run with that. A lot of it is getting into position. I love that kind of stuff, I've just got to get there more often."
Scott said he has known Williams since turning pro in 2000. Both Scott and Woods used to work with instructor Butch Harmon and often played practice rounds together.
"And there was the Australia-New Zealand thing," Scott said, noting Williams' native country. "We always had a lot to talk about, especially sportswise."
Players use caddies in myriad ways. Some lean on them extensively for help with clubs, reading lines, etc. Some seek psychological advice, some want precise yards. And then there are those who want no help at all, just someone to do the mundane tasks.
Although Woods typically reads his own putts, he has credited Williams often over the years for not being a yes-man, for talking him out of certain decisions.
Bob Harig's mailbag
Who will get off to a fast start to the 2012 PGA Tour season? Should the tour change how it opens the season? Drop ESPN.com golf writer Bob Harig a line, and he'll respond to some of the best questions. Ask Harig a question
One in particular came at the 2008 U.S. Open at Torrey Pines on the 72nd hole, where it was Williams who suggested that Woods hit a hard sand wedge out of the rough for his third shot. Woods had been contemplating a pitching wedge, but Williams figured the only way Woods could get the ball to stop near the front of the green -- and the pin -- was to hit a hard shot that would spin.
The shot worked perfectly, and Woods converted the birdie putt to tie Rocco Mediate, whom he then defeated the next day in a playoff.
Scott joked that he brings in the caddie only "for the very important moments. Then I've got an excuse."
"I generally try and just play my game," he said. "If you pay attention during the round, if I do have a question about something … that's what a good caddie is about.
"But I've just got to play my game. There's a reason why I'm here. I have to trust myself and use my own instincts. A good caddie will know when to step in and say the right thing."
What if this team has a good week at Congressional? Does Scott think he might attempt to make the arrangement permanent?
"No, I don't," Scott said. "He's Tiger's guy, and that's how it is."
Bob Harig covers golf for ESPN.com. He can be reached at BobHarig@gmail.com.
2011 U.S. OPEN
Now that Rory McIlroy owns major championship victory No. 1 at just 22 years old, let the Tiger Woods comparisons commence. Gene Wojciechowski
Championship Central
2011 champion:
Rory McIlroy
Course:
Congressional CC, Blue Course
Where:
Bethesda, Md.
Yardage, par:
7,574 yards, par-71
SUNDAY
SATURDAY
VIDEO
OFFICIAL SITE
MOST SENT STORIES ON ESPN.COM