Commentary
Rory McIlroy rises to Open challenge
Updated:
June 17, 2011, 1:43 AM ET
By
Bob Harig
| ESPN.com
BETHESDA, Md. -- Any lingering effects from the Masters apparently will have to wait until Rory McIlroy has a Sunday lead at a major championship.
There certainly were no signs of distress Thursday at Congressional Country Club, where McIlroy played like nothing bad ever happened at Augusta National in April, as if shooting 65 in the first round of the U.S. Open was no big deal.
Of course, it is.
McIlroy, the Northern Irishman who blew a four-shot lead at the Masters, got right back into the major championship mix, hitting an impressive 17 of 18 greens in regulation on his way to a three-shot first-round lead.
[+] Enlarge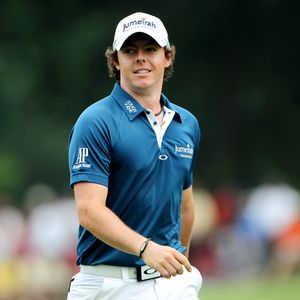 Jamie Squire/Getty ImagesAs impressive as his opening-round 65 was at the U.S. Open on Thursday, it wasn't Rory McIlroy's lowest score in the first 18 holes of a major. That came at the 2010 British Open, where he shot a major championship record-tying 63 at St. Andrews.
And think, now, about what this kid, just 22, has done over the past four major championships.
He shot a major championship record-tying 63 at St. Andrews last summer to hold the first-round lead in the British Open, only to be undone by a gale-induced 80 in the second round. He still finished third.
At the PGA Championship, he was tied for the lead on the back nine and had a 15-footer for birdie on the 72nd hole that would have put him in a playoff. He tied for third.
The Masters, of course, became legendary for his Sunday meltdown. Tied for the lead on the 10th tee, he shot 43 on the way to an 80 and finished 10 strokes behind winner Charl Schwartzel.
And here he is again, contending at his fourth straight major.
Perhaps it is a stretch to suggest that he could be going for a Rory Slam, but nobody else has been in the mix in as many majors over the same period. He has shot an opening-round 63 at St. Andrews, an opening 65 at Augusta and now a 65 at Congressional.
"The best one was definitely St. Andrews," he said. "I played really good there, had a real chance of shooting the lowest round ever in a major. I felt as if today I had a chance to do that as well. It did slip into my mind playing the fifth hole [his 14th], if I could birdie that and birdie three of the last four coming in. ... Didn't quite work out that way, but this is definitely up there."
And he did it with shots flying all around him. Dustin Johnson and Phil Mickelson were in his group, and spent the day looking for golf balls and scrambling for par. Johnson had 75 with a triple-bogey on the 11th hole. Mickelson, who celebrated his 41st birthday, had 74.
Follow On Twitter

Want great insight into the game of golf in 140 characters or fewer? Follow @BobHarig.
"Lefty" hit just five of 14 fairways and did well to shoot 3 over par, saying, "This could have been a day that easily could have been in the 80s, and somehow, I was able to get myself around and be only 3 over."
All he could do was catch glimpses of McIlroy.
"The game's easy when you hit it straight and make every putt," Mickelson said. "It's a wonderful game. No course is too tough when you hit it like that. He played terrific. It was fun to watch, although I didn't see much of it."
What is most impressive at this point is how McIlroy has appeared to put Augusta in his rearview mirror, peeling out and leaving the dust behind.
Few in the game's history have handled a brutal defeat such as that in the classy manner in which McIlroy did that Sunday evening. The very next week, he honored his commitment to play a tournament in Malaysia and contended to the final hole, finishing third.
"I don't know if it says I've got a very short memory. ... I took the experience form Augusta and I learned a lot from it," he said. "I feel like these good starts in the majors are very much down to my preparation and how I prepare for them.
"But you're going into the U.S. Open. You can't be thinking about what's happened before; you've got to just be thinking about this week and how best you can prepare and how you can get yourself around the golf course."
His results have been spotty since the Masters (he missed the cut as defending champion at Quail Hollow), but a kick in the pants from Jack Nicklaus at the Memorial two weeks ago and an eye-opening trip to earthquake-ravaged Haiti last week have provided motivation and inspiration.
McIlroy met Nicklaus a few years ago, they've kept in touch and the game's greatest major winner has offered advice. At the Memorial, Nicklaus basically gave McIlroy some good-natured grief for not getting it done at the Masters.
Bob Harig's mailbag
Who will get off to a fast start to the 2012 PGA Tour season? Should the tour change how it opens the season? Drop ESPN.com golf writer Bob Harig a line, and he'll respond to some of the best questions. Ask Harig a question
"He said to me, 'I'm expecting big things from you,'" McIlroy said. "It's a nice pressure to have, knowing that the greatest player ever at the moment thinks that you're going to do pretty good."
Now McIlroy faces a different kind of pressure, a pressure not faced by some previous major champions such as Schwartzel or Martin Kaymer or Louis Oosthuizen or Graeme McDowell.
The past four major champions basically got it done the first time they had the chance. That pressure, for them, is gone. Surely they want to win more majors, but the green jacket, U.S. Open trophy, Claret Jug and Wanamaker Trophy are secure in their possession.
Those players, it also could be argued, were not necessarily expected to win major championships. Certainly not when they won them.
For McIlroy, there have been high expectations for years, and the last year of major championships only turns up the heat. The longer he goes without one, the tougher it gets, as players such as Sergio Garcia and Colin Montgomerie, among others, painfully discovered.
Now here is McIlroy going after it again.
"There is a willingness to stretch your neck out, jump right back in," said 1993 PGA champion and ESPN analyst Paul Azinger. "He is all about jumping back onto that big stage and getting in that arena. I think it's impressive."
Now comes the hard part again, sleeping on the lead, playing with the pressure. But he's given himself a three-shot cushion, and some words from Nicklaus ought to be prominent in his mind.
"He emphasized so much to me about not making mistakes," McIlroy said. "He said people lost a lot more majors and gave them to him than he actually won. That's how he felt. It was a good piece of advice to have."
No doubt.
Bob Harig covers golf for ESPN.com. He can be reached at BobHarig@gmail.com.
SPONSORED HEADLINES
MORE GOLF HEADLINES
MOST SENT STORIES ON ESPN.COM
2011 U.S. OPEN
Now that Rory McIlroy owns major championship victory No. 1 at just 22 years old, let the Tiger Woods comparisons commence. Gene Wojciechowski
Championship Central
2011 champion:
Rory McIlroy
Course:
Congressional CC, Blue Course
Where:
Bethesda, Md.
Yardage, par:
7,574 yards, par-71
SUNDAY
SATURDAY
VIDEO
OFFICIAL SITE