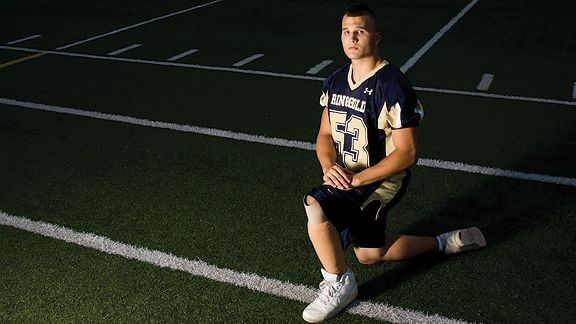 When Bill Marnich Jr. straps on his shoulder pads and buckles up his helmet, he's doing more than preparing for a football game. The Ringgold (Monongahela, Pa.) senior offensive lineman is proving he has no limitations.
Born with a defect that prevented the bones below his left knee from growing correctly, Marnich plays football with a below-the-knee prosthetic left leg. He's broken the prosthetic too many times to count, has torn his ACL and dislocated his kneecap, but none of it has deterred him from getting back on the field.
Entering his second year as a starter (and as the only returning varsity starter on Ringgold), the 6-foot-4, 205-pound Marnich has developed a reputation for being the grittiest player on his team. His lateral movement isn't the best, but he knocks down bigger, faster, stronger defensive linemen using better technique and a relentless motor that's been on display since he was a baby.
Marnich learned how to walk minutes after being fitted with his first prosthetic at nine months old. The trainers told his parents it usually takes people three days to become accustomed to their new leg. But after Marnich was fitted for his at 9:30 in the morning, he was scampering around the playground by 10.
"From the first day when we put the leg on he's never looked back," says Bill Marnich Sr.
Marnich's ability to learn quickly continued, and by the third grade he was playing midget football and Little League baseball. While his ailment hasn't stopped him from excelling in sports, it has made him more susceptible to injury.
When he was in middle school playing baseball, Marnich dislocated his left kneecap running the bases. On the first day of sophomore football practice, Marnich tore his left ACL when he was hit by a teammate and planted awkwardly on his left leg.
His prosthetic has also broken numerous times during football games and practices.
"After my [ACL] injury, I didn't have confidence pushing off my knee," Marnich says. "It still bothers me because my kneecap is not normal."
And yet his determination outweighed his anxiety. Marnich worked through months of physical therapy and was rewarded when he earned a starting guard job as a junior. Now he's got a new challenge.
After playing guard his entire career, Marnich was asked to learn how to play center before his senior season. It was an uncomfortable transition because Ringgold plays almost exclusively out of the shotgun and Marnich had never snapped in a game before. But instead of questioning the move, he embraced it.
Marnich spent the summer lifting twice a day, practicing with the team, helping train the younger offensive linemen and learning how to snap. As is his style, Marnich did it all by example: running from drill to drill, being the first in line and going 100 percent.
"He's somebody other people can emulate," says Ringgold coach Lloyd Price. "He's probably the smallest lineman on the field, but he's also probably the toughest."
That's always been Marnich's calling card, and he hopes other kids with prosthetics learn from him. Marnich knows it can be hard for kids to look past their challenges, but he doesn't feel it needs to be.
"It never crossed my mind on the football field or anywhere else," says Marnich, who carries a 3.8 GPA and hopes to play football in college. "Yeah, I have a fake leg, but I still play.
"People say 'I can't believe you can come out and do it' but it's not hard to me. I'm just another football player."
A football player with no limitations, that is.
Brian A. Giuffra covers high school sports for ESPN RISE Magazine.