Discussion
Latin American Confidential
Latin American Confidential
Baseball isn't just America's pastime; it's the Americas' pastime. Check out these questions that we posed to 100 foreign-born, Latin American ballplayers.
MOST IMPORTANT LATINO PLAYER EVER? This question elicits 24 names, but one sticks out: Roberto Clemente, with 38.3 percent of the vote. (Pedro Martinez, with 15 percent, was a distant second.) Most players mention Clemente's historic arc -- first Hispanic MVP, first Hispanic Hall of Fame inductee -- before quickly ...

Read full story
ESPN The Magazine: April 4, 2011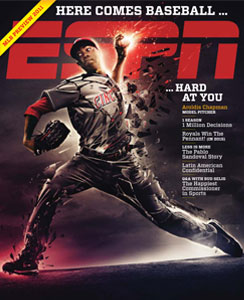 Check out ESPN The Magazine's April 4, 2011 issue below.
MLB Preview
Go/Play