Commentary
Healing process
The world champ discusses her recovery from a violent attack in her native Australia
Updated:
June 17, 2011, 12:32 AM ET
By
Alyssa Roenigk
| ESPN The Magazine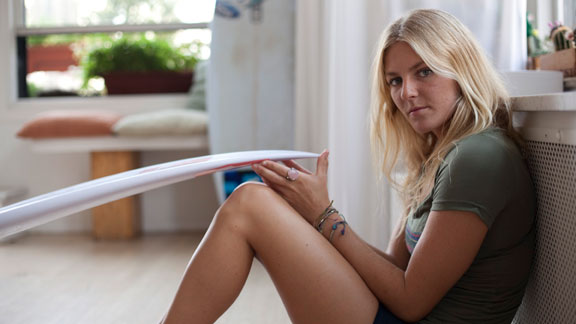 Timothy Devine for ESPN The MagazineSteph Gilmore owned women's surfing -- until an attacker derailed her dynasty.
This story appears in the June 27, 2011 issue of ESPN The Magazine. Read Alyssa Roenigk's Q&A with Gilmore here.
ON DEC. 26, 2010, Steph Gilmore was invincible. The then-22-year-old Australian known as Happy Gilmore had just been crowned ASP world champ for the fourth year in a row and was fresh off her third straight Triple Crown title. She was weeks away from announcing a move to Quiksilver, where she would become teammates with 10-time world champ Kelly Slater and earn the richest contract in women's surf history: $5 million over five years. Her confidence and happiness were at an all-time high.
On Dec. 27, her life changed.
That night, Gilmore arrived home to her apartment building in Coolangatta, New South Wales, a town on Australia's Gold Coast. She parked in the lot next to her building and began walking toward the stairs that lead to her second-floor apartment. She remembers noticing the shoeless man wandering around the carport. She hadn't seen him before, but she'd just returned from three months on the road. Maybe he was a new neighbor or a friend of someone who lived in the building. She told herself there was no reason to be afraid.
As she neared the stairs, her eyes met his for an instant. "As soon as we made eye contact, I got a feeling something wasn't right," she says. She took a few more steps, then turned and saw the man sprinting toward her, a metal bar in his hand. Before she could react, he was on top of her. The first blow cut a deep gash in the top of her scalp. She put her left arm up to protect her head. The second strike broke her wrist and tore ligaments in her hand. Gilmore's neighbors, including an aunt who lives next door, heard screams and rushed to help. They found Gilmore covered in blood and her attacker riding away on a BMX bike. He was caught later that night, but his motives for the attack remain unclear. He didn't try to steal Gilmore's purse, and he has never said if he knew who she was. Gilmore was taken by ambulance to a local hospital and kept overnight for observation. "I was horrified," she says. "I didn't want to go home ever again."
The next day, surrounded by family, she returned to her apartment. For the next few weeks, she left only for trips to the doctor and the police station. Friends took turns staying with her, calming her when she awoke from nightmares. "I didn't sleep in a bed by myself for months," says Gilmore, who has since moved into a gated complex. Only recently has she felt confident enough to spend time alone.
At first, Gilmore focused on the physical aspects of recovery. Doctors said her wrist would take eight weeks to heal, which meant not surfing until a few days before the Roxy Pro at the end of February, the first contest of the 2011 season. No worries. She was a world champion; she could compensate for a bum wrist, and emotionally she could separate life and sports. She was certain the moment she paddled out for her first heat, the excitement she felt a month before would return. Then she faced reality. In the contest, she couldn't find her rhythm or tap into her confidence.
"I wanted to show everyone that I was back, that I was the same Steph as before," she says. "But deep down, I knew I wasn't." And she didn't know how to bring the old Steph back.
According to James Bauman, a sports psychologist at the University of Virginia, the traits that helped Gilmore become the best women's surfer in the world have made it difficult for her to deal with the emotional aftermath of the attack. Although he has not worked with Gilmore, Bauman treats other top athletes and consults for the military. "Elite athletes see themselves as special and not vulnerable," says Bauman. "They have to, especially in a sport like surfing, where they face danger all the time. They think you can't be an ordinary person and be the best in the world. But when something like this happens, they realize they are."
In her 2009 book, Getting a Grip, tennis star Monica Seles details struggles with PTSD (post-traumatic stress disorder) after a crazed Steffi Graf fan stabbed her in the back during a 1993 tournament, when she was 19 and ranked No. 1 in the world. "A split second of horror fundamentally changed me as a person," she writes. After the attack, Seles dropped out of the sport for more than two years and struggled for more than a decade with eating disorders.
Gilmore knows that surfing is about trusting instincts, being aware of surroundings and predicting what will happen before it does. But if those instincts failed her in a carport in Coolangatta, maybe they would fail her in a contest. "If you were to draw a 'before' and 'after' picture, it'd be pretty clear," she says. "He knocked the confidence out of me. And he knocked the happiness out."
An athlete who suffers a serious sports injury, such as a concussion or torn ACL, may also feel the effects of PTSD. To boost confidence, an athlete must regain the perspective she had before the trauma. "When athletes talk about losing confidence, they aren't talking about the problem," says Bauman. "That is a symptom of the problem. The problem is that they've lost perspective." In Gilmore's case, Bauman says, "she has to go back and find that spot where she last felt unbeatable."
With two contests left in the season, Gilmore sits in fourth place, out of contention for the world title. Now that the pressure is off, she says she is able to focus on healing instead of contest wins. She is working with a sports psychologist to help confront fears. She allows herself to feel sad and angry. And she is learning a tough lesson: that even world champions are human.
"I'm human? I don't want to be human," she says. "I want to be a superhero."
Alyssa Roenigk is a senior writer for ESPN The Magazine.
ESPN The Magazine senior writer
Alyssa Roenigk is a senior writer for ESPN The Magazine and ESPN.com whose assignments covering action sports, Olympics and football have taken her to six continents and caused her to commit countless acts of recklessness. In 2012, she joined the X Games TV broadcast team and ordered additional pages for her passport. Follow her on Twitter at @espn_alyssa.
ESPN The Magazine: June 27, 2011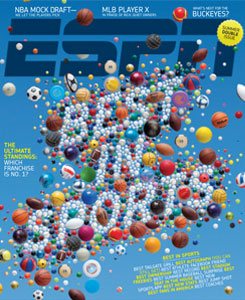 Features
Columns & Go/Play