Commentary
Grooves part and parcel of larger issue
PACIFIC PALISADES, Calif. -- Phil Mickelson wasn't looking for an advantage when he played the now-controversial Ping Eye2 wedge last week that led to a very public dustup with fellow pro Scott McCarron.
[+] Enlarge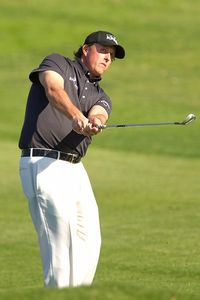 Allan Henry/US PresswireAfter stoking the fires at Torrey Pines by playing the Ping Eye2 wedge, Phil Mickelson decided to take it out of his bag for this week's Northern Trust Open.
He was looking to pick a fight.
And he was looking to prove a point: Rule changes need to be more transparent.
"My point has been made," Mickelson said Wednesday morning at Riviera Country Club, where he is preparing for the Northern Trust Open.
"I won't play it [at the NTO]. But if these governing bodies cannot get together to fix this loophole, if the players stop using this wedge, which would stop the pressing of the issue, then I will relook at it and put the wedge back in play.
"I hope that the governing bodies get forced into changing their rule-making process. I hope there's more transparency amongst the governing body. We cannot have one man [USGA Senior Technical Director Dick Rugge] have arbitrary power over this.
"It's frustrating for the players, and it's extremely frustrating for the manufacturers, and I hope all this stuff gets changed.
"If it doesn't ... I will immediately put the club back in play."
Mickelson said that the wedge, which PGA Tour commissioner Tim Finchem said earlier Wednesday increases spin by about 20 percent over other approved wedges but is entirely legal under the new rules, doesn't actually help his game much at all.
He said he grew up using V-grooves, is comfortable with them and doesn't need to put any more spin on the ball.
But the new rule change, which he called "ridiculous" on more than one occasion, hurts his fellow players who must now make a big adjustment, and manufacturers, who have had to spend millions of dollars adjusting to the new rules.
Mickelson entered the press room just as Finchem was wrapping up a tense, highly technical news conference on the issue.
Finchem called it "a narrow issue" but acknowledged that the situation must be dealt with in a timely manner.
Tuesday night Finchem met with the players competing in the NTO to discuss the issue. He came away feeling that the meeting was productive for both sides.
Harig: Careful, careful

Amid all the grooves talk, it's ironic that one of the most vocal critics -- Scott McCarron -- could be considered a rules bender himself, as ESPN.com's Bob Harig notes. Story
He also acknowledged that the PGA Tour bore some responsibility for the situation getting out of control last week because it did not "get in front of players with the details of this rule" as it had two years ago when it instituted its drug policy.
"We didn't act with that level of intensity," Finchem acknowledged. "In my view, had we, the reaction to the use of these clubs might have been lesser.
"But that is what it is and I think we're about to close the chapter on that part of the history of this."
For Mickelson, educating the players about the new rule is only one part of his complaint.
While he was annoyed that the new rule hadn't been sufficiently explained and discussed with the players, he was "very upset" over the way the rule was changed in the first place.
"I'm very upset about the way the rule came about, the way one man [Rugge] essentially can approve or not approve a golf club based on his own personal decision. This has got to change.
"To come out and change a rule like this, that has a loophole [allowing the Ping Eye2's manufactured before 1990], has got to change. It's ridiculous. It hurts the game, and you cannot put the players in a position to interpret what the rule has meant."
While Finchem hoped the issue could be resolved in a timely fashion -- either by Ping CEO John Solheim agreeing to modify the language in the current contract with the USGA, which has twice been adjudicated, or through what could be a "cumbersome process" in which an independent committee studies the issue and makes a recommendation -- Mickelson's goal seemed to be to keep the issue front and center so the larger issue of how rule changes are implemented can be addressed.
In the short term, a gentleman's agreement among the players would of course be the easiest solution and the most likely outcome.
After the news conference, Finchem acknowledged that exact topic had come up at the players' meeting Tuesday night, but couldn't comment on whether he endorsed that course of action.
"Well, if I tell them that [to have a gentleman's agreement] then it's a rule and we cannot enact a rule that differs from the USGA without going through the process," he said.
"I can't tell them, as commissioner, I can't tell them directly. Because by definition they have to abide by direction of the commissioner."
Ramona Shelburne is a columnist and reporter for ESPNLosAngeles.com.
ESPN.com
Senior writer for ESPN.com
Spent seven years at the Los Angeles Daily News