Commentary
Lakers ace their test on the road
Updated:
December 21, 2009, 3:26 AM ET
By
Dave McMenamin
| ESPN Los Angeles
The Los Angeles Lakers spent the first quarter of the season doing their best impression of a kid out of college who is doing well for himself -- the job, the car, the girlfriend -- but who has yet to move out of his parent's house.
[+] Enlarge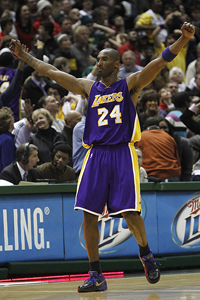 Morry Gash / Associated PressKobe Bryant reacts after making the winning shot in overtime against the Milwaukee Bucks on Wednesday. The Lakers won, 107-106.
After playing 17 out of their first 21 games in Los Angeles, it was time for them to leave the nest and get out into the real world.
After handling the Pistons in Detroit, 93-81, on Sunday to finish their first extended road trip of the season with a 4-1 mark, there is little question the Lakers have the best record in the league because they are the best team in the league, not because they played the most home games.
"We're a very good road team," Kobe Bryant said Saturday in New Jersey. "I don't think anybody came at this looking like the road was going to be a test to see where we really are. We know how to play on the road."
If you had to point to one part of last season when the Lakers really established themselves as the favorite to win it all, it would be their six-game trip in late January through early February, when they marched through Minnesota, Memphis, New York, Toronto, Boston and Cleveland and came out with a 6-0 record.
That team was still reeling from the 39-point NBA Finals loss to Boston and looking to prove that it really was the best. This team already believes it's the best.
Phil Jackson even intimated that if the Lakers don't win the championship with a roster this stacked, it might be time for him to retire.
So this trip was more about the execution of an assignment than a statement.
"They know that the onus is on them to win these games," Jackson said on Saturday before L.A. used a 57-36 second-half edge to blast the Nets by 19. "We're going out here to win all four of these games on this trip. Obviously, Utah was a turnaround. Back-to-backs we know are not going to be easy, but it's something we have to do if we're going to match or stay ahead of the pack."
Yes, Utah -- the only blemish on the trip. But the loss was easy to shrug off: It was the second night of a home-road back-to-back, Kobe was playing his first full game with the fracture in his right index finger plus he had the flu. If that weren't enough, Utah had revenge on its mind after losing to L.A. in the playoffs last season.
The Lakers' only other road loss this season came against Denver, another team they eliminated in the postseason and another tail end of a home-road back-to-back. The Lakers looked terrible in that game too, lying down when Carmelo & Co. pushed up the intensity to make a second-half run. Then again, Pau Gasol wasn't back in the lineup yet for that game, so it's hard to judge.
The Lakers wear a champion's bull's-eye on their backs. How else can you explain 17,190 people packing into IZOD Center to see the 2-25 hometown Nets play while a blizzard that shut down virtually every airport in the Northeast raged outside the arena on Saturday night?
The Nets metabolized the fan energy, even leading 48-46 at the half. When the team that lost an NBA-record 18 games in a row to start a season is thinking upset, you know there's something to the hunter-becoming-the-hunted phenomenon.
History supports it. Nine of the past 10 championship teams saw their regular-season road records decline by an average of 3.6 fewer wins the next season. (The only team to buck the trend was the 2005-06 Spurs, who won 29 games on the road a year after winning 21.)
The breakdown:
Lakers
2009-10: 7-2
2008-09: 29-12


Celtics
2008-09: 27-14
2007-08: 31-10


Spurs
2007-08: 22-19
2006-07: 27-14


Heat
2006-07: 17-24
2005-06: 21-20


Spurs
2005-06: 29-12
2004-05: 21-20


Pistons
2004-05: 22-19
2003-04: 23-18


Spurs
2003-04: 24-17
2002-03: 27-14


Lakers
2002-03: 19-22
2001-02: 24-17


Lakers
2001-02: 24-17
2000-01: 25-16


Lakers
2000-01: 25-16
1999-00: 31-8

The Lakers are talented enough to take a trip in stride. And they are strong enough as a team to allow each player to have his own approach to time away from home.
Lamar Odom says the key is to "keep it simple, on and off the court."
Ron Artest agrees with the on-court part. "Keeping it simple means fundamentals and effort, and everything else will follow," Artest said, but he has his own view of the off-court rules.
"You don't have to stay indoors all the time," he said. "You might be in a city like Utah and want to go see the outside mall, or you're in New York you might want to go see a show."
(Bryant apparently subscribes to that theory: He was spotted at the trendy Tribeca restaurant Upstairs at Bouley with Jay-Z on Friday.)
There are still going to be challenges.
The Lakers have 16 more back-to-backs this season, including four games in five days starting this week. In January, they visit Boston, Cleveland, Dallas, San Antonio and Portland, where they haven't won at the Rose Garden in what seems like eons.
This trip did have its stumbles -- the Milwaukee bench outscoring L.A.'s reserves 50-15; Andrew Bynum looking lethargic and grabbing only 20 rebounds in five games; and the Lakers letting off the gas in the fourth quarter in Motor City -- but as Bryant said, the missteps will become opportunities to improve upon as the season rolls on.
Dave McMenamin covers the Lakers for ESPNLosAngeles.com.
ESPN.com
Cavs and NBA writer for ESPN.com
Covered the Lakers and NBA for ESPNLosAngeles.com from 2009-14 and the NBA for NBA.com from 2005-09
Syracuse University graduate