Commentary
Did you know?
Updated:
February 12, 2010, 6:00 PM ET
By
Arash Markazi
| ESPNLosAngeles.com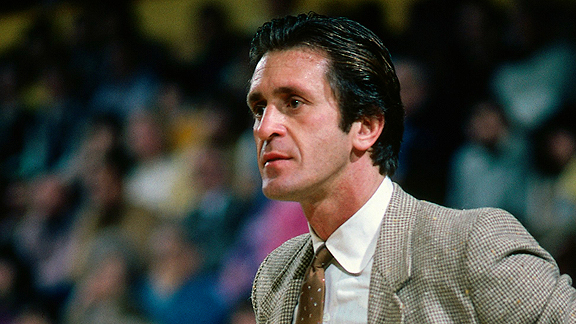 Dick Raphael/NBAE via Getty ImagesPat Riley coached the All-Star team eight times in nine seasons, inspiring the "Riley Rule" that stipulates coaches can no longer coach an All-Star team in consecutive seasons.
Though they occupy opposite ends of the NBA spectrum, both the Lakers and Clippers will be well-represented at All-Star Weekend in Dallas. Chris Kaman joins Kobe Bryant and Pau Gasol as a Western Conference All-Star. Eric Gordon might join Shannon Brown in the Slam Dunk Contest on Saturday (pending results of his dunk-off with DeMar DeRozan), and Gordon will also play in the Rookie Challenge on Friday night.
Did you know this will be only the fourth time since 1980 that both the Lakers and Clippers will have at least one player on the All-Star team? Did you know Brown is only the fourth player in Lakers history to participate in the Slam Dunk Contest? Or that only Brent Barry (who won in 1996) is the only Clipper to win the Slam Dunk Contest?
That's right; it's Lakers-Clippers All-Star trivia time. And we're just getting started:
From 1992-96, no Laker played in the NBA All-Star Game. Outside that time span, the 1978 NBA All-Star Game was the only one that did not feature a Lakers player.
Before the advent of the so-called "Riley Rule," which stipulates that the same coach cannot coach an All-Star team in consecutive seasons, Pat Riley coached the Western Conference team eight times in nine seasons from 1982 to 1990, posting a 3-5 record. During the Lakers' "Showtime" era (1980-91) the East actually held a 3-9 record against the West.
The most recent Clipper to start an NBA All-Star Game was World B. Free in 1980. Randy Smith is the only Clipper to be named All-Star Game MVP (1978).
The Clippers have had more players in the All-Star rookie game from 1995-2004 (10) than players in the NBA All-Star Game (9) from 1970-2010.
Michael Cooper is the only Laker to participate in both the 3-Point Contest (1987) and the Slam Dunk Contest (1984). No Laker has participated in the 3-Point Contest since 1987, when both Byron Scott and Cooper were in the competition.
The Lakers have had 27 players selected to the NBA All-Star Game. Jerry West tops the list with 14 appearances. Kareem Abdul-Jabbar was selected 13 times, and this year Bryant passed Elgin Baylor (11) to join Magic Johnson with 12 All-Star selections.
From 2000-09, a Lakers player was selected MVP five times. All five were either Bryant or Shaquille O'Neal. The last Lakers MVP not named Bryant or O'Neal was Johnson in 1992.
There have been four instances when co-MVPs have been named. Three of the four times, a Lakers player was involved. Last year, Bryant shared it with O'Neal. In 2000, O'Neal was co-MVP with Tim Duncan, and in 1959, Baylor of the Minneapolis Lakers shared MVP honors with Bob Pettit.
Los Angeles has hosted the All-Star Game four times, and the East and West have split them with two victories each.
One Laker has won MVP of the Rookie Game: Eddie Jones, who took home the honors in the 1995 game when it was White versus Green.
Abdul-Jabbar was selected for and played in the All-Star Game in 11 straight seasons, and 13 of 14 years from 1976-89. He never won the All-Star MVP during his career, despite playing in 19 games.
Johnson and Abdul-Jabbar combined for one of the best one-two punches in All-Star Game history, highlighted by their performance in 1984. Abdul-Jabbar posted 25 points and 13 rebounds and Johnson had 15 points, 22 assists and nine rebounds. Neither would win the MVP, however, as Isiah Thomas (21 points, 15 assists and 4 steals) took home the honors after the East beat the West 154-145 in overtime.
Nick Van Exel, Eddie Jones and Bryant are the only Lakers to go from playing in the rookie game to playing in the All-Star Game.
O'Neal was voted to seven All-Star Games as a Laker but due to injuries did not play in three of them, the most missed by any Laker. West (1969), Johnson (1989) and Cedric Ceballos (1995) are the only other Lakers to be voted to the game and miss it because of injury.
Chris Kaman is only the fifth different Los Angeles Clipper to play in the All-Star Game. The other four are Norm Nixon (1985), Marques Johnson (1986), Danny Manning (1993, '94) and Elton Brand (2002, '06).
Nixon is the only player to be selected to the All-Star Game as both a Laker (1982) and a Clipper (1985).
One of the most memorable renditions of "The Star-Spangled Banner" was sung by Marvin Gaye at the 1983 NBA All-Star Game, held at the Forum in Inglewood.
The Lakers have had two or more players selected to the same All-Star team 45 times. The combinations of West and Baylor, as well as Abdul-Jabbar and Magic Johnson, were selected to play in the same All-Star Game nine times.
Two Clippers have made the All-Star Game in the same year only once, in 1976, when they were the Buffalo Braves and both Bob McAdoo and Randy Smith were selected.
Bryant (30) needs two steals to pass Thomas (31) for second place in career steals during the All-Star Game, and eight to pass Michael Jordan (37) on the list. Bryant (307) also needs 12 points to pass Baylor (318) for sixth place on the career scoring list during the All-Star Game, and 15 points to pass Julius Erving (321) for fifth place on the list.

Arash Markazi is a writer and columnist for ESPNLosAngeles.com
ESPNLosAngeles.com
Former columnist and writer after five years with Sports Illustrated
Markazi has also written for Slam, King, Vibe and Playboy
On board of directors for Jim Murray Memorial Foundation.