Commentary
Mosley shooting for the unforgettable
The confident "Sugar" Shane wants to deliver a night of full of memories
Updated:
April 30, 2010, 8:16 PM ET
By
Arash Markazi
| ESPNLosAngeles.com
LAS VEGAS -- "Sugar" Shane Mosley is smiling. It's the image we've grown accustomed to seeing the past 20 years from the 38-year-old boxer and one of the most universally liked athletes in sports.
He's sitting on a stage at the MGM Grand usually reserved for lounge acts for the final news conference for his mega fight with Floyd "Money" Mayweather on Saturday. At the moment, it's Mayweather's father, Floyd Mayweather Sr., who is putting on an act of his own.
"You're scared now as I'm talking to you," Mayweather Sr. says to Mosley, seated to his left. "You're scared because I'm the one who brought him into this world, and you're scared of me. You are in trouble."
[+] Enlarge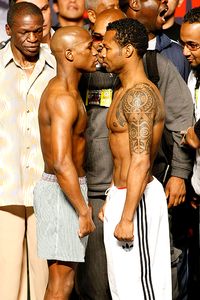 Ethan Miller/Getty ImagesFloyd Mayweather Jr. puts his 40-0 record on the line against Shane Mosley and his 46-5 record.
Through Mayweather Sr.'s nonsensical rant and during similar bombastic speeches by other members of the Mayweather family, Mosley simply sits there and smiles, occasionally nodding his head and raising his eyebrows at his father, Jack Mosley, seated in the front row and taking in the entire show.
"All great fighters mislead you," Mosley's trainer Nazim Richardson said afterward. "Shane Mosley is smiling like he wants to sell you car insurance. Look at these posters of Shane grinning and smiling, and you look at Shane against [Antonio] Margarito [a ninth-round TKO], and you wonder if that's the same guy. All great fighters have that form of deception."
So what are we to make of Mayweather Jr.'s flash and bravado leading up to the fight where he has thrown more than a few low blows; criticizing Mosley for his relationship with Victor Conte, the Bay Area Laboratory Co-operative founder who accused Mosley of using performance-enhancing drugs in 2003, and no longer using his father, Jack, as his trainer?
"I don't care what Floyd does; everybody has an uncle who is a pure idiot but can fix the hell out of a carburetor," Richardson said. "He's the dumbest guy on the floor, but get him under the car and he's a genius, so you have to respect the genius. I respect the genius that is in the ring, and that's what Floyd brings to the table."
As Mosley walks through the MGM Grand, past the ring in the lobby, past the posters in the casino, past the television screens at the bars and restaurants, he is constantly reminded of the biggest fight of his career. This is the moment he had been waiting for his entire life. He's always felt he was the best pound-for-pound fighter, but now, in the twilight of his career, he has the opportunity to prove it if he can do something no one has ever done before -- beat Mayweather.
"This is the type of fight I've always wanted," Mosley said. "You get what you ask for, and now it's time for me to perform."
---
Sitting in the bowels of the MGM Grand hours before his weigh-in, Mosley smiles when he's asked whether he thought he'd still be boxing close to his 40th birthday when he was a 9-year-old kid sparring with his dad at the boxing gym in Pomona, Calif.
"Oh yeah, oh yeah," Mosley said. "I knew I'd still be doing this. I always knew that. This is what I love to do."
Mosley reels off some of the names of boxers he used to spar against in Pomona -- Mike Weaver, Richie Sandoval, Albert Davila, Gary Williams and Hector Lopez -- admitting that constantly sparring against Hispanic fighters in Southern California gave him a "Mexican mentality" in the ring. "I had to be like a black Mexican when I went in there," he said.
There is still a distinctive old-school mentality to Mosley and his training, which never seems to stop even when he's told to take a vacation. After his fight with Andre Berto was canceled in January when the earthquake in Haiti claimed the lives of several of Berto's family members, Richardson told Mosley to take a few weeks off and go on vacation. A few days later, Mosley sent Richardson a picture from his vacation in Bolivia with an unknown imposing figure beside him.
"I'm looking at the big guy standing next to him and I say, 'What, they gave you a bodyguard down there?'" Richardson said. "He said, 'No, I've been down here sparring him, I'm sparring that guy.' I said, 'You're on vacation, man,' and he said, 'I know, but they have a gym down here; they don't have any ropes, but they have a cement ring.' That's the type of guy he is."
Jack Mosley, who trained his son until 2008, isn't surprised to hear he never takes time off. He's the same way, and so is his father. Boxing, he says, is in Mosley's blood.
"Shane trains year-round; he doesn't stop training," Jack Mosley said. "My father's 91 and still gets around and moves around, so age doesn't mean anything. I'm 65, and I'm still hitting the bags, jumping around and jumping ropes, doing all kinds of stuff. [Age is] just a number right now for the Mosleys."
---
The image of Mayweather (40-0 with 25 knockouts) lying out on the floor after getting knocked out is a sight almost impossible to imagine. Not only has it never happened, it's never come close to becoming a reality. But it's the picture Mosley (46-5 with 39 knockouts) sees at the end of the fight that he believes will cement his legacy in the ring, although he, too, admits it's hard to envision.
"That will be very shocking," Mosley said. "Like I said, I'm going for a knockout, but I'll be shocked to see him laying there on his back like that. I'll be happy but shocked. I'd also be concerned because the times I have knocked out people, a lot of the fighters don't come back the same. Fighting me can be hazardous."
IT'S L.A., AND IT'S LIVE

For more coverage of the complete Los Angeles sports scene, visit ESPNLA.com. »
Mosley, who has won world titles in three weight divisions, says he doesn't to beat Mayweather to prove anything to himself but knows he must win Saturday to prove to the world and his critics what he has continued to preach for the past two years, that he's the best pound-for-pound fighter despite the argument that that mythical title is a two-man race between Mayweather and Manny Pacquiao.
"It's important to be viewed in a certain way in the history of the game of fighting," said Mosley, who has taken and passed eight blood and urine tests by the United States Anti-Doping Agency, which marks the first time any boxing commission has allowed for blood testing for steroids. "It's my goal to fight the both of them. My goal is to fight Mayweather and then fight Pacquiao. If I win this fight and the next one there's not much more I can do."
While Mosley is almost a 4-to-1 underdog in the fight, he believes he has gotten inside Mayweather's head and intimidated him leading up to the fight, not just with the jabs Mayweather knows he'll see in the ring but also with Mosley's inability to get caught up in Mayweather's verbal jabs out of the ring.
"I can see him getting a little bit more nervous and scared," Mosley said. "We were at the press conference and I didn't notice it but someone told me when I turned around to face him, he was already getting ready to block me and flinched. That's interesting. He should know I'm not going to lay a hand on him until the bell rings. I'm trying to protect him from not falling down the steps. I don't want him to fall down or get hurt until May 1."
When that bell rings Saturday night, however, Mosley will do everything in his power to make sure Mayweather falls.
"I've been crying about being in a big fight for a long time," Mosley said. "This is everything I asked for. I'm in a mega fight and I can finally show everyone I'm best fighter and show who Sugar Shane Mosley really is. Like Roy Jones said, y'all must have forgot."
If Mosley can actually knock out Mayweather, he won't have to worry about anyone ever forgetting him again.
Arash Markazi is a columnist and reporter for ESPNLosAngeles.com.
ESPNLosAngeles.com
Former columnist and writer after five years with Sports Illustrated
Markazi has also written for Slam, King, Vibe and Playboy
On board of directors for Jim Murray Memorial Foundation.