Commentary
Cain Velasquez's UFC win opens door
Updated:
October 24, 2010, 4:11 PM ET
By
Arash Markazi
| ESPNLosAngeles.com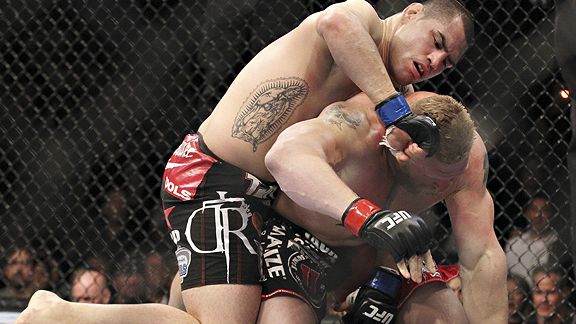 Ed Mulholland/ESPN.comIf you thought this Cain Velasquez was frightening, wait until you see the new and improved version.
ANAHEIM, Calif. -- It might not have been Herb Dean who had to stop the unrelenting fists of Cain Velasquez to Brock Lesnar's head. Maybe it was Lesnar who told the referee enough was enough.
It was difficult to hear over the roars of the crowd of 14,856 at the Honda Center. Lesnar didn't show up to the postfight news conference. When UFC president Dana White was asked whether Lesnar verbally submitted, he said, "I don't know for sure, but from what I saw, he did." Directly after the fight, Velasquez said that Lesnar had verbally tapped, but he later said he couldn't hear.
Either way, Velasquez's performance was certainly dominant enough for more than one person to call for the bell before the first round was over. In a matter of 4 minutes and 12 seconds, Lesnar's title reign was over and Velasquez became the sport's first heavyweight champion of Mexican descent.
It was the kind of win that solidified Velasquez as not only the new champion but perhaps the new "baddest man on the planet." The UFC had bestowed that title on Chuck Liddell and Lesnar, but the sport might soon reap the rewards if Velasquez can hold the moniker longer than his predecessors.
As much of a draw as Lesnar was at the box office and for pay-per-view buys, Velasquez opens the door to a Latino community that still favors boxing but could change alliances to follow a champion such as Velasquez, the Salinas, Calif., native who, at 28, has the potential to be the most dominant the sport has seen.
"I've never, ever seen anything like that," said Tito Ortiz, who has been in the UFC since 1997. "You see Cain Velasquez move, and he looks like a 190-pound guy moving around at 240. He's the best guy in the world right now. He actually made Brock look really, really slow."
White, who has been the president of the UFC for nearly a decade, said he had never heard a crowd as loud as the one in Anaheim, cheering for Velasquez and waving hundreds of Mexican flags after the fight.
"I think it's a big deal," White said. "Obviously, anyone who was at the weigh-ins sees he has a huge following. The guy has become a huge star overnight, and he looked incredible."
Velasquez entered the Octagon to the music of Vicente Fernandez and raised his green, white and red mouthpiece after the fight.
"I feel great being the first Mexican heavyweight champion," he said. "I'm going to keep representing. This belt belongs to the Mexican people here in the United States and in Mexico."
The only issue for the UFC now is bringing out Velasquez's personality, which is nonexistent outside of the Octagon. Combat sports, more than any other, are built on the drawing power of individuals. They live and die by the personalities of their champions. It's partly why Lesnar drew so well and why Oscar De La Hoya was one of the biggest draws in boxing history.
Velasquez will begin traveling that road next week when he goes on George Lopez's talk show. It's the kind of appearance he is still uncomfortable making but will need to become adept at if he and the sport are to continue to grow.
"I want Latinos to get involved in this sport," Velasquez said. "I think we bring a fighting style that we don't stop. … It's the kind of fight people want to see and the kind of fight I bring."
Arash Markazi is a columnist and writer for ESPNLosAngeles.com. Follow him on Twitter.
ESPNLosAngeles.com
Former columnist and writer after five years with Sports Illustrated
Markazi has also written for Slam, King, Vibe and Playboy
On board of directors for Jim Murray Memorial Foundation.
MORE LOS ANGELES HEADLINES