Commentary
Jeff Craven enjoys life as a hauler
The behind-the-scenes NASCAR veteran does his job well for Jeff Burton's crew
FONTANA, Calif. -- Jeff Craven has one of those jobs you're never supposed to notice. The better he does it, the easier it is to take it for granted.
You've probably never seen him. And no, he's not related to Ricky.
But Craven probably spends more time with Jeff Burton's No. 31 CAT car than just about anyone.
Every week, for at least 36 weeks a year, Craven is entrusted to transport Burton's car and backup car from racetrack to racetrack, with a stopover at the Richard Childress Racing garage in Welcome, N.C., in between.
Some weeks, it's a relatively short haul. Martinsville is an hour away. Last week's race in Bristol, Tenn., was three hours from garage to garage.
But on weeks like this one, Craven and backup driver Jim Pollard are quite literally living in the hauler.
"We're like a bunch of brothers," Craven said. "I see these guys more than I see my own wife and my family. That's a shame to say. But we're together more than we are at home."
[+] Enlarge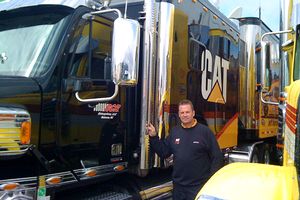 Ramona Shelburne/ESPNLA.comJeff Craven says it took about 40 hours to drive from the East Coast to Fontana for this week's race.
By the time I caught up with him on a drizzly Friday morning at Auto Club Speedway, Craven had already driven six times as many miles as Burton will in Sunday's Auto Club 400, and his week was only halfway through.
He'd driven home to Welcome from Bristol on Sunday night, unloaded and then reloaded the truck at the garage Monday, left by midnight and arrived in Fontana by noon Wednesday.
Thursday he represented the team in a parade through local neighborhoods. Friday and Saturday he'll work as a mechanic during the practice rounds. Sunday, he'll watch the race from the truck and rest up for the cross-country drive home.
"It took us about 40 hours and was exactly 2,500 miles," he said. "But with two drivers it's not as bad as you think."
Forty hours behind the wheel of a truck hauling 80,000 pounds of racecar and millions of dollars of equipment across the country doesn't sound like much of a fun road trip unless Guy Fieri is riding shotgun yelling out all the best diners, drive-ins and dives off Interstate 20.
But after five minutes of talking with Craven, it's easy to see why "it's not as bad as you think."
"This is a job for me, but I'm just a fan of racing like anybody else," he said. "You have to be. You have to have that passion to do this as much as we do it."
He has been around racing for the better part of three decades after getting his start as a mechanic with Richard Petty.
Growing up, all he ever wanted to do was be around cars, fix them up and make them run fast. He was the kind of kid who figured out how to hook the engine of a lawnmower up to his bicycle, who became the kind of teenager who built his first go-kart by the time he was 14.
A few years later, he restored a '55 Chevy and a Corvette, then found his way to Petty's garage to learn how to professionally do the job that came so naturally to him.
At that time in the sport, no one did only one thing. Crews were small, tracks were relatively close together, and you really had to love it to put up with the kind of salaries they made back then.
So it's hard to say exactly which jobs Craven has held along the way, because he's pretty much done some of everything. Officially, he has been a mechanic and carried tires for Petty, a gasman for Jeff Gordon and driven a truck for Burton's team. But part of the reason Craven has been around the sport so long is that he can step in to just about any role and fill it well.
And as always, the better he does it, the less you notice him.
"He does everything you put on him. He doesn't ever not know how to do it," said Burton's crew chief, Todd Berrier.
"People like him who've done it for a long time, they've had to do it all. There wasn't such a thing as just a truck driver back then. I mean, there used to be like five people on a crew. Then there was 35. Now there's hundreds. We have 409 employees to facilitate our four drivers.
"So pretty much, the later that people came into this thing, the more specialized they are. And the earlier they came into it, the more they want to be involved in more aspects of it."
Craven is 50 now, a little too old to be a gasman or work on the pit crew anymore.
"You gotta be an athlete for that," he said.
And the requirements for this role?
"Focus," he said seriously.
"And cushions," he tried --but failed -- to say seriously, gesturing to his backside.
[+] Enlarge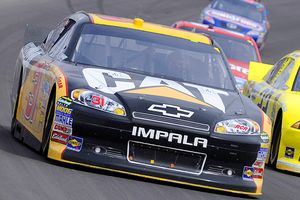 Sam Sharpe/US PresswireJeff Burton, driving above, entrusts Jeff Craven to transport Burton's car and backup car from racetrack to racetrack.
Craven -- affectionately called "Rooster" by the rest of the crew --and Pollard -- nicknamed "Tiny" because he's anything but -- trade off on 11-hour shifts, stopping every three hours to check their load or make a pit stop.
The truck has a bed, a tiny shower, kitchen, satellite television and Internet, so they rarely stop at hotels or sitdown restaurants.
"You get to learn all the good stopping points around the country, but the reason they're good stopping points is because you know you can park there," he said. "I mean, you can't park that thing just anywhere."
On the way out to California, the truck got 4.69 miles a gallon. It has two 150-gallon tanks so Craven had to stop just three times for gas. Each fill-up costs around $800-$900.
Craven doesn't have a lot of favorite pit stops. There's a Cracker Barrel near Anniston, Ala., he tends to stop at, a good truck stop in rural Pennsylvania. But mostly he opts for gas stations with a Taco Bell, Wendy's or Subway attached to them so he can do two things in one stop and get to the next track faster.
"You could do better, but we really just want to get from Point A to Point B," he said. "I like driving, but it's my job. We don't want to stop if we don't have to. I mean, I've driven near the Grand Canyon hundreds of times and never been in there.
"Every time, I'm like, 'I've got to see that one day.'"
Though his main objective is to get where he's going as fast as possible, the road is the only part of his job where Craven finds himself in the spotlight.
Fans come up to the truck and ask to take pictures with the car. Truckers radio in wanting to know how the car's running and where they're heading.
"Oh yeah," he said, laughing. "Truckers are calling into the CB all the time. Like if you blew a motor [as Burton did at Daytona], they'll ask what happened and how you worked it out.
"Fans always ask if Burton's in there. I think because they see movies like 'Days of Thunder' where everyone is in the hauler."
They're surprisingly polite, too.
"Oh yeah, they'll wait for us to get up and come outside in the morning before knocking on the door," he said.
"I think people just want to get up close to the car and talk to you because they're usually so far up in the stands. I like being able to do that."
And always, the better he does it, the less you notice.
Ramona Shelburne is a reporter and columnist for ESPNLosAngeles.com. Follow her on Twitter.
ESPN.com
Senior writer for ESPN.com
Spent seven years at the Los Angeles Daily News
MORE LOS ANGELES HEADLINES