Commentary
Inviting someone over
The Dodgers have been adept at adding mainstay talent in a cost-efficient way
Updated:
February 13, 2010, 5:12 PM ET
By
Tony Jackson
| ESPNLosAngeles.com
Traditionally, by the first couple of weeks of February, baseball's proverbial hot stove has all but burned out. Fans have turned their attention to the fast-approaching start of spring training, and the most compelling news of the offseason in terms of blockbuster trades and big-name free-agent signings is already lining the bottoms of birdcages.
This is also the time, though, when the groundwork is being laid for some of the best stories of the coming months.
The terms "minor league contract" and "non-roster invitee" aren't exactly attention-grabbing. But to front-office officials, the free-agent signees to whom those terms apply can prove monumentally important over the course of a season, and many of those players are signed in these final days before camp opens as a last-ditch effort to fill holes that are still open or add depth to positions where the organizational talent pool is shallow.
For those who have been following the Dodgers in recent days, the signings of Alfredo Amezaga, Jeff Weaver and Brian Giles were less than eye-popping. They are merely three of the 24 non-roster invitees the Dodgers will bring to spring training when it begins next week. But you don't have to go back too many years to see what a big impact moves of this type can have on a team, and that impact is almost always positive.
Because of the very nature of those players' contracts, there is little risk involved -- most of them have escape clauses in their contracts and have every intention of invoking those clauses if they don't make the opening day roster, so the team has nothing to lose by stocking up on such players. Moreover, such players are rarely kept around long enough to have a negative impact if they aren't performing at an acceptable level.
Here is a look at five players the Dodgers brought to spring training on minor league contracts in the past six years who became mainstays, along with several others who deserve at least some mention:
Discovered by Dodgers Asian operations director Acey Kohrogi and Japan-based scout Keiichi Kojima, there was initially some disagreement within the front office on whether Saito, who had been both a starter and a closer in his 14 seasons with the Yokohama BayStars, should even be brought to the attention of general manager Ned Colletti. Ultimately, Colletti saw him, signed him to a minor league deal and invited him to camp.
Saito didn't make the opening day roster and initially was assigned to Triple-A Las Vegas. But before the minor league season even began, former Cy Young Award-winning closer Eric Gagne underwent his second elbow surgery in less than a year, and Saito was called to the majors to take Gagne's roster spot.
It took a couple of months and seven blown saves by fill-in Danys Baez before Saito worked his way into the full-time closer's role. But once he did, he quickly became one of the top closers in Dodgers history. The role would remain his for the next 2 1/2 seasons. In that time, he would make an All-Star team in 2007, finish eighth in Cy Young voting and seventh in Rookie of the Year balloting in 2006 and, most importantly, save 81 games for the Dodgers while posting a 1.95 ERA in 180 relief appearances from 2006 to 2008.
Although he was already in his late 30s by the time he came to the Dodgers, Saito was bound by the rules of any other rookie when it came to service time. Thus, for his entire, three-year stint, the Dodgers got all that performance for a grand total of $3.8 million.
Saito missed two months of 2008 with an elbow sprain, and by the time he returned in mid-September, Jonathan Broxton had taken over the closer's role. Saito would leave as a free agent the next winter, but to date, he qualifies as the greatest -- and perhaps least likely -- non-roster discovery of the Colletti era.
He didn't have the staying power of some of the others on this list, but in Lima's lone season with the Dodgers, the phenomenon known as Lima Time had a huge impact, and it wasn't only for that one game. You know the one, that five-hit shoutout of St. Louis in Game 3 of that year's division series that finally got the "haven't won a postseason game since 1988" noose from around the Dodgers' necks -- it would also be the team's only postseason win until 2008.
Lima came to the Dodgers that spring as a virtual afterthought, a former 20-game winner who appeared to be on the downside of his career. But he wound up tying for the team lead in victories that year, going 13-5 with a 4.07 ERA. Perhaps more importantly, with his gregarious, fun-loving personality, he brought an immeasurable sense of levity to a clubhouse that had been famously uptight in the underachieving years before his arrival.
Lima even sang the national anthem before one game that season.
In a move that turned out to be prescient on the part of then-GM Paul DePodesta, the Dodgers didn't make much of an effort to re-sign Lima that winter. Lima ended up back in Kansas City, from whence he had come, then spent 2006 with the New York Mets.
Those two seasons, in which he went a combined 5-20 with a 7.26 ERA, turned out to be the final ones of Lima's career. The Dodgers did get one, final, nostalgic look at Lima Time, though. That came in an interleague game at Kauffman Stadium on June 15, 2005, when he held them to a run on five hits over eight innings in a Royals win, punctuating each of his six strikeouts with emotional fist pumping.
[+] Enlarge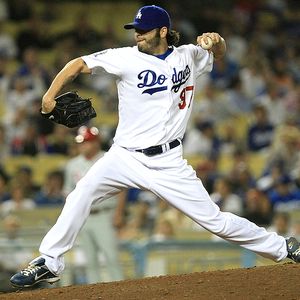 Jonathan Moore/Getty Images Joe Beimel was a solid reliever for the Dodgers but probably will be most remembered for cutting his hand before the 2006 playoffs.
Probably the first thing Dodgers fans remember when they think of him is that incident just before the 2006 National League Division Series, when Beimel put himself out of commission for those playoffs by cutting his hand on a broken glass while drinking in a Manhattan bar in the wee hours of the morning less than 48 hours before the series opener. But that is hardly fair to the mild-mannered left-hander.
Besides that momentary hiccup before a series the Dodgers probably weren't going to win anyway, Beimel made 216 mostly solid relief appearances as a situational lefty for the Dodgers over a three-year period, posting a 3.04 ERA and holding opposing left-handed batters to a .232 average. This from a guy who, in the two years before coming to the Dodgers, had struggled to find his way after being released by Pittsburgh, the organization that originally drafted him, at the end of spring training in 2004.
Dodgers assistant GM Kim Ng, who does most of the minor league contracts, gets the credit for bringing in Beimel that first spring as a long shot to make the club.
Beimel had something of a quirky, laid-back personality, and new manager Joe Torre and his coaching staff never seemed to completely warm to him after they took over in 2008. That, and the fact that one-third of the runners he inherited wound up scoring that year, might have been the reason the Dodgers didn't make a serious attempt to bring him back in 2009, even after Beimel had a career-best 2.02 ERA in '08. He signed with Washington and now pitches for Colorado.
He was officially listed as 33 years old when he reported to camp that year, but his graying hair, weathered face and roundish frame suggested otherwise, and there was little reason to think he would be much more than a spring training memory.
There was even less reason to believe that he would become what he became, which is one of the team's best pinch hitters for the next three seasons and a guy who seemed to have a knack for coming through in clutch situations. If he is remembered for nothing else, it will be for a ninth-inning, game-tying hit off San Francisco closer Mike Stanton on Sept. 29, 2006. After that game, which the Dodgers went on to win, Saenz admitted it was the biggest hit of his career. The Dodgers beat the Giants again the next afternoon to clinch a playoff spot.
Saenz's overall average wasn't earth-shattering. In a total of four seasons with the Dodgers, he hit .263, including .250 as a pinch hitter. By the time the Dodgers let him go after the 2007 season, he was clearly done -- he went to camp with the Mets the next spring, but never played in the majors again.
But in his first three seasons, Saenz hit .290 with 12 home runs and 99 RBIs in just 183 at-bats with runners in scoring position. In 2005 alone, when he was pressed into more regular playing time at first base while Hee Seop Choi famously foundered, Saenz batted .333 with six home runs with RISP (Source: ESPN Stats & Information).
In 609 total at-bats in his first three years with the Dodgers -- the rough equivalent of one season for an every-day player -- Saenz hit 34 homers and drove in 133 runs.
Another Pirates castoff, one who was 26 and had never pitched above Double-A, but the Dodgers had been watching him for a while. Major league scout Ron Rizzi had been the first to notice him, in one of his regular visits to Belisario's native Venezuela, and the Dodgers signed him when he became available, but the move was hardly noticed at the time.
Belisario didn't help himself by arriving late to camp, the usual visa problems cited as the reason, and he was one of the first players to be reassigned to the minor league side. But after he pitched two nearly perfect innings in a Cactus League game against Oakland on March 30 -- one batter reached on an error -- he was invited back.
He ended up making the opening day roster and, except for a one-month stay on the disabled list with an elbow strain, stayed there all year. He made 69 appearances for the Dodgers, posted a 2.04 ERA and allowed 52 hits in 70 2/3 innings.
Immediately after his Aug. 8 return from the DL, Belisario allowed one earned run in 15 innings over his next 17 appearances. This year, he will come to camp as a full-fledged big leaguer and a key member of what once again is expected to be one of the league's best bullpens.
A few others