Commentary
Drysdale, Sutton, Martinez … Padilla?
Updated:
April 2, 2010, 2:00 PM ET
By
Tony Jackson
| ESPNLosAngeles.com
There was a time when you never asked the manager of the Dodgers who his Opening Day starting pitcher would be. There was a time when you never had to ask. Back then it was an assignment that was doled out by birthright, and it didn't change hands unless someone got hurt, someone got traded or someone got old and rode off into the sunset, or at least into the community-relations department to give speeches to civic groups.
[+] Enlarge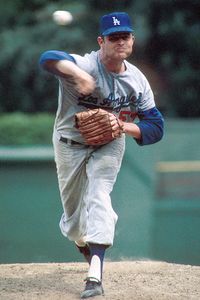 Malcolm Emmons/US PresswireDon Drysdale is at the top of the list of great Dodgers pitchers to start on Opening Day. This year, it's Vicente Padilla.
In the 1960s, it was almost always Don Drysdale, even on staffs that had Sandy Koufax on them. Don Sutton was the guy for seven years in a row in the '70s. In the '80s, Fernando Valenzuela got the ball six times in an eight-year span. Ramon Martinez went four consecutive seasons in the late '90s.
This, of course, isn't that time. This is a time when Joe Torre was asked almost every day for the first five weeks of spring training who his Opening Day starter would be, because the ones doing the asking honestly had no clue. This is a time when the best answer Torre could ultimately come up with was … Vicente Padilla.
Drysdale. Sutton. Valenzuela. Martinez. And, uh, Padilla.
"We just had to pick somebody," Torre said one day last week, as he was announcing the selection. "Am I going to say he is better than the other guys? I can't do that. … But the fact that we don't have a No. 1 and we do have four guys who have pitched in important games for us, we just had to line them up some way, and we just decided to do it this way."
Is it possible that Torre was just being honest and earnest? Or was there some subtle message being sent, some point being made, that if owner Frank McCourt either couldn't or wouldn't pony up for a legitimate front-of-the-rotation starter this winter -- and McCourt's reason for not doing so, divorce or otherwise, is irrelevant -- then McCourt can just live with having Padilla, who was basically a reclamation project when the Dodgers picked him up last summer, as his Opening Day starting pitcher.
It's not like Padilla is some stiff. He's easily the most experienced of the Dodgers' five starters, an 11-year veteran with respectable career numbers, a 98-85 record and a 4.33 ERA. And yes, after being released by Texas on Aug. 17, signed by the Dodgers on Aug. 19 and promoted from Triple-A Albuquerque on Aug. 27, he was the Dodgers' best starter the rest of the way, going 4-0 with a 3.20 ERA before turning in a pair of postseason gems.
But Don Drysdale he ain't. And neither is anybody else in this rotation.

Kuroda

Billingsley

Kershaw

Padilla
At least not yet.
Padilla will be followed by left-hander Clayton Kershaw, right-hander Chad Billingsley, righty Hiroki Kuroda and knuckleballing right-hander Charlie Haeger, who wasn't even named the fifth starter until Thursday. Kershaw is a potential No. 1 starter, but he just turned 22 and hasn't had nearly enough time to develop into that dominating guy. Billingsley used to be a potential No. 1 starter, which means he still could be if he ever gets his mechanics and his head right at the same time. Kuroda can be outstanding at times. Haeger has been pretty good here and there as well.
But in a division in which San Francisco has Tim Lincecum, Matt Cain and Barry Zito; where Colorado has Ubaldo Jimenez and a healthy Jeff Francis; where Arizona has Dan Haren and Edwin Jackson and maybe even a healthy Brandon Webb at some point; and where even lightly regarded San Diego has Jon Garland and Chris Young, the Dodgers are left, for better or worse, with this quintet. Braden Looper is still out there on the free-agent market, but his asking price is still way too high for McCourt -- and apparently for the other 29 teams as well -- and besides, Looper isn't really a No. 1 starter either.
So for now, and probably at least until the July trading deadline, the Dodgers will make do with what they have. And what they have is at least decent.
Kershaw's 8-8 mark last year belied what was otherwise a brilliant season, one in which he gave up only 119 hits in 171 innings and posted a 2.79 ERA. But he still throws too many pitches, walks too many batters and leaves too many games before the sixth inning. Billingsley was an All-Star for the first time in his career after a first half in which he went 9-4 with a 3.38 ERA. But he fell on hard times after the break and is still trying to recover.
More on the Dodgers

For more news, notes and analysis of the Dodgers, check out ESPNLA's Dodgers Report. Blog
Kuroda's first two seasons with the Dodgers were far better than his 17-17 mark would indicate -- he has a 3.74 ERA during that time and a strikeout-to-walk ratio of better than 3-1 -- but he already has done three stints on the disabled list. Haeger posted a 3.32 ERA during his brief time with the big league club last year, his six appearances evenly divided between the rotation and the bullpen. And while his knuckleball makes him unpredictable, it also can make him virtually unhittable when it's right.
Keep in mind also that Haeger, like most fifth starters around the league, is probably only a stopgap in a role that will likely be filled by a host of different pitchers between now and September.
The Dodgers' present starting five, combined, will receive about $23 million in 2010 salary. The Giants just signed Lincecum to a two-year deal that will pay him $23 million in base salary over the next two years. But McCourt apparently is content to sink or swim with this group of starters. And that means, all subtle messages aside, Torre will have to sink or swim with them, too.
Tony Jackson covers the Dodgers for ESPNLosAngeles.com

ESPNLosAngeles.com
Joined ESPNLosAngeles.com in 2010
Covered the Dodgers for the Los Angeles Daily News for more than five seasons
Has covered Major League Baseball on a regular basis for 15 years in Denver, Cincinnati and Los Angeles.