Commentary
Haeger's K's not enough
Dodgers' fourth loss in six games highlights many problems
Updated:
April 11, 2010, 6:40 PM ET
By
Tony Jackson
| ESPNLosAngeles.com
MIAMI -- The Los Angeles Dodgers, having done little to assuage the skepticism that has followed them through the winter and spring, headed home on Sunday night with just two wins in their first six games against Pittsburgh and Florida.
The finale, a 6-5 loss to the Marlins before 18,758 at Sun Life Stadium, seemed to underscore every one of the Dodgers' burning issues.
Starting pitching: While knuckleballer Charlie Haeger was decent enough in his season debut to become the 13th Dodgers pitcher in the last 11 seasons to strike out 12 batters in a game, he also was flawed enough to issue some ill-timed back-to-back walks right before giving up a three-run homer to Jorge Cantu in the fourth inning.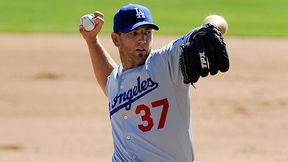 Ron Vesely/Getty ImagesCharlie Haeger became the 13th Dodgers pitcher in the last 11 seasons to strike out 12 batters in a game.
Bad defense: An embarrassing gaffe by center fielder Matt Kemp in the sixth inning led to a critical unearned run in Haeger's final inning, one of eight errors committed by the Dodgers -- and one of three earned runs given up -- in six games.
The bullpen: The usually reliable Jeff Weaver became the second Dodgers reliever in less than 24 hours to implode at the worst possible time, giving up a pair of seventh-inning runs to turn a one-run lead into the final, one-run deficit.
Situational hitting: Kemp came to the plate with runners on the corners and one out in the ninth and struck out on three pitches. For the trip, the Dodgers hit just .256 (20 for 78) with men in scoring position. Remove Thursday's blowout win over the Pirates, when the Dodgers went 8 for 12, and they hit a putrid .182 (12 for 66) with RISP.

Consider the three unearned runs. Consider all the missed opportunities to drive in runs. And then consider that three of the Dodgers' four losses on the trip were by one-run margins.

The Dodgers played better than .600 baseball at home last year, a major reason why they won a second consecutive division title, and home is where they will play for the next week. But they also play 15 of their first 21 not only on the road, but in the far-flung Eastern time zone. Unless they find a way to feel comfortable in hostile surroundings -- or, at the very least, to win more than two of every six games there -- they could find themselves staring at a big deficit in the National League West by the end of April.
Lost in the shuffle
Haeger's knuckleball, which might have been helped by the 16-mph winds buffeting the ballpark, was dancing more than the Mermaids (the Marlins cheerleaders, in case you didn't know). Two of his 12 strikeouts resulted in the batter reaching on a wild pitch after the ball skipped past catcher A.J. Ellis, who also was making his season debut after being called up from Triple-A Albuquerque on Saturday.
Of the first eight Marlins batters, six struck out and the other two grounded harmlessly to third. After giving up a single to opposing pitcher Anibal Sanchez, Haeger struck out Chris Coghlan for the second time to end the third inning.
The Dodgers then scored the game's first four runs in the top of the fourth, sending seven batters to the plate. Haeger wouldn't blame the unusually long wait on the bench during that rally -- or the fact it was him at the plate making the last out -- for the fact he lost his rhythm when he went back out for the bottom of the fourth.
"

We just had some tough breaks and made some big mistakes. We made some big mistakes in key situations and didn't drive in runs at the right time. We made errors and did things we can't be doing.

"

-- Dodgers center fielder Matt Kemp
Whatever the reason, he walked the first two batters. Cantu then took him deep.
"Cantu hit a good pitch, a good knuckleball,'' Haeger said. "He is just a good hitter. I just lost my rhythm there to those first two batters. After the home run, I found it again.''
Haeger went six innings, just the second Dodgers starter to go that deep into a game this season. He wound up with no decision.
Key moment(s)
Although he has basically achieved star-player status, Matt Kemp remains highly susceptible to pitches down and away. When he stepped to the plate against Marlins closer Leo Nunez in the ninth with the tying run on third and one out, Kemp took strike one, then swung and missed at a second pitch down and a third pitch down and away.
James Loney then grounded to first to end the game.
Kemp's failure to deliver was made even more glaring by his dropped pop fly off the bat of Ronny Paulino with two outs in the sixth. Haeger had retired the first two batters easily, and an easy catch by Kemp would have ended the inning. Cody Ross followed with an RBI single, cutting the Dodgers' lead to 5-4 with a run that would later loom large.
Kemp is hitting a solid .300 (3 for 10) for the season with runners in scoring position and less than two outs. But of the seven such at-bats when he didn't come through with a hit, he struck out in six of them. Although Kemp is hitting .321 overall -- he went 2 for 5 on Sunday -- he has struck out a staggering nine times in 30 plate appearances.
Trends
Jeff Weaver hadn't given up a run in any of his four previous appearances, but he gave up the tying and winning runs in his lone inning, the seventh, on Sunday. Both scored on a double by Cantu, which followed a walk to Hanley Ramirez. Three of the Dodgers' four losses on the trip were charged to the bullpen, which now has a collective ERA of 5.68.
By the numbers
A.J. Ellis, who has played his way onto the organizational radar over the past two seasons by posting eye-popping Triple-A on-base percentages of .436 (2008) and .438 (2009), delivered a typical Ellis performance at the plate in his season debut. Before being lifted for a pinch hitter in the eighth inning, Ellis came to the plate three times, all against Marlins starter Anibal Sanchez, but wasn't charged with a single at-bat.
More on the Dodgers

For Jon Weisman's take on the signing of Eri Yoshida, visit Dodger Thoughts. Blog
Ellis walked to lead off the third. He laid down a perfectly executed, suicide-squeeze bunt to cap off the Dodgers' four-run rally in the fourth, driving in Reed Johnson from third. And finally, Ellis came up with the bases loaded in the sixth and hit a sacrifice fly to medium-depth center field, with Ronnie Belliard tagging and scoring to give the Dodgers a 5-3 lead.
After one game, Ellis has a .500 on-base percentage (sacrifice flies count against OBP, sacrifice bunts don't) and no mathematical batting average.
Quote of the day
Kemp, who seemed to be talking about his own, awful day when asked what had gone wrong for the Dodgers on their opening trip: "We just had some tough breaks and made some big mistakes. We made some big mistakes in key situations and didn't drive in runs at the right time. We made errors and did things we can't be doing.''
Looking ahead
The Dodgers finally will play a home game on Tuesday, when they host the Arizona Diamondbacks at 1:10 p.m. Clayton Kershaw will make his second start of the season against Arizona's Ian Kennedy. Only three current Dodgers players -- former American Leaguers Garret Anderson, Casey Blake and Reed Johnson -- have ever faced Kennedy, who pitched for the New York Yankees until being acquired by the Diamondbacks in a three-team deal on Dec. 9. They are a combined 1 for 6 with one RBI. Kershaw has had success against Arizona shortstop Stephen Drew (1 for 8, three strikeouts), but has struggled against all-time strikeout king Mark Reynolds (3 for 7). Chris Snyder, who is now Arizona's primary catcher with Miguel Montero on the disabled list, is the only current Diamondbacks player who has homered off Kershaw.
Tony Jackson covers the Dodgers for ESPNLosAngeles.com.

ESPNLosAngeles.com
Joined ESPNLosAngeles.com in 2010
Covered the Dodgers for the Los Angeles Daily News for more than five seasons
Has covered Major League Baseball on a regular basis for 15 years in Denver, Cincinnati and Los Angeles.