Commentary
High pitch counts sink starters
Updated:
April 12, 2010, 9:09 PM ET
By
Tony Jackson
| ESPNLosAngeles.com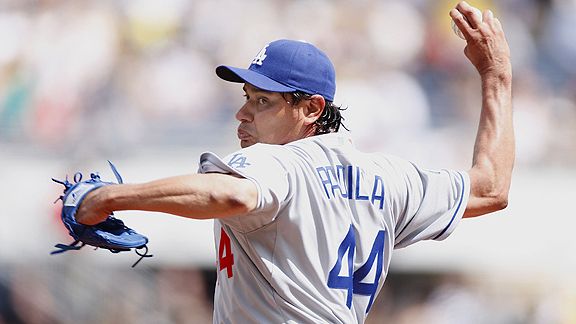 Gregory Shamus/Getty ImagesVicente Padilla threw 93 pitches in the season opener, then 96 on Saturday, and failed to get through the fifth inning in either game.
Several years ago, when Jack McKeon was managing in Cincinnati and your humble correspondent was covering the Reds for a now-defunct daily newspaper, any time a starting pitcher had a bad game that resulted in a loss, McKeon would always say during his postgame comments that, "It all starts out there in the middle of the field.'' While I always got a kick out of him saying that -- the middle of the field, after all, is actually about 25 feet behind second base -- McKeon's intended point wasn't lost.
It all starts with starting pitching. And a week into the 2010 season, it isn't starting very well for the Los Angeles Dodgers.
There have been exceptions, of course. Chad Billingsley was pretty good on Thursday, and Hiroki Kuroda was phenomenal on Friday night. But in the other four games on the team's season-opening trip, all losses, Vicente Padilla, Clayton Kershaw and Charlie Haeger combined for a 5.22 ERA, with only Haeger on Sunday completing five innings.
DODGERS-ARIZONA DIAMONDBACKS
Tuesday, 1:10 p.m.
LH Clayton Kershaw (0-0, 5.79) vs. RH Ian Kennedy (0-0. 5.40)
Wednesday, 7:10 p.m.
RH Chad Billingsley (1-0, 1.69) vs. RH Rodrigo Lopez (1-0, 1.50)
Thursday, 7:10 p.m.
RH Hiroki Kuroda (1-0, 0.00) vs. RH Dan Haren (1-0, 1.29)
Series outlook
The Diamondbacks have lost their primary catcher, Miguel Montero, to a torn meniscus in his right knee, which will require surgery.
Dodgers left fielder Manny Ramirez is 15 for 26 (.577) for his career, with three home runs and six RBI, against Thursday starter Dan Haren.
The Dodgers won 11 of 18 from the Diamondbacks last season, including six of nine at Dodger Stadium. But the Diamondbacks are a different team now. They have added first baseman Adam LaRoche and second baseman Kelly Johnson over the winter, and they also have left fielder Conor Jackson back after he missed most of last season with valley fever. They also have upgraded their starting rotation, although the Dodgers won't face their one-time top pitching prospect, Edwin Jackson, in this series. Arizona acquired Jackson from Detroit this winter in a three-team deal that also involved the New York Yankees and also brought Tuesday starter Ian Kennedy to the desert.
Diamondbacks third baseman Mark Reynolds has set the all-time, single-season strikeout mark each of the last two seasons with 204 in 2008 and 223 in 2009. However, he also hit 28 homers with 97 RBI in 2008 and 44 homers with 102 RBI in 2009.
The National League West has been won by either the Dodgers or the Diamondbacks in seven of the past 11 seasons.
The Dodgers' bullpen hasn't been much better. But at a time when the 'pen isn't at full strength for various reasons, starters going deep into games is especially important, and for the most part, the Dodgers haven't gotten that.
The reason is simple: high pitch counts. Padilla threw 93 in the season opener, then 96 on Saturday night at Florida, and he failed to get through the fifth inning in either game. Kershaw threw 109 on Wednesday night against the Pirates and was gone with two outs in the fifth. Haeger made it through six on Sunday, but needed 116 pitches to do it, and his trademark knuckleball is less taxing on the arm and allows for a higher pitch limit.
Even Billingsley, who pitched the Dodgers to their first win by holding the Pirates to a run on five hits, needed 107 pitches to get through 5 1/3.
The reason for those high pitch counts depends on your perspective.
"I describe it as staying away from contact,'' Dodgers manager Joe Torre said. "But the pitchers describe it as trying to make good pitches.''
In far too many cases, a pitcher confuses trying to make good pitches with trying to make perfect ones, all while losing sight of the fact that the seven men standing behind him are there for a reason.
The best example of how to do it right was set by Kuroda, the elder statesman of the Dodgers' rotation at 34. As is the modern-day custom for Torre and most other big league managers, Kuroda was lifted after throwing 100 pitches. But it took him eight dazzling innings to get to that number, and that was even after he had struck out seven batters. Strikeouts are one of the statistics by which a pitcher's worth is measured, but strikeouts also create a drag on a pitcher's pitch count because each one represents at least three pitches, and most of them represent more than that.
The key for Kuroda, though, was that he issued only one walk, and it was intentional. Of the other 30 Marlins batters he faced, he went to a three-ball count just one time. Five batters put the first pitch into play, with all five hitting into outs. Six other batters put the second pitch into play, and five of them hit into outs.
That means that of the 24 outs Kuroda recorded, 10 of them came on 15 pitches. And talk about using the guys behind you: Kuroda recorded 14 ground-ball outs.
It's a lesson the younger members of the Dodgers' staff could stand to learn -- although deep inside, they already know it. It's just a matter of executing it, and remembering it when a million other thoughts are churning through their heads in the heat of battle.
In contrast to Kuroda's first outing, take a look at that of Kershaw, who will take the ball for the second time in Tuesday's home opener with Arizona. Against the Pirates, Kershaw walked six batters, all of them unintentionally. More important, of the 25 batters he faced, he went to three-ball counts on 10 of them. He went to six full counts, each of which added at least six pitches to his pitch count -- a total of at least 36 pitches to six batters.
Moreover, only two of the 25 batters Kershaw faced put the first ball into play. One of those, Garrett Jones, hit that first pitch for a three-run homer after Kershaw had issued a leadoff walk to Aki Iwamura and then given up a single to Andrew McCutchen in the first inning, putting himself in a position where he absolutely had to start off Jones with strike one.
Kershaw will eventually learn the lesson, probably sooner than later, and so, presumably will the rest of the rotation.
As a group, the Dodgers' starting five has a combined 4.96 ERA. Take Kuroda's game out of that mix, and the number jumps to a gaudy 6.51. If you can sift through all those numbers above without getting a headache, it isn't hard to figure out why. The Dodgers' starters simply must find a way to go deeper into games and eat up more innings, especially now with a short-handed bullpen.
Tony Jackson covers the Dodgers for ESPNLosAngeles.com.

ESPNLosAngeles.com
Joined ESPNLosAngeles.com in 2010
Covered the Dodgers for the Los Angeles Daily News for more than five seasons
Has covered Major League Baseball on a regular basis for 15 years in Denver, Cincinnati and Los Angeles.