Commentary
Angels snap out of funk
Updated:
April 15, 2010, 1:55 PM ET
By
Mark Saxon
| ESPNLosAngeles.com
NEW YORK -- Mike Scioscia has developed a knack for the well-timed gathering.
Last June, the Los Angeles Angels manager ripped into his team after a lackadaisical loss at Tampa Bay and watched as his team took off from there, going 68-36 (.654 ball) after June 11 and not petering out until the sixth game of the American League Championship Series.
One game is a minuscule piece of a baseball season, but Wednesday's 5-3 Angels win at Yankee Stadium had a rejuvenated feel. Maybe it was the beautiful, crisp weather that turned Yankee Stadium into a sun-dappled playground. Maybe it was an evening to unwind in Manhattan.
Or, maybe it was Scioscia's lecture the day before, right after another sloppy effort had left the Angels at a dumbfounded 2-6.
[+] Enlarge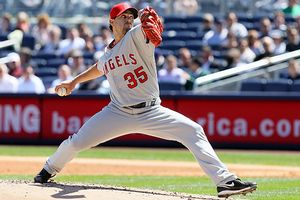 Jim McIsaac/Getty ImagesJoel Pineiro looked sharp against one of the league's toughest lineups.
"Today we seemed to have a little more fire," Torii Hunter said. "You don't know if it was the meeting yesterday, but today I saw something different in the pitching staff, the hitters and the way we played defensively, all the way around."
The Angels haven't pulled out of their first-week hole just yet. Wednesday was just a good step, a combination of tone-setting starting pitching, good-enough bullpen work and an offense starting to find some chemistry. The trick, as always in baseball, is finding that elusive consistency.
"The fact it happened today, great, but we need to continue doing it and bringing it on the field," Scioscia said. "That's what we're going to keep trying to do."
Alongside Scioscia's pep talk, Wednesday's snap-out-of-it afternoon could simply be a matter of a good sinkerball pitcher on his game, getting easy outs and keeping his fielders alert and involved. Joel Pineiro turned the Yankees into a lawn bowling team for seven innings. They just kept rolling the ball to targets.
Pineiro got 11 ground-ball outs and seven strikeouts. The Yankees made only three outs in the air. It's fair to say that two-seam fastball was working the way Pineiro intended.
People wonder how he'll do after rediscovering himself during 2½ seasons in the National League, but he looked pretty sharp against one of this league's toughest lineups, with more than 42,000 of its fans behind it.
Pineiro (1-1) was happy to get his first win with a new team out of the way. As democratic as the Angels' rotation is, anyone can emerge as the stopper in a given week. Wednesday, it was Pineiro, the No. 4 starter.
"We were scuffling a little bit and, hopefully, we just needed someone to go out there and give us a quality start," Pineiro said.
Trends
Roles are changing rapidly in the Angels' bullpen.
Fernando Rodney has taken over as the closer, at least until Brian Fuentes comes off the disabled list, where he was placed Wednesday with stiffness in his back. And, with set-up man Scot Shields struggling with his command, Kevin Jepsen could grab hold of the eighth inning.
That would give the Angels two of the hardest throwers in the league locking down the final two innings. Jepsen bailed Shields out of a jam in the eighth and Rodney worked a perfect ninth for his first save.
Rodney, who has been pitching in the low 90s, said his fastball is only getting warmed up.
"Now, it's nice and easy. I'm trying to make good pitches," Rodney said. "Later, I start throwing hard."
Scene and heard
The staircase leading down from the press box to the field level was as clogged as the George Washington Bridge at rush hour following the game. The media -- including about 50 Japanese reporters -- were held up for about five minutes.
The ushers at the bottom of the stairs were under strict orders to keep the stop sign in place while George Steinbrenner made his way from the elevator to a waiting silver minivan. The Yankees have grown protective of Steinbrenner's privacy now that the Boss has been suffering from an undisclosed illness for a few years. He received his World Series ring and was shown on the giant high-definition screen in center field Tuesday.
Lost in the shuffle
Brandon Wood might be batting .115 after nine games, but you can't find much to fault with his fielding.
He made two nice running catches in foul ground Wednesday. He first snatched one near the tarp down the left-field line when Mark Teixeira was batting in the sixth and then made an over-the-shoulder catch on Curtis Granderson's popup in the ninth.
More On The Angels

For the latest news and notes on Los Angeles, check out the Angels blog from Mark Saxon. Blog
Wood's athletic ability would seem to bode well for his chances of sticking and two of his three hits this season have come in the first two games here.
"I think you're going to see the two-way player he is," Scioscia said. "He's a difference-maker at third base and he's going to swing the bat."
Quote of the day
"You're never going to hang your hat on one ump's call. Fortunately, we were able to hold on." -- Scioscia on a 3-and-2 Jepsen pitch to Alex Rodriguez that resulted in a walk in the eighth. It was in the vicinity of the lower-outside corner.
Roster watch
Wednesday was a rough day for outfielder Terry Evans, 28, who was optioned back to Triple-A Salt Lake to make room on the roster for pitcher Scott Kazmir.
Evans was placed on waivers Monday and went unclaimed, which means he has to report for his fourth season at the highest level of the minors. He's wondering when his chance will ever come.
"I was at Salt Lake for three years and I feel like I did pretty well," Evans said. "It's a little disappointing, but you can either sit and pout about it or go and try to do as well as you can."
Look ahead
Kazmir will make his first start of 2010. He spent 10 days on the disabled list after being delayed in spring training by nagging hamstring and shoulder injuries.
The Angels acquired Kazmir last August in part because of his past success against the Yankees. He is 6-5 with a 2.67 ERA against New York in 15 appearances, although he was the losing pitcher in Game 4 of the ALCS last October. He gave up five runs in 4 2/3 innings.
Kazmir opposes Orange County native Phil Hughes, making his season debut. He was the Yankees' set-up reliever last season.
Mark Saxon covers the Angels for ESPNLosAngeles.com.
ESPNLosAngeles.com
Mark Saxon is a staff writer for ESPNLosAngeles.com. He spent six years at the Orange County Register, and began his career at the Oakland Tribune, where he started an 11-year journey covering Major League Baseball. He has also covered colleges, including USC football and UCLA basketball.