Commentary
Kuroda consistent despite loss
The rest of the Dodgers' pitching rotation has experienced too many ups and downs
Updated:
June 21, 2010, 12:17 PM ET
By
Tony Jackson
| ESPNLosAngeles.com
BOSTON -- If you take this roller coaster of a season for the Dodgers in its entirety, you can at least make the case that Hiroki Kuroda has been their best starting pitcher since Opening Day.
Clayton Kershaw struggled in the beginning before turning into an ace over the past six weeks, Chad Billingsley and Vicente Padilla have both logged time on the disabled list and John Ely and Carlos Monasterios have pitched lately like exactly what they are: a pair of rookies who were forced into the starting rotation long before team officials ever intended for them to be.
For the most part, though, Kuroda has been a testament to consistency, not only in terms of his pitching but also in terms of his seemingly unflappable personality -- all of which made him the one guy who could best handle what was heaped upon him Sunday night in a 2-0 loss to the Boston Red Sox before a sellout crowd of 37,430 at Fenway Park. It underscored once again the sad fact that while the Dodgers might be one of the elite teams in the mostly laughable National League, they still aren't much of a match for a good American League team.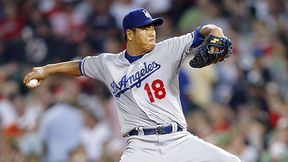 AP Photo/Michael DwyerWith injuries to Chad Billingsley and Vicente Padilla along with Clayton Kershaw's tough start, Hiroki Kuroda (6-5) is the closest thing to consistent the Dodgers have in their starting pitching rotation.
All too predictably, the Red Sox completed a three-game sweep of the Dodgers, just as the Angels had done a week earlier.
Anyway, back to Kuroda.
The Japanese right-hander, who came to the U.S. in 2008 but is a true veteran in every sense except big league service time, came into this start having pitched 12 consecutive shutout innings over his two previous starts. Although he gave up a run in the first and third innings, this outing was on a par with those. He held baseball's most potent offensive team to two runs on six hits and a walk over seven innings, and he struck out nine, including Adrian Beltre twice.
Kuroda threw a season-high 115 pitches, and he appeared to be just as strong at the end as he was at the beginning. He retired 10 of the final 11 batters he faced, striking out four of them, and he needed just seven pitches to set down the Red Sox in order in his final inning.
For all that, Kuroda (6-5) was rewarded with a loss as the Dodgers were shut out for the eighth time this season, in this case by Boston's Clay Buchholz and two relievers.
"You can't always control what happens," Kuroda said, with Kenji Nimura translating. "I did the best I could. That is pretty much what you have to do. It would have been much better to get a win, but that wasn't the case. You can't always control wins and losses."
One thing you can control, though, is your own execution of fundamentals, and Kuroda was the first to admit after the game that he suffered a costly letdown in that area.
With one out in the bottom of the first and Dustin Pedroia on first, the Dodgers employed their usual exaggerated shift on the left-handed David Ortiz. Pedroia, a former AL Most Valuable Player and one of those guys who always seems to do everything right, broke for second. Catcher Russell Martin unleashed a low throw that skipped under the glove of second baseman Blake DeWitt. It didn't really matter that shortstop Jamey Carroll was standing six feet away to back up the play, because Pedroia jumped and headed to an empty third base and slid in safely.
With the shift on, it was Kuroda's responsibility to cover third. He was supposed to hightail it over there as soon as Martin released the ball. Instead, he didn't leave the mound until Pedroia was about three steps toward third. After Ortiz was intentionally walked, Kevin Youkilis hit a roller up the third-base line so slow that Casey Blake had no play anywhere, and Pedroia trotted home with the only run the Red Sox would need.
"The pitcher is supposed to go over," Dodgers manager Joe Torre said. "He is the only guy, because the catcher can't get there."
Predictably, Kuroda owned up to the lapse.
"It was sort of my mistake," he said. "As it turned out, they scored a run, so it was a crucial play in the game."
IT'S L.A., AND IT'S LIVE

For more coverage of the Dodgers and the complete Los Angeles sports scene, visit ESPNLosAngeles.com. »
Yes, it was, but it wasn't as crucial as this: The Dodgers (38-31) went hitless in six at-bats with runners in scoring position, including a strikeout by Garret Anderson and a comebacker by Blake after the Dodgers loaded the bases with one out against Buchholz (10-4) in a 30-pitch top of the first. After that, the Dodgers never really mounted a serious threat, and their two-run deficit felt more like 10.
The three-game sweep leaves them in third place in the NL West, two games behind the division-leading San Diego Padres.
In addition to his failure to cover third, Kuroda threw two wild pitches in the first, hit a batter in the fourth and gave up hits to the first two batters in the third, which led to another run on Ortiz's sacrifice fly. Still, despite what the box score might have said, it was hard to lay this loss at his feet.
"To give up two runs in this ballpark, that's a winnable game," Torre said. "We needed to score for him."
Injury Update
DeWitt left the game after Buchholz hit him on the back of the right knee with the last of his 106 pitches in the top of the seventh inning. DeWitt immediately fell to the ground and had to be helped off the field. After a precautionary X-ray, it was determined that he was fine, and both Torre and DeWitt said the second baseman should be ready to go in time for the Dodgers' next game Tuesday night against the Angels in Anaheim, Calif.
"It just hit a nerve behind the knee," said DeWitt, who was still walking with a noticeable limp in the clubhouse after the game. "I knew what had happened because I had done it before. But this time, the feeling didn't come back quite as quickly as it had before. He must have just gotten me square."
Quote of the Day I
"You play the same game against American League teams that you do against National League teams. I don't know if it's just being in the other league and not knowing as much about those teams. Maybe it's because you're facing guys you don't face very often, so it's kind of different in that way. But other than that, it's the same for the other team, too." -- Martin, at a loss to explain his team's ineptitude in interleague play. The Dodgers are 2-7 against AL teams this season and 14-40 in AL ballparks over the past seven years.
Quote of the Day II
"Half an off day." -- Blake, correcting a reporter who asked if the off day Monday might help the Dodgers regroup after losing seven of their past nine games. The game started at 8:11 p.m. ET for ESPN and ended at 11:20. The Dodgers' five-hour flight back to the West Coast figured to land around 2:30 a.m. PT, meaning most players wouldn't arrive at their respective residences until 3:30 or 4.
Looking Ahead
The Dodgers will try to disprove the reasonable suspicion that they are now four games into an inevitable 10-game losing streak -- they still have six more games to go on their interleague schedule -- when they open a three-game series at Angel Stadium on Tuesday night. They can take comfort in the fact that Kershaw (7-3, 2.96), who will pitch the first game, has gone 6-1, posted a 1.82 ERA and limited opposing hitters to a .187 average over his past eight starts. He has struck out 61 and walked only 21 during that span. But the road doesn't figure to ease up in the least for the Dodgers' struggling offense: right-hander Ervin Santana (6-5, 3.91) goes for the Angels.
Tony Jackson covers the Dodgers for ESPNLosAngeles.com

ESPNLosAngeles.com
Joined ESPNLosAngeles.com in 2010
Covered the Dodgers for the Los Angeles Daily News for more than five seasons
Has covered Major League Baseball on a regular basis for 15 years in Denver, Cincinnati and Los Angeles.
Majestic Youth San Diego Padres Matt Kemp #27 Navy T-shirt Shop »