Commentary
Hunter feels hometown pressure
Torii Hunter, serving as All-Star Game host, didn't play well but earned his day off
Updated:
July 14, 2010, 11:22 AM ET
By
Mark Saxon
| ESPNLosAngeles.com
ANAHEIM, Calif. -- Torii Hunter has been to the playoffs a half-dozen times and played in three All-Star games, but the pressure felt a little different Tuesday night when he came to the plate with runners on first and third in the seventh inning.
It's different when your neighbors are watching.
There were 45,408 fans at Angel Stadium for the 81st All-Star Game, and they were calling for heroics from the hometown guy.
"Torii! Torii! Torii!"
[+] Enlarge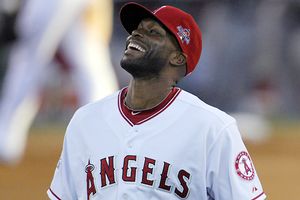 AP Photo/Jae C. HongTorii Hunter struck out with the bases loaded in the All-Star Game, but he hit a home run as an appropriate host to the event, earning his day off Wednesday.
It would have been surprising if it didn't get to him. For one thing, he was exhausted, having lived on "Red Bull and Pepsi" for a couple of days. He got up at 7 a.m. two days in a row after hosting All-Star events well into the night. Adrenaline took over, and it took him outside himself.
"You know what? I was swinging so hard, it was unbelievable," Hunter said. "I was a little jumpy. In that situation, you want to calm yourself down, but I was too anxious."
Hunter struck out on a 91 mph Adam Wainwright cut fastball high and away.
Recent history has not proven kind to players chosen as hosts for the All-Star Game. Hunter also popped up in the fifth inning with a man on second. He left four men on base in what proved to be a 3-1 National League win, snapping a 13-year winless streak for the NL. Last year in St. Louis, Cardinals slugger Albert Pujols went 0-for-3 and made an error that led to a run. In Houston six years ago, then-Astro Roger Clemens gave up six runs in the first inning.
Phil Hughes, the losing pitcher Tuesday, might have been feeling some of the hometown pressure, too. The New York Yankees right-hander is from nearby Mission Viejo.
Whether it's the extracurricular activities or the pressure of playing at home, it rarely works out well.
More On The Angels

For the latest news and notes on Los Angeles, check out the Angels blog from Mark Saxon. Blog
"You look forward to the All-Star break to get a little rest, but the way they have you running around doing a bunch of stuff, you don't get to rest too much," Angels pitcher Jered Weaver said. "I'm sure he's going to take full advantage of that day off tomorrow."
Wainwright seemed to have a pretty good sense Hunter would be overanxious in that seventh inning, because he threw him nothing but off-speed pitches until the final pitch. Hunter looked baffled on one early-count curveball, offering at it feebly.
"I was thinking he would challenge me with a fastball, but he didn't," Hunter said. "He was there to win. You could see it in his eyes."
Hunter figured he would skip the Angels' optional workout Wednesday. He has a hall pass from manager Mike Scioscia, who was concerned Hunter would burn himself out while hosting this week. The Angels were in a serious hitting slump entering the All-Star break, and Hunter was one of the few hitters not scuffling.
"Tomorrow, I'm going to kick back with the family, man, probably sleep until, like, 1," Hunter said.
Hunter still doesn't have a hit in three All-Star appearances, although he has batted only six times. Hunter's crowning All-Star achievement was taking a home run away from Barry Bonds in Milwaukee in 2002. He said he enjoyed the two days of festivities in Anaheim, even though the game turned out poorly for him.
IT'S L.A., AND IT'S LIVE

For more coverage of the complete Los Angeles sports scene, visit ESPNLA.com. »
"It does wear you out, but at the same time, you can't use it as an excuse. I was having so much fun out there," Hunter said. "Your adrenaline takes over, feeding off the energy Angels fans gave you. I did have some pick-me-up. Coffee, you name it."
Like many of his American League teammates, Hunter was a little surprised there was no one left to pinch run for David Ortiz in the ninth inning other than Yankees superstar Alex Rodriguez. Marlon Byrd ended up throwing out the lumbering Ortiz at second base on John Buck's bloop single to snuff out the AL's late rally.
That gave Hunter his ninth loss in the past 11 games he has played, including the end to the Angels' first half. If nothing else, he did a little recruiting on the Angels' behalf. Tuesday's weather -- first-pitch temperature was 85 degrees -- might have helped, too.
"I tell everybody all the time, 'The Angels are awesome,'" Hunter said. "You can't beat the sun. It's 75 degrees at game time, and by the time the game's over, it's 68. I have a tan and everything."
Mark Saxon covers the Angels for ESPNLosAngeles.com.
ESPNLosAngeles.com
Mark Saxon is a staff writer for ESPNLosAngeles.com. He spent six years at the Orange County Register, and began his career at the Oakland Tribune, where he started an 11-year journey covering Major League Baseball. He has also covered colleges, including USC football and UCLA basketball.