Commentary
Broxton left holding check
Dodgers' closer blows his first save opportunity since the All-Star Game
Updated:
July 18, 2010, 9:37 PM ET
By
Tony Jackson
| ESPNLosAngeles.com
ST. LOUIS -- Five days earlier, Jonathan Broxton had been on top of the baseball world, smiling in a way he rarely had in his six major league seasons. The Los Angeles Dodgers closer had just polished off the ninth inning in the All-Star Game, securing a National League home-field advantage in the World Series and perhaps even exorcising some of the demons that had occasionally haunted him on some of baseball's biggest stages.
By the end of business on Sunday, it was difficult to imagine the Dodgers will be the team to benefit this fall from Broxton's All-Star performance. As for those demons, well, Broxton was fighting those all over again.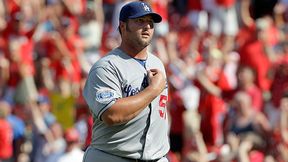 AP Photo/Jeff RobersonJonathan Broxton faced 10 batters and threw 44 pitches, blowing his save opportunity in the Dodgers' 5-4 loss to the Cardinals.
This time, the demons won, and so did the St. Louis Cardinals, who scored three in the eighth inning and two in the ninth to hand the Dodgers a crushing 5-4 defeat before 40,743 at Busch Stadium and complete a four-game sweep that anyone who has followed the Dodgers in recent years might have seen coming before the first pitch was thrown on Thursday night.
The Dodgers fell to 5-22, playoffs included, over the past seven seasons in the Gateway City and 4-15 in the four-year history of the new ballpark here.
And while this one could hardly be pinned solely on Broxton, he was the guy left holding the check when it was all over.
"This one was tough, very tough," Dodgers manager Joe Torre said after watching his club blow a four-run, eighth-inning lead on his 70th birthday. "We probably asked too much out of Broxton. … I certainly didn't want to go to him for more than four outs, and in this weather, I didn't really want to go to him for four outs. But I had to go to him for five because of the circumstances and who was coming up."
The Dodgers (49-43) had a depleted bullpen with Ramon Troncoso on the disabled list, Ronald Belisario on the restricted list and Hong-Chih Kuo having pitched the day before. They got six shutout innings from Vicente Padilla, stretched their 1-0 lead to 4-0 in the top of the seventh and got a quiet bottom of the seventh from reliever Travis Schlichting.
But the beginning of the end came when Schlichting walked two of the first three batters to start the eighth, whereupon Torre replaced him with Justin Miller. Cardinals rookie Allen Craig, who to that point had two hits in 24 major league at-bats, then came back from a 1-2 count to pull a double into the left-field corner, cutting the Dodgers' lead to 4-2 with the heart of the Cardinals' order due up.
That was when Torre, on a typically hot, humid Midwestern afternoon, called on Broxton for the first time since the hulking right-hander closed out that 3-1 NL win on Tuesday night.
Broxton had to face four batters -- Matt Holliday, Randy Winn, Skip Schumaker and a pinch hitter named Albert Pujols -- and throw 17 pitches to get the two outs he needed to get out of the inning, giving up an RBI single to Winn in the process.
Then, after the Dodgers stranded their sixth runner in scoring position of the day in the top of the ninth, Broxton returned to the mound. He retired two of the first three batters. Then he walked Jon Jay. Then he gave up consecutive hits, the first a game-tying single up the middle by Craig and the latter a fly ball by Holliday that went over the head of right fielder Andre Ethier to drive in Jay, end the game and remind Broxton that no matter how euphoric you might feel one day, this game will always bring you back to earth fairly quickly.
Broxton threw 44 pitches. The only other time this season in which he threw more than 30 was that June 27 implosion against the New York Yankees, when he blew a four-run lead. He also faced 10 batters, including Holliday twice.
"You certainly don't want your closer to have to face the same guy twice," Torre said.
For that, though, Broxton blamed no one but himself.
IT'S L.A., AND IT'S LIVE

For more coverage of the Dodgers and the complete Los Angeles sports scene, visit ESPNLosAngeles.com. »
"It shouldn't have gotten back around to him," said Broxton, who also dismissed the weather and the workload as possible excuses for his failure. "I'm just out there trying to get outs and get it done. Any one of these you let get away are tough to take."
Roster Move
As expected, the Dodgers optioned rookie reliever Jon Link to Triple-A Albuquerque after the game, ending Link's fifth big league stint this season. The move clears the way for right-hander James McDonald to be recalled from Albuquerque for the first time this year. McDonald, who logged big league time each of the past two seasons, is expected to start on Monday night against the San Francisco Giants at Dodger Stadium.
Injury Updates
Dodgers first baseman James Loney reported improvement in his right hamstring, which was still tender enough to keep him out of the starting lineup a day after dehydration in the hot weather resulted in a cramp so severe that he had to be helped off the field. Loney probably will return to the lineup on Monday against the Giants.
Meanwhile, Torre expressed doubt that left fielder Manny Ramirez (right-calf tightness) will return to the lineup on Monday because Ramirez wasn't available even off the bench on Sunday, an indication he probably will need at least one more day.
"My guess is if he wasn't available to pinch hit today, he certainly won't be available to [start] tomorrow," Torre said. "Hopefully, by the middle of the week we can get him back in there if he continues to improve, and he improved again today."
Torre reiterated that it doesn't appear Ramirez will need to go onto the disabled list with the injury, which knocked him out of Friday's game after the top of the first inning.
Catcher Russell Martin (left thumb) is expected to return to the lineup on Monday night after missing each of the past two games.
More on the Dodgers

For more news, notes and analysis of the Dodgers, check out ESPNLA's Dodgers Report. Blog
By The Numbers
62 -- years since the Dodgers last had a game in which their pitchers walked at least nine batters while striking out no more than one, which is exactly what happened on Sunday. The last time it had happened was on April 24, 1948, when the Brooklyn Dodgers beat the Philadelphia Phillies 11-4. Strangely, this was the second game this season in which the Cardinals drew at least nine walks while striking out as few as one time, having done it on May 31 against Cincinnati. (Source: ESPN Stats & Information).
Quote of the Day
"This has always been like a second home to me. I lived here a couple of different times when I was playing and managing. When you're with the Cardinals, you're treated like royalty. That is the way they look at players here in town. That has always been special to me. I was a little shy about getting out there [to acknowledge the crowd] until [pitching coach Rick] Honeycutt [darn] near pushed me out there." -- Torre, whose 70th birthday was announced on the stadium message board during one between-innings break. Torre, who played for the Cardinals from 1969-1974 and managed them from 1990-95, responded first by simply doffing his cap, then actually climbed out of the dugout and waved his cap more enthusiastically.
In the visiting manager's office, a Cardinals calendar hung on the wall behind Torre's desk. Coincidentally, the page for this month commemorated Torre's National League Most Valuable Player award of 1971 and featured a photo from that season of Torre wearing a helmet, holding a bat and sporting dark, mutton-chop sideburns.
Looking Ahead
McDonald is expected to make his first major league start since April 30, 2009 -- he also made 41 relief appearances last season and was on the playoff roster each of the past two years. He will be opposed by rookie lefty Madison Bumgarner (2-2, 2.57 ERA), whom the Giants drafted with the 10th overall pick in the 2007 amateur draft and who has been in the majors for less than a month.
Tony Jackson covers the Dodgers for ESPNLosAngeles.com.

ESPNLosAngeles.com
Joined ESPNLosAngeles.com in 2010
Covered the Dodgers for the Los Angeles Daily News for more than five seasons
Has covered Major League Baseball on a regular basis for 15 years in Denver, Cincinnati and Los Angeles.