Commentary
Will the Angels boil over?
Halos are at a combustion point in their season after a loss in New York
Updated:
July 21, 2010, 11:47 PM ET
By
Mark Saxon
| ESPNLosAngeles.com
NEW YORK -- The Los Angeles Angels got on an airplane and left the muggy, mid-90s weather in New York behind. They were headed for the muggy, high-90s weather in Texas.
It's that time of year east of the Rockies, of course, and the Angels seem to be at a combustion point in their season. They can melt or they can put some heat on the first-place Texas Rangers, a team they play seven times in the next 10 games.
[+] Enlarge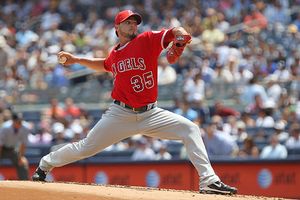 Nick Laham/Getty ImagesAngels starter Joel Pineiro had a tough time keeping his pitches down against the Yankees.
It's not an overstatement to say the Angels' fate could be decided this month. The remaining 56 games could be about playing out the string or they could be the backdrop for a memorable pennant race. After a frustrating, hot Wednesday afternoon in the Bronx -- in which the Angels nearly rallied from a 6-0 hole but lost 10-6 to the New York Yankees -- the upcoming four games in Texas' hot, windy ballpark were on everyone's mind.
The Angels were able to slug with the Yankees to get a two-game split here -- no disgrace in that -- but that was merely the warm-up act for the next series.
"Huge," Angels pitcher Joel Pineiro said, "not big."
The Angels are aware this Texas team is the best they have contended with since manager Mike Scioscia arrived in 2000, but teams don't become World Series threats overnight. Until the Rangers have closed the door on the Angels, have they really proven anything? The Angels just want to be in position to come in if they leave it ajar.
"I think it's the first time. This team's always been in the back," Pineiro said. "So, it might be a little different for them. You never know what can happen. You know everybody here is ready."
The Angels can't put the division away in the next two weeks, but they easily could fall out of contention if they revert to bad habits. At times, they have gone silent offensively, the hitters gripping the bats too tightly under pressure. Lately, that hasn't been a problem. The offense has been hot. The team lost Wednesday because two pitchers, Pineiro and reliever Scot Shields, couldn't keep their pitches down in the strike zone.
The Angels twice had the bases loaded with two outs and a chance to take the lead. In the sixth, Howie Kendrick lined a ball straight to the right fielder. Nick Swisher barely budged.
"What if it's to the right or what if it's in the gap?" wondered Torii Hunter. "Two runs go up and the momentum might have changed."
A victory Wednesday would have put this Texas series in a slightly different light, but not by much. Hunter, the Angels' clubhouse leader, wanted to sell the message that these seven games against Texas aren't make-or-break.
"I might be the wrong guy to ask. I remember winning a 162nd game in Minnesota," Hunter said. "Now, I'm a believer that, as long as the fat lady don't sing, it ain't over."
More On The Angels

For the latest news and notes on Los Angeles, check out the Angels blog from Mark Saxon. Blog
Hunter and Scioscia are pushing the same message. They both seem to be guarding against putting too much emphasis on two series, even if they are the Angels' last chance to cool off Texas until late September.
"It's an opportunity, but it's not over if we don't [win the series]," Hunter said. "You've got to keep grinding. We've still got to play other teams. It just seems like they're whooping every other team."
Scioscia said he won't manage these games any differently than other July games even though the Angels could be in a double-digit deficit by the time they're over.
"We're going to go out there and get after it, but we're not going to bring guys back on three days' rest or do things that are going to hurt you six weeks down the line," Scioscia said. "We're not going to start, all of a sudden, throwing our relievers two innings in the seventh or eighth when it doesn't call for it.
"We know what we need to do. It's a grind, it always is, and a pennant race is going to materialize. The best call isn't to squeeze the bat harder or try to throw the ball harder."
Turning point
Sometimes, baseball games turn around in one inning. Sometimes, they turn on a pitch.
Sometimes, it's a matter of inches. Sometimes, it's a fraction of an inch.
Mike Napoli nearly gave the Angels a 7-6 lead in the seventh inning. He got a hanging slider from Joba Chamberlain in a 3-and-1 count and took a mighty hack, narrowly missing the center of the ball and fouling it straight back.
Chamberlain got out of the inning a few batters later and the Yankees scored four runs off Scot Shields the next inning to blow it open. You never know, but things could have hinged on that one swing.
"I just missed it," Napoli said. "I felt like I did that all day. I need to get on top of the ball."
Did you see that?
Hunter, a 17-year veteran of professional baseball, had never seen anything like it.
Yankees left fielder Brett Gardner was ejected by umpire Paul Emmel for arguing balls and strikes in the seventh inning. His replacement, Colin Curtis, entered the game with an 0-and-2 count and took three balls before hitting a three-run home run off Shields.
As Hunter put it, "That kind of broke our backs."
Here was Shields' take: "It's tougher for him to come into that situation than for me. He's coming into 0-2 and he's got to be ready to go. I just didn't make my pitches."
Quote of the day
"He's certainly not trying to do that, but momentum changes are very evident in a game and we had gotten back in the game." -- Scioscia on a bad game for Shields, who allowed two home runs.
Looking ahead
The two teams' two best pitchers open the series with Jered Weaver (9-5, 3.16 ERA) opposing Cliff Lee (8-4, 2.50) on Thursday at the Ballpark in Arlington.
Mark Saxon covers the Angels for ESPNLosAngeles.com. Follow him on Twitter.
ESPNLosAngeles.com
Mark Saxon is a staff writer for ESPNLosAngeles.com. He spent six years at the Orange County Register, and began his career at the Oakland Tribune, where he started an 11-year journey covering Major League Baseball. He has also covered colleges, including USC football and UCLA basketball.