Commentary
Dodgers seem to be in this together
Updated:
March 27, 2011, 9:42 PM ET
By
Tony Jackson
| ESPNLosAngeles.com
GLENDALE, Ariz. -- After six long weeks of spring training, the Los Angeles Dodgers finally left Camelback Ranch after Sunday's Cactus League game against the Cleveland Indians. Truth be told, most of them left during that game, the final innings composed of minor league campers with no names on the backs of their jerseys who finished the game so the books would balance.
[+] Enlarge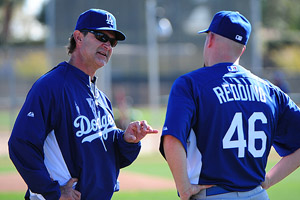 Kyle Terada/US PresswireDon Mattingly said he was happy with the Dodgers' focus in camp this spring.
There are still three exhibition games back in Southern California, but symbolically speaking, the Dodgers' departure from the desert meant the end of spring training, almost six weeks after pitchers and catchers reported. In between, there were meetings and mound sessions, singing competitions in the clubhouse and position competitions on the field, silly pranks and plenty of primers on everything from running the bases to hitting the cutoff man to defending the sacrifice bunt.
But most important, considering the way last season ended, there was peace, harmony and what new manager Don Mattingly said was a sense of common purpose. And coming on the heels of a 2010 season that devolved by late August into what appeared to be a collective playing out of the string, that is exactly what Mattingly was hoping to see.
"Togetherness, that was our biggest thing last year," said Mattingly, who was the Dodgers' hitting coach for the past 2½ seasons. "We were pretty splintered. We hit the skids, and we didn't stay together in all areas. I don't want to dwell on the past, because it's gone, but we didn't stay together, period.
"We didn't have our minds on what we were trying to accomplish. When you don't play for a purpose, you're in trouble."
Playing with a purpose, of course, begins with training with a purpose. Pranks aside, this spring for the Dodgers was strikingly businesslike, right down to the air horn bench coach Trey Hillman sounded to let the players scattered across the back fields know it was time to begin the next drill. It wasn't a boot camp -- there was banter and laughter -- but make no mistake: this was serious business.
"I feel like camp went well," Mattingly said. "They did everything we asked. Guys worked and paid attention to detail like we asked them to. … Their willingness to work and stay focused is what I have really been happy about."
So how did the Dodgers go from limping to an 80-82 finish last year to this new, common purpose?
"There are things that happen when [players] get home in the winter and they're not so close to the pile anymore," Mattingly said. "Guys realize what went wrong when they start to see it. When you talk to them about it [during the season], you may be giving them something they're not willing to take at that time.
More From ESPNLosAngeles.com

For more news, notes and analysis of the Dodgers, check out ESPN LA's Dodgers Report. Blog
"But when they have time to think about it later, they go, 'Yeah, I know what he was saying. I understand it now.'"
One point Mattingly readily concedes is every team feels good about itself this time of year. Baseball is, in many ways, a game of mental survival, and sometimes you have to convince yourself the right approach will carry you through a six-month, 162-game season.
The Dodgers appear to have that part down.
"From the beginning, Donnie has been pretty clear about what he expects," said Clayton Kershaw, the pitcher who will get the ball for the team's season opener against the San Francisco Giants on Thursday night at Dodger Stadium. "The only goal is winning, but not everybody is willing to pay the price to do it. The one thing you know is that all 30 teams come out of the gate wanting to win."
With the drudgery of spring training behind them, we're about to find out whether the Dodgers are one of those teams with enough talent, focus and commitment to put them over the top.
Tony Jackson covers the Dodgers for ESPNLosAngeles.com. Follow him on Twitter.

ESPNLosAngeles.com
Joined ESPNLosAngeles.com in 2010
Covered the Dodgers for the Los Angeles Daily News for more than five seasons
Has covered Major League Baseball on a regular basis for 15 years in Denver, Cincinnati and Los Angeles.