Commentary
Angels should be worth watching
With an infusion of young talent, this L.A. squad figures to be more entertaining at least
Updated:
April 7, 2011, 10:43 PM ET
By
Mark Saxon
| ESPNLosAngeles.com
The Los Angeles Angels' biggest offense of 2010 wasn't losing so many games, though some fans might argue that dropping 82 was a bit excessive.
The most maddening thing about last season was the method to their mediocrity. It was uninspired, vapid and insipid. It was lifeless, uninteresting and bland.
There are plenty of words in the English language that say "boring" and they all applied to the baseball being played where all those freeways intersect in Orange County.
The Angels used to be fast, but last year the base paths seemed lined with Elmer's glue instead of chalk. Their power was supposed to make up for their sluggishness, but after Kendrys Morales went down, it didn't. Watching Angels outfielders track down fly balls was like watching a slow-motion nature clip. Will that lion ever reach the zebra?
And nothing says "joylessness" quite like a relief pitcher trotting in and walking a bunch of people. Only three bullpens in baseball walked more hitters than the Angels' did.
But 2011 is young and exciting and, while nobody really has a clue yet how good this team will be, we can say with some certainty that it will be more entertaining. Here are some reasons, in no particular order, why it could be a fun year at Angel Stadium: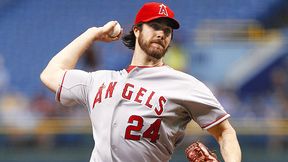 AP Photo/Mike CarlsonPitcher Dan Haren, above, figures to push Jered Weaver this season and that could make for quite a 1-2 punch for the Angels.
Aces. In its strictest sense, that word really shouldn't be plural. There is only one No. 1 by definition, right?
But there are already signs that Dan Haren could make Jered Weaver even better by pushing him for lead status. These two guys combine ability and craftsmanship like few starters in baseball and, assuming nobody gets hurt, the Angels will have those two churning through their 20 percent of the schedule for six solid months.
Weaver and Haren get hitters out with different arsenals, but there are more similarities than differences. They're strikeout pitchers without the benefit of elite fastballs, because their command is pinpoint, they have put-away off-speed pitches, and their patterns are hard to figure out.
Tracking devices. In the Angels' first three games in Kansas City, all three outfielders made brilliant catches at meaningful moments. If you were to condense the defensive highlights of last year's outfield, you wouldn't have enough footage for a short film. You might not have enough for a commercial.
Peter Bourjos in center, Torii Hunter in right and Vernon Wells in left has more than the makings of a strong outfield. It should be the best in the league if Bourjos hits well enough to stay out there and the two veterans stay healthy.
Both Hunter and Wells have Gold Gloves -- as center fielders. In fact, Hunter has nine of them.
Anything hit with a little hump in it has a chance to be caught this season, sometimes with athletic grace.
Pure gas. You know a pitcher has electric stuff when it's fun just to look at the scoreboard after one of his pitches. Jordan Walden routinely rewards the eye for glancing up. He will sit comfortably in the 96-98 mph range and then, oomph, 101.
It's more fun to watch hitters' reactions. They look rushed and, occasionally, a bit worried. Their swings look as though they're trying to swat at the world's quickest fly.
Ultimately, the rookie might fail as a closer, but however it plays out, watching the bearded Texan handle the ninth inning will be more entertaining than watching Fernando Rodney walk a bunch of people.
Two more youngsters. Mark Trumbo and Hank Conger worked out together all winter just a few miles from Angel Stadium and they both look ready to take up permanent residence in Anaheim.
More on the Angels

For more news, notes and analysis of the Angels, check out ESPN Los Angeles' blog. »


Conger's second swing of the season produced his first major-league home run, off a good pitcher, Jeff Neimann. Conger is blocked by two veteran catchers ahead of him on the depth chart, but the Angels won't be able to tell him he's not ready if they send him down again.
He's the team's best-hitting catcher already and, at 23, he figures to improve month by month. He may not have all the intricacies of catching figured out, but he might have the bat to make up for a few little mistakes.
Trumbo has shown more willingness -- or is it ability? -- to adapt than Brandon Wood ever did. A minor-league slugger, Trumbo has shortened his swing at times and gotten important hits when the Angels need them. He also has played better first base than many people anticipated. Signs are he'll be more than an adequate replacement while Morales is recovering and, once his power shows up, he could put on some long-ball displays.
If things go great in Anaheim this year, the Angels will return to the playoffs behind an exciting blend of youth and experience. If things go OK, they'll fight back into contention until at least the final few weeks. If they fall apart, people will start to fret about the franchise's direction.
But whatever happens, it should at least be worth watching.
Mark Saxon covers the Angels for ESPNLosAngeles.com.
ESPNLosAngeles.com
Mark Saxon is a staff writer for ESPNLosAngeles.com. He spent six years at the Orange County Register, and began his career at the Oakland Tribune, where he started an 11-year journey covering Major League Baseball. He has also covered colleges, including USC football and UCLA basketball.