Commentary
Ted Lilly's competitiveness comes out
Lefty grinds his way through a rainy night to keep the Dodgers in the game in San Diego
Updated:
April 9, 2011, 8:33 AM ET
By
Tony Jackson
| ESPNLosAngeles.com
SAN DIEGO -- One afternoon in late March, as I was preparing to leave Camelback Ranch after a Cactus League game against the Chicago Cubs that was basically indistinguishable from the one the Los Angeles Dodgers had played the day before, a couple of Cubs beat writers asked me about Ted Lilly.
Lilly had pitched for the Cubs for the previous 3½ seasons before being dealt to the Dodgers at last year's trading deadline, and many months after his departure, these writers were still marveling at what a fierce competitor he had been.
They talked about the time in the 2007 National League Division Series against Arizona when, after giving up a three-run homer, Lilly heaved his glove to the ground in frustration, in full view of the stands and a network-television camera that was trained on him.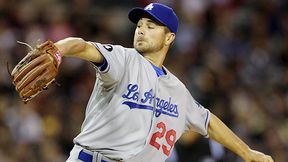 AP Photo/Lenny IgnelziTed Lilly endured several rain delays and escaped multiple jams to keep the Dodgers in the game Friday against the San Diego Padres.
They talked about the toilet in the visiting dugout at Dodger Stadium that was attacked with a bat after the final game of the 2008 NLDS, causing the dugout to flood, and how -- although Lilly's spot in the rotation had never come up because of the Dodgers' three-game sweep, and although they were never able to confirm that Lilly was the culprit -- he was naturally the first suspect who came to mind.
We all reminisced about that afternoon at Wrigley Field in May when Lilly, apparently looking for any edge he could get while shutting out the Dodgers on three hits over seven innings, was flagged by the Dodgers' Casey Blake for pitching a few inches in front of the rubber. Blake complained loudly to an umpire, but Lilly was never called for anything.
To the naked eye, there is nothing imposing about Lilly. He has a small, slender frame and a fastball that rarely, if ever, reaches 90 mph. When he wins, he does so with good command, good pitch selection, craftiness and, yes, fierce competitiveness.
That competitiveness was on full display Friday night against the San Diego Padres, perhaps more so than at any point since the Dodgers acquired Lilly and then re-signed him last winter to a three-year, $33 million contract. He wouldn't get a win. Until the Dodgers tied the score an inning later, he actually was on the hook for the loss when he left with one out in the fifth. (Ultimately, the game was suspended in the ninth inning at 1:40 a.m. after the fourth rain delay with the score tied 2-2. It will resume at 5:35 p.m. Saturday before the teams' regularly scheduled game.) And he would continue to struggle in a way he has, really, since the start of spring training.
But he did it his way.
It began at the end of a one-hour, 34-minute rain delay, long enough that Padres manager Bud Black judiciously pulled his starter, Clayton Richard, after just 16 pitches. But Lilly was having none of that. When the game resumed, so did he. Already he had escaped a first-and-third, one-out situation in the first inning by getting Jorge Cantu to fly to shallow right and Ryan Ludwick to fly out to left.
After the delay, Lilly's high-wire act continued. The Padres would strand at least one baserunner in each of the first four innings, at least one in scoring position in three of them. But each time, Lilly would pull off a daring escape, punctuating his performance with back-to-back strikeouts of Todd Hundley and Cory Luebke to strand two runners in scoring position in the fourth.
More on the Dodgers

For more news, notes and analysis of the Dodgers, check out ESPNLA's Dodgers Report. Blog
The definitive Lilly moment, though, came at the plate in the top of the fifth. With two outs and nobody on. The sort of situation when most starting pitchers take their obligatory hacks, make the obligatory last out of the inning and get back to business. But not Lilly. He worked Luebke for a full count. And when he finally popped up on the sixth pitch, almost three hours after he had thrown his first pitch of the evening, Lilly took two steps out of the box, raised his bat above his head and slammed it into the dirt of the basepath in frustration.
Lilly finally reached the end in the bottom of that inning, leadoff hitter Will Venable reaching second when Matt Kemp bobbled his base hit to center for an error and the Padres eventually scoring twice to take a short-lived 2-1 lead. Lilly had thrown 85 pitches, with a long rain delay between pitches No. 13 and 14. He had been in constant trouble and had gotten virtually no run support from a Dodgers offense that seems to be getting weaker by the day. He had been so deliberate in his delivery that the Padres had stolen three bases behind him. But he had never flinched.
He left with his ERA at 6.00 through two starts, more reflective of his getting roughed up by the San Francisco Giants last Saturday than what he did against the Padres. But he still has given up 13 hits in his nine innings this season. Judging by the numbers alone, we haven't seen the vintage Lilly, the one who averaged 13 wins over the past eight seasons.
Then again, vintage Lilly might have been exactly what we saw Friday night.
Tony Jackson covers the Dodgers for ESPNLosAngeles.com. Follow him on Twitter.

ESPNLosAngeles.com
Joined ESPNLosAngeles.com in 2010
Covered the Dodgers for the Los Angeles Daily News for more than five seasons
Has covered Major League Baseball on a regular basis for 15 years in Denver, Cincinnati and Los Angeles.