Commentary
Ted Lilly finds path to success
Left-hander's guile and competitiveness continue to pay off on mound for the Dodgers
Updated:
June 1, 2011, 8:18 AM ET
By
Tony Jackson
| ESPNLosAngeles.com
LOS ANGELES -- If you're the sort who looks for things not to like in a ballplayer, you won't be disappointed with Ted Lilly.
He doesn't have an overpowering fastball. He isn't big enough to be any sort of imposing presence on the mound. He gives up a lot of fly balls, which against the right lineup and in the right ballpark can be dangerous, if not downright scary. And when it comes to controlling the running game, with that slow-motion delivery of his, well, forget about it.
So how does a guy like that manage to stick in the major leagues for more than a dozen years? Well, if you have watched his last three starts for the Los Angeles Dodgers -- the most recent one a seven-inning semi-gem in an 8-2 victory over the Colorado Rockies on Tuesday night at Dodger Stadium -- that's how.
Call him a poor man's Greg Maddux, if you will. But Lilly isn't going to the Hall of Fame, and he won't win 300 games, and probably won't ever win a Cy Young Award, much less four of them. And, of course, he is left-handed. He isn't even necessarily that guy who makes you supremely confident whenever he takes the mound every five days, and we have actually seen him look pretty mediocre at times since the Dodgers picked him up at last year's trading deadline and then re-signed him in October to a three-year, $33 million contract.
[+] Enlarge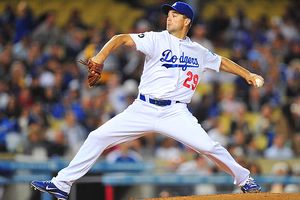 Gary A. Vasquez/US PresswireTed Lilly has walked only one batter in his last 20 innings.
But like Maddux, when Lilly wins, he wins with guile, competitiveness and relentless strike-throwing. And that willingness to pound the zone might be the most impressive of Lilly's habits, given the type of pitcher he is and the fact he is among the league leaders in home runs allowed.
During those three most recent starts for the Dodgers, Lilly has walked a total of one batter in 20 innings. He didn't walk any against a Rockies team that came to town in the midst of a collective offensive swoon rivaling the one the Dodgers were in before they managed 23 runs over their last three games, and Lilly -- there's the guile again -- seemed to exploit the Rockies' obvious desperation.
"A little bit," he acknowledged. "You can see that. When a club is in that situation, you try and take advantage of it, especially when you're facing a good ballclub like that. ... My observation was that a few times, guys might have been looking for different pitches in different locations. It's sort of a cat-and-mouse game. You try to make the right choice as a pitcher. Sometimes, you guess wrong and pay for it."
In a dozen starts this season, Lilly only once has posted what could be called a hideous pitching line. That was April 23 against the Chicago Cubs, the team that traded him to the Dodgers last July. More notably, perhaps, he hasn't had a single start this year in which he has walked more than two batters.
After this game, Lilly has a career average of three walks per nine innings, which isn't exactly spectacular. But the real story becomes clear when you look at his last four-plus seasons. With the Cubs in 2007, Lilly reached the 200-inning plateau (207, to be exact) for the first time in his career. Curiously, his walks plummeted that season to 55 after he walked 81 in 181 2/3 innings the previous year.
Since then, Lilly has issued 2.2 walks per nine innings. In his 24 starts with the Dodgers, that figure drops to 1.7. And this year specifically? Try 1.5.
"I think strike one, getting the fastball over for strikes and getting them into swing mode, and then from there, expanding [the zone] a little bit," Lilly said when asked what was the key to his performance against the Rockies.
Again, it helped that the Rockies were overeager at times. It also helped that Lilly occasionally got a helping hand from plate umpire Angel Hernandez, whose strike zone seemed especially liberal at times (six of Lilly's eight strikeouts were called), but in theory, that affects both teams equally.
Whatever the reason, though, this was Lilly at his finest. And if he were taking advantage of some circumstances that were definitely in his favor, well, again, that is what a guy like Lilly has to do to be successful. It's something he has done in each of his last three starts, and while Lilly (4-4) was left with a no-decision in the first two of those, the fact that the Dodgers won all three games was a nod to his ability to put them in position to do so.
More on the Dodgers

For more news, notes and analysis of the Dodgers, check out ESPNLA's Dodgers Report. Blog
"I think overall, his location has been obviously better," Dodgers pitching coach Rick Honeycutt said. "I think he was fighting himself a little bit early on, just his command. Even though he wasn't walking guys, the counts sometimes weren't the best. You're seeing him now being more aggressive in the zone."
It was just one of a number of recent encouraging signs for the Dodgers (26-30), who suddenly find themselves in a third-place tie with the Rockies in the National League West, just 4.5 games behind the division-leading Arizona Diamondbacks in a race that has taken on a dramatically different feel since San Francisco Giants catcher Buster Posey suffered a season-ending leg injury last week.
The once-punchless Dodgers have won three in a row, those wins coming by an average margin of 6.7 runs. It's enough to give a starting pitcher -- who might have felt as recently as a week ago that he had to pitch a shutout to have any chance of winning, even if Lilly would never admit to such a thing -- a feeling that maybe the game doesn't rest entirely on his shoulders, after all.
"That was fun," Lilly said. "I think when you have games like that, it's a little different atmosphere. Even the guys sitting in the dugout are a little more alive. It's hard to get that kind of atmosphere when you're in a 1-1 game. ... I just enjoyed watching [the offense]. I'll be honest, I expect it. I don't think this is necessarily just a hot streak. I think we're this good. We're not going to go out there and score 10 runs every game, but I think we're going to do some damage as the season goes on."
If that sounds like a challenge, well, Lilly has earned the right. For now, he is keeping up his end of the bargain, and so is the lineup. And if that continues, there might be some hope for these Dodgers yet.
Tony Jackson covers the Dodgers for ESPNLosAngeles.com.

ESPNLosAngeles.com
Joined ESPNLosAngeles.com in 2010
Covered the Dodgers for the Los Angeles Daily News for more than five seasons
Has covered Major League Baseball on a regular basis for 15 years in Denver, Cincinnati and Los Angeles.