Commentary
Dodgers' offense needs to prove itself
There have been encouraging signs lately, but L.A. again wilts against a quality pitcher
Updated:
June 9, 2011, 1:56 AM ET
By
Tony Jackson
| ESPNLosAngeles.com
PHILADELPHIA -- We have learned some encouraging things about this Los Angeles Dodgers offense through the first six games of a three-city trip. We have learned that under the right circumstances, and against the right pitcher on the right day, the Dodgers are capable of a fair amount of run production. We have learned that this team is capable of coming back in the late innings, even from a large deficit.
The next step on the road to recovery, then, is developing the ability to beat a good starting pitcher. And as we saw Wednesday night, in the Dodgers' 2-0 loss to Cole Hamels and the Philadelphia Phillies at Citizens Bank Park is still a work in progress.
On an evening when Hamels was as good as he has ever been, the Dodgers were mostly at a loss as to how to solve him, the dominating left-hander shutting them out on six hits and no walks over eight innings while striking out nine batters, all of them swinging. But while the Dodgers never showed how to beat a guy like Hamels, they gave a perfect lesson in the seventh inning, at a point when they trailed 1-0, on how not to beat him.
[+] Enlarge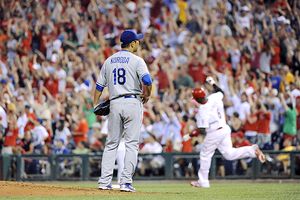 Howard Smith/US PresswireHiroki Kuroda didn't get any support Wednesday from the Dodgers' offense, which seems to fade against quality competition.
Following a leadoff double by Andre Ethier and a single by Matt Kemp that was hit too sharply to right field to allow Ethier to score -- the Phillies' Domonic Brown made an almost-perfect throw to the plate that would have easily nailed Ethier -- the Dodgers had runners at the corners and nobody out. I often refer to this as the baseball version of football's "red zone,"' which is the term they use to measure how often a team converts when it crosses the opponent's 20-yard-line.
The analogy might be a reach on my part, but the logic is that when you get a man to third base with less than two outs, there are so many ways and so many chances to get him home that there is simply no excuse for not getting scoring the run. But the Dodgers, as they do all too often and perhaps even predictably, failed once again to get it done.
It began with a truly awful at-bat by Juan Uribe, a notorious free swinger, who went after Hamels' first pitch and popped it up to second. Marcus Thames then struck out, leaving him 0-for-11 for the season with runners in scoring position, and Rod Barajas popped to short, leaving him 2-for-37 in those situations. It also left Ethier standing on third base.
I wanted to ask Uribe about his at-bat after the game, feeling as I did that it was the game's pivotal moment for the Dodgers, but he shook me off before I even got to his locker. This was after he had also grounded into a double play, on a ball that initially looked as though it might get through the infield, against Phillies closer Ryan Madson right after Matt Kemp led off the ninth with a base hit.
After their recent offensive awakening -- they had scored 51 runs in their previous nine games -- the Dodgers are now hitting a respectable .307 (31-for-101) with a runner on third and less than two outs this season. Still, it feels as though there's something missing, something that can't be quantified in situations when the Dodgers really needed to produce. Overall, it feels as though the Dodgers haven't come through very often at those times. And it also feels as though they have taken many quick at-bats, such as the one Uribe took against Hamels.
"It's easy to say you don't like it afterward," Dodgers manager Don Mattingly said. "I'm sure he had some type of plan for what he wanted to do. Obviously, you don't like the result, but I know he wasn't trying to do that."
Trying to make an out? Well, of course not. But trying to do everything he could to execute a quality at-bat in a critical situation? Only Uribe knows the answer to that, and again, he didn't want to talk about it.
Back to my original premise, though: The fourth-place Dodgers (29-34), who now trail the division-leading San Francisco Giants by 6 1/2 games in the National League West, have still won six of their past 10 games. The four games they have lost during that stretch have come at the hands of Colorado's Ubaldo Jimenez, Cincinnati's Bronson Arroyo and the Phillies' Cliff Lee and Hamels -- all of whom are among the elite pitchers in the majors.
More on the Dodgers

For more news, notes and analysis of the Dodgers, check out ESPNLA's Dodgers Report. Blog
You're not going to beat guys of that caliber on a regular basis, but if you want to contend, you have to beat one of them at least on occasion. There are a bunch of those guys in the NL, and there seems to be a disproportionate number of them in the NL West, where the games are doubly important because each one effectively counts as two games in the standings.
The Dodgers are about to return to the NL West, beginning an important, four-game series with the Rockies on Thursday night at Coors Field. They will start by facing an impressive rookie named Juan Nicasio, then follow that up against Jhoulys Chacin, the guy who has probably been the Rockies' ace this season while Jimenez has uncharacteristically struggled; Jason Hammel, whom the Dodgers beat up only nine days ago in Los Angeles; and finally, Jimenez again.
If the Dodgers are ever going to take that next step, to prove to the world but mostly to themselves they are resourceful enough to scratch out a victory against a top-notch pitcher, there is no better time for them to do it than sometime over these next four days.
A quality, well-executed at-bat in a key situation might be a good place to start.
Tony Jackson covers the Dodgers for ESPNLosAngeles.com.

ESPNLosAngeles.com
Joined ESPNLosAngeles.com in 2010
Covered the Dodgers for the Los Angeles Daily News for more than five seasons
Has covered Major League Baseball on a regular basis for 15 years in Denver, Cincinnati and Los Angeles.