Commentary
Dodgers' offense cashes in
On a day the Dodgers filed Chapter 11, L.A.'s bats exploded in a 15-0 rout of the Twins
Updated:
June 28, 2011, 10:07 AM ET
By
Tony Jackson
| ESPNLosAngeles.com
MINNEAPOLIS -- Financial solvency is so five minutes ago. Bankruptcy, now that's the new chic. And on Monday night, the newly down-and-out Los Angeles Dodgers peacock-strutted their way to a 15-0 pounding of the Minnesota Twins before a sellout crowd of 39,487 at Target Field, a record-setting evening to cap off a day that began with the Dodgers making franchise history of a different kind.
The solvent Dodgers? They couldn't generate offense, get a man home from third with fewer than two outs or hold a lead in the late innings, and generally just couldn't win games, at least not very many of them.
The bankrupt Dodgers? They couldn't be stopped.
[+] Enlarge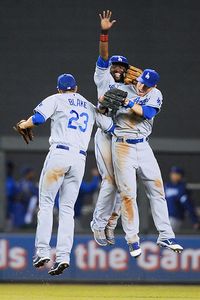 Hannah Foslien/Getty ImagesDodgers players celebrate their 15-0 drubbing of the Twins on a day L.A. fans found little to celebrate.
The Dodgers pounded out 25 hits, which according to ESPN Stats & Information tied for the second most ever in an interleague game, and the Twins were so powerless to stop them that the Dodgers even got one hit a half-hour after the game ended when the official scorer changed his mind on a fifth-inning error call and instead gave Andre Ethier a single.
They also tied for their most hits in any game since moving to Los Angeles from Brooklyn in 1958. They posted the most lopsided shutout victory by a National League team in the 15-year history of interleague play and their most lopsided shutout win since they beat the expansion San Diego Padres 19-0 in 1969.
They got four-hit performances from three players -- Tony Gwynn, Matt Kemp and Trent Oeltjen (yes, Trent Oeltjen) -- for the first time in nine years. They won a game in Minnesota for just the second time ever, the only previous one being Sandy Koufax's three-hit shutout of the Twins at old Bloomington Metropolitan Stadium in Game 7 of the 1965 World Series.
And, again for the first time since the team moved west and for the first time overall since 1930, they got at least one hit, at least one RBI and at least one run scored from every player in their lineup.
"Really?" Dodgers third baseman Casey Blake said. "History."
Just like the team's financial solvency. For now, that's history, too.
Actually, the Dodgers were solvent only in the official sense, meaning they weren't officially bankrupt until owner Frank McCourt's lawyers filed early Friday. To say they were solvent before that would be akin to saying the Dodgers drew 40,000-plus paid spectators to each of this past weekend's three home games with the Los Angeles Angels, which they also did, officially.
But now, the Dodgers are penniless paupers, a fact that prompted manager Don Mattingly to call a brief meeting before batting practice.
"Donnie said something to the team," Blake said. "He just reminded us to go about our business. That is really the mindset we have to have. There are people who are taking care of all that other stuff. Let it work itself out and just leave it to them."
More on the Dodgers

For more news, notes and analysis of the Dodgers, check out ESPNLA's Dodgers Report. Blog
To a man, the Dodgers' players say McCourt's financial issues haven't affected them to even the slightest degree on the field, and that isn't that hard to believe because the Dodgers have had plenty of their own issues on the field -- a bankrupt offense, if you will. So as tempting as it is to try to tie the bankruptcy filing and this out-of-character offensive explosion together, the fact they came on the same day is really nothing more than a coincidence, albeit an all-too-convenient one.
"This was just one of those days," Mattingly said. "Everything kind of went our way. I have been on both sides of these. Everything went right from the beginning. A lot of times, you see it start and then stop, but this time it just kept going."
Mattingly had expressed hope following Sunday's win over the Angels -- a game in which the Dodgers (36-44) might have been aided by at least one blown call by an umpire as they were rallying for two runs in the bottom of the ninth -- that his club would carry that momentum for a while and parlay it into a major move in the NL West. The Dodgers remain in fourth place, nine games behind the division-leading San Francisco Giants.
For one evening, the Dodgers did that, not only exploding for all those runs, hits and records, but also getting six stellar innings from Chad Billingsley (7-6). Ultimately, though, it was one win at a point when the Dodgers need to string together a bunch of them if there is any hope of getting back into contention.
This was a step in the right direction, nothing more. But that is more than can be said for certain other people at certain other levels of the organization.
If this is the look of bankruptcy, well, for one night at least, the players McCourt can't afford to pay certainly wore it well.
Tony Jackson covers the Dodgers for ESPNLosAngeles.com. Follow him on Twitter.

ESPNLosAngeles.com
Joined ESPNLosAngeles.com in 2010
Covered the Dodgers for the Los Angeles Daily News for more than five seasons
Has covered Major League Baseball on a regular basis for 15 years in Denver, Cincinnati and Los Angeles.