Commentary
Rubby De La Rosa gets zilch for effort
The Dodgers' promising rookie right-hander has support issues in Minnesota duel
Updated:
June 30, 2011, 12:46 AM ET
By
Tony Jackson
| ESPNLosAngeles.com
MINNEAPOLIS -- There was a time, before anyone in Los Angeles had ever heard of Frank McCourt, when Los Angeles Dodgers rookies were taught from the day they joined the organization all about the famed "Dodger Way."
The idea behind it, spawned during an era when the Dodgers were still one of the National League's dominant teams on a perennial basis, was that you bred young players to play the game right, thus preparing them to do their part to perpetuate that winning tradition when they reached the majors.
On Wednesday, rookie right-hander Rubby De La Rosa was introduced to the new Dodger Way, circa 2011: You post a gem of a pitching performance, the best of your budding career in fact; you get zero offensive support from your punchless teammates; and you lose 1-0, as the Dodgers did at the hands of the Minnesota Twins before a sellout crowd of 39,655 at Target Field.
This is the lesson Dodgers rookies learn nowadays, and it's often a cold, harsh one. For all of McCourt's well-chronicled issues, it is tough to blame him for the fact the Dodgers couldn't get a man home from third with less than two outs in the third inning of a game that ultimately would be decided by one run. Then again, we could argue all day about whether the McCourt saga and the team's offensive ineptitude are two separate problems or the latter is simply an inevitable by-product of the former.
[+] Enlarge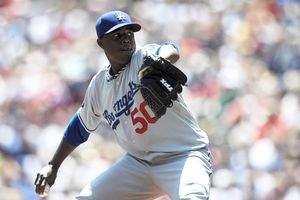 Hannah Foslien/Getty ImagesThe Dodgers have lost six games this season when the opponent scored no more than two runs. Wednesday's loss wasn't Rubby De La Rosa's fault.
Whatever the answer, the promising De La Rosa had nothing to show for an afternoon in which he gave up a leadoff triple to Twins center fielder Ben Revere -- who then scored on a comebacker to the mound on which De La Rosa made a nice play but had no choice but to get the out at first -- and not much more. De La Rosa deftly pitched out of a bases-loaded jam in the second and then never really came close to giving up another run.
For all that, De La Rosa, like so many other Dodgers starters in so many other games this season, was rewarded with a big, fat "L," his third in his past three starts.
"A player can't feel happy because you pitched well if you don't win the game," De La Rosa said, with Kenji Nimura interpreting.
It marked the sixth time this season that the Dodgers lost a game in which the opponent scored no more than two runs. It is an issue that seems to feed on itself, Dodgers hitters appearing to press all the more whenever they come up in a clutch situation with men in scoring position. In fact, when Dee Gordon stole third base after leading off the third with a single and being sacrificed to second, you almost got the feeling it was subtraction by addition, his having created that runner-on-third, less-than-two-outs situation in which the Dodgers almost never succeed.
They didn't, of course, Casey Blake popping up and Andre Ethier striking out. But if De La Rosa found this frustrating, he is hardly alone among his fellow Dodgers pitchers. This is not to take anything away from Twins righty Scott Baker, who shut out the Dodgers on six hits over 7 1/3, but as he walked off to a loud ovation in the eighth, you had to wonder whether all those Twins fans realized that Baker hadn't really been met with much of a challenge.
So I felt compelled to ask Dodgers manager Don Mattingly if he was concerned about his starters becoming frustrated by a lack of run support.
"In a sense," he said. "But then, there have been games when we did put some runs up at the plate and didn't make the pitches we needed to make. I'm sure it's frustrating to pitch really well and not get anything to show for it, but I'm sure it is for those [hitters], too, knowing we got a great performance and at the end of the day we didn't put up any runs for them. I'm sure that is frustrating for them."
More From ESPNLosAngeles.com

For more news, notes and analysis of the Dodgers, check out ESPN LA's Dodgers Report. Blog
But enough about the frustration, which has become the underlying theme of this season for the woebegone Dodgers (36-46).
Let's talk about De La Rosa, who looked like a different pitcher from the guy who walked 15 batters in 20 2/3 innings in his first four starts. This time, he attacked the strike zone from the start and issued just one walk that wasn't intentional. That strategy would cost him his only run, Revere hammering De La Rosa's third pitch of the game to the base of the wall in left-center, but De La Rosa never really flinched.
The highlight of his performance came right after he issued that lone walk, to Matt Tolbert, the No. 9 hitter in the Twins' lineup. That loaded the bases with two outs in the second, suggesting the Twins were about to bust the game open and De La Rosa (3-3) was about to suffer another rookie meltdown.
Instead, he got Revere to pop up, the first of nine consecutive batters retired by De La Rosa. He then would strand Twins runners at second in the fifth, sixth and seventh innings before taking a seat and a whole lot of handshakes in the Dodgers' dugout.
"I was trying to make them swing at my first pitch," said De La Rosa, whose seven innings were a career high. "Every time I pitch, I want to throw more innings than the time before. Today, I was able to throw seven, and I had more confidence."
Confidence in himself, that is. If De La Rosa is lucky, maybe sometime in his next few starts, his teammates will give him a reason to have confidence in them, too.
Tony Jackson covers the Dodgers for ESPNLosAngeles.com

ESPNLosAngeles.com
Joined ESPNLosAngeles.com in 2010
Covered the Dodgers for the Los Angeles Daily News for more than five seasons
Has covered Major League Baseball on a regular basis for 15 years in Denver, Cincinnati and Los Angeles.