Commentary
Dodgers make it work on this day
Nearly no-hit, L.A. beats Padres 1-0 to salvage some light on day of doom and gloom
Updated:
July 10, 2011, 2:24 AM ET
By
Tony Jackson
| ESPNLosAngeles.com
LOS ANGELES -- On an afternoon that was rife with potential embarrassments for embattled Los Angeles Dodgers owner Frank McCourt, all of them broadcast on a national network to a regional audience, the team on the field narrowly avoided the ultimate humiliation.
Hitless until there were two outs in the bottom of the ninth, the Dodgers suddenly got back-to-back hits from Juan Uribe and Dioner Navarro to sneak away with their second consecutive 1-0 victory over the San Diego Padres.
[+] Enlarge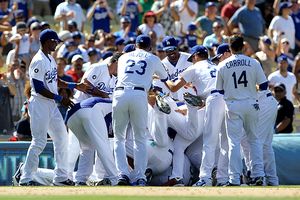 Stephen Dunn/Getty ImagesDodgers players mob Dioner Navarro after his two-out, ninth-inning hit beat the Padres 1-0.
With that, the dugout erupted and the obligatory scrum took place at second base, Matt Kemp tackling Navarro in celebration of the fact the Dodgers had matched their season high with their third consecutive victory and their pitching staff had delivered its third consecutive shutout, a feat the Dodgers hadn't accomplished in 20 years.
And that was how it ended, this strangest of days in Chavez Ravine, the Dodgers having suddenly pulled even with the Padres for fourth place -- or, if you're the glass-half-empty type, last place -- in the National League West and giving themselves at least a chance to go into the All-Star break on the wings of their first series sweep and their first four-game winning streak of the season.
The dramatic rally took place before what was left of what had been laughably announced as a crowd of 29,744. Major League Baseball allows teams to use tickets sold as the official number, but in reality, the old yard was so sparsely populated that Joe Buck, the lead play-by-play man for the Fox network who stopped by on his way to the All-Star Game in Phoenix to call this game, used the word "pathetic" during the broadcast.
And with that, 7 percent of the country got a first-hand look at the state of Dodgers baseball. Just over the hill, at the corner of Sunset and Elysian Park, there was a small, organized protest against McCourt's continued ownership of the club, which was more symbolic than anything else because if Bud Selig can't get McCourt to do the right thing, a few dozen protesters aren't likely to get his attention either.
But in a season when actual home attendance has plummeted, the stands never looked as empty as they did for this game, and Fox made sure the viewers got plenty of looks at all those vacant seats. It didn't help that the printed tickets distributed for the game still had it as a 7:10 p.m. start -- it was moved up at Fox's request about a month ago -- but in a world where perception is everything, the perception here was that this was all about McCourt.
Once Buck and his broadcast partner, Tim McCarver, were done talking about the attendance, they turned their attention back to the game, and that small segment of the country got to see first-hand what happens whenever the Dodgers and Padres, who began the day 14th and 16th respectively in the National League in runs scored, get together. Before Uribe drove a double just over the head of Padres left fielder Chris Denorfia for that two-out hit in the ninth, the clubs combined for one hit, that a hard single up the middle by Cameron Maybin in the fifth off suddenly sensational Dodgers rookie Rubby De La Rosa.
More From ESPNLosAngeles.com

For more news, notes and analysis of the Dodgers, check out ESPN LA's Dodgers Report. Blog
Hours earlier, for the Dodgers, the day began with everyone gathered in the clubhouse to watch Derek Jeter try to become the 28th player in major league history to reach 3,000 hits, and when Jeter did it with a home run, of all things, the room erupted. Hitting coach Jeff Pentland had just walked through the clubhouse informing everyone that there was a hitters' meeting at 11 a.m. in the players' lounge, but the fact Jeter's hit didn't come until 11:03 local time wasn't a big deal. The meeting, Pentland figured, could wait that long.
Among those gathered for the occasion was one of the other 27 guys to reach 3,000. Hall of Famer Tony Gwynn Sr., a broadcaster for the Padres and the father of the man who appears to be cementing himself as the Dodgers' everyday left fielder, then got up and followed his son and everyone else into that meeting with Pentland and manager Don Mattingly.
Later, we learned the older Gwynn hadn't just gone in there to observe.
"It's always good when you can talk to a guy who was arguably the best hitter who ever played this game," Navarro said after the game. "You would have to be a dumb---- if you don't listen to what he has to say. It was the same thing we had heard a million times, but you don't always get to hear it from a guy who has [3,141] hits. He played the game. He understands the game and knows how hard it is. He just said to relax and let the game come to you instead of trying to go get the game."
Mattingly hinted before the game the purpose of the meeting was to get players to not press in key situations -- the Dodgers are hitting just .230 with runners in scoring position -- and to take the same approach into those at-bats that they take into any other. After the game, though, Mattingly said the meeting really was more broad and focused on the whole mental part of hitting.
At any rate, the result was pretty much the same as always. But at a time when the Dodgers' pitching staff has delivered 27 consecutive scoreless innings, the most in the majors this season, Navarro's bloop hit to right-center in the ninth was good enough.
"We just won three in a row, so I think we'll take these results right now," Mattingly said. "But I think there will probably be a day when we're going to have to score some runs."
The Dodgers (40-51) went 1-for-7 with runners in scoring position, including one eighth-inning at-bat in which Tony Gwynn Jr., one of the team's hottest hitters at the time, was for some reason called upon to bunt with runners on first and second and none out and popped it up.
To that point, the Dodgers had been held hitless by veteran right-hander Aaron Harang, who was activated from the disabled list just before the game and was pitching for the first time in a month, and relievers Josh Spence, Chad Qualls and Mike Adams.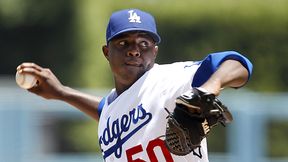 AP Photo/Christine CotterRookie pitcher Rubby De La Rosa needed a lot of pitches Saturday, but he managed to hold the Padres scoreless.
Still, none of that was enough to spoil the latest masterpiece by De La Rosa, who threw too many pitches and issued too many walks but managed to shut out the Padres for six innings and has given up four runs and 12 hits over 20 innings in his last three starts. Relievers Matt Guerrier, Mike MacDougal and Blake Hawksworth (2-2) finished up with three perfect innings.
And then Uribe and Navarro delivered against Luke Gregerson (2-2), and the Dodgers ran their record to 3-0 since infielder Jamey Carroll called that now-famous, players-only meeting before Thursday night's game with the New York Mets. While shutting out their opponents in all three of those games, the Dodgers themselves have scored a total of eight runs, including two in their last 19 offensive innings.
I have no idea how long the protest down at the corner lasted, but if the goal was to drive McCourt out, it didn't work. As of early Saturday evening, he still hadn't cried uncle, still hadn't given in to Selig and still was in the midst of bankruptcy. And while McCourt certainly should have been embarrassed by all of it, who knows whether he still feels any shame, anyway?
But in almost every other way, it had been a positive afternoon near the midway point of this mostly negative season. The Dodgers didn't score much, but they scored enough. The smattering of fans who did show up got to make a lot of noise in the ninth inning, but the silence of all those who didn't show was almost louder. And a television audience that wasn't national but stretched at least well beyond the boundaries of Southern California got a look not only at the Dodgers' sobering present, but at their promising future in De La Rosa.
The whole thing wasn't much to look at, either on television or in person. But for one afternoon, the Dodgers made it work.
Tony Jackson covers the Dodgers for ESPNLosAngeles.com.

ESPNLosAngeles.com
Joined ESPNLosAngeles.com in 2010
Covered the Dodgers for the Los Angeles Daily News for more than five seasons
Has covered Major League Baseball on a regular basis for 15 years in Denver, Cincinnati and Los Angeles.