Commentary
Dodgers reach a new low
When Giants fans cease to care, it's possible Los Angeles has hit rock bottom
Updated:
July 19, 2011, 9:47 AM ET
By
Tony Jackson
| ESPNLosAngeles.com
SAN FRANCISCO -- Something was horribly amiss.
I could tell from the first pitch that at AT&T Park, where the Los Angeles Dodgers fell 5-0 to the San Francisco Giants before a sellout crowd of 42,323 on Monday night, something was somehow different. Having witnessed almost every Dodgers-Giants game over the past eight years, I could feel it, especially here, where animosity toward the Dodgers permeates the very fabric of being a Giants fan.
Or at least it used to.
[+] Enlarge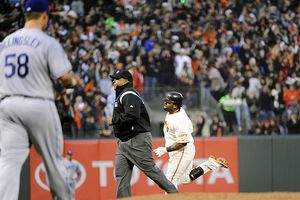 Thearon W. Henderson/Getty ImagesChad Billingsley could only look down, perhaps knowing the one run he had just given up to Pablo Sandoval cost the Dodgers, who were shut out, the game.
In a city and a ballpark where wearing anything blue used to get you sneered at, spat at and cursed at, all that rivalry was strangely absent as the Dodgers rolled into town for the first time since April.
This realization, of course, immediately led to another: When Giants fans can no longer generate enough emotional energy to hate on the Dodgers, presumably because they are too busy taking pity on them, that is the surest sign yet that the Dodgers have officially hit rock bottom.
For the Dodgers, the only thing worse than coming north and having to deal with the overt hostility that always greets them the minute they take the field for batting practice and never stops until the final out, is coming north and not having to deal with any of that. Because if Giants fans don't hate the Dodgers, it can only mean they are indifferent toward them. They were dismissive in a way that you would expect fans to be when their team is coming off one World Series title and has high hopes of another one, and the team that used to be the target of their scorn is no longer even good enough to be worthy of that scorn.
At one point in the bottom of the first inning, when the game was still scoreless and the Giants were mounting a rally that ultimately wouldn't net them a run -- not to worry, they would score more than enough later in the game -- there was a brief, half-hearted recitation of the customary BEAT L-A, BEAT L-A chant, but it quickly fizzled. It came back, a little stronger, as Rod Barajas came to the plate with two outs in the ninth, but it didn't last until he struck out to end the game. I never really heard any booing, either.
By the time the Giants had chased Chad Billingsley (8-8) with a four-run sixth to put the game on ice, it didn't really matter who the visiting team was. The Dodgers were to the Giants as the Washington Generals were for all those years to the Harlem Globetrotters, mere foils and straight men to the guys the people paid their money to see. The Giants have sold out every home game this season, and you don't need me to tell you what attendance is like at Dodger Stadium these days.
The fans who showed up here Monday night were here to root for their team, their champions, and what a team it is. The Giants have that dominating pitching staff. They have that lineup that on paper appears as punchless as the Dodgers' but still somehow manages to find a way to get it done. They have that quirky closer with that ridiculous black beard, who arguably has become the city's most popular athlete.
Mostly, though, they have that special something that the fourth-place Dodgers (42-54), who trail the division-leading Giants by 13½ games in the National League West, don't.
"For me, it's pretty simple," Dodgers manager Don Mattingly said before the game. "They think they're going to win."
Remember when the Dodgers were like that? Remember when they were the big, bad team in the old pre-realignment NL West? Remember all those one-sided rivalries, fans of the San Diego Padres, Houston Astros and Atlanta Braves all claiming the Dodgers as the team they hated most, while the Dodgers saw each of them as just any other team? Remember when the Dodgers had the swagger, the confidence, the expectation that they were going to win every night and the feeling of shock and disbelief when they didn't?
"That comes from winning," Mattingly said. "You see [the Giants] walk around, and you can just tell."
More on the Dodgers

For more news, notes and analysis of the Dodgers, check out ESPNLA's Dodgers Report. Blog
The Dodgers, meanwhile, can only walk around in shame, or something like it. They have lost three of four to begin the second half, and they have scored one run in their past two games, that coming on a wild pitch. Since the All-Star break, they are 2-for-18 with runners in scoring position, and every ball they hit, especially in a key situation, seems to hang in the air just long enough for an opposing outfielder to get under it. But then, luck is the residue of design, and these Dodgers aren't very well designed right now.
In a perfect encapsulation of this increasingly hopeless season, the Dodgers were shut out for 6 2/3 innings by Giants right-hander Ryan Vogelsong, a reclamation project they tried to sign last winter but weren't able to. Instead, Vogelsong went to the Giants, is now 7-1 and was rewarded last week by his manager, Bruce Bochy, with a spot on the NL All-Star team.
After the final out of every Giants home victory, they play some upbeat dance song that you have to be under 30 to recognize. But as soon as that is over, they play the slow, soothing sound of Tony Bennett's "I Left My Heart in San Francisco" as a soundtrack to a video they show on the big board in center field featuring a series of aerial shots of all the city's famous landmarks. It is at that point that you can't help but get a sense, for just a moment, of what a cool feeling it must be to be a Giants fan these days.
Their team is on top of the world right now, and it has the trophy to prove it. Whatever gray jerseys are being worn in the other dugout are just backdrops, even if those gray jerseys have the words Los Angeles across their chests in blue script.
And in a season that already is sure to go down as one of the darkest chapters in the long, storied history of the Dodgers, that might be the biggest indignity of all.
Tony Jackson covers the Dodgers for ESPNLosAngeles.com.

ESPNLosAngeles.com
Joined ESPNLosAngeles.com in 2010
Covered the Dodgers for the Los Angeles Daily News for more than five seasons
Has covered Major League Baseball on a regular basis for 15 years in Denver, Cincinnati and Los Angeles.