Commentary
Ethier brings back recent memories
The Dodgers outfielder hit a blast against the Rockies reminiscent of the good 'ol days
Updated:
July 26, 2011, 7:21 AM ET
By
Tony Jackson
| ESPNLosAngeles.com
LOS ANGELES -- There was a blast from the past at Dodger Stadium on Monday night -- literally. It came in the bottom of the third inning as Andre Ethier struck the decisive blow in the Los Angeles Dodgers' 8-5 victory over the Colorado Rockies.
Remember when Ethier used to hit these loud home runs with regularity? You should, because it wasn't that long ago.
[+] Enlarge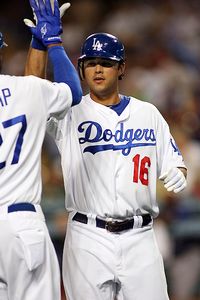 Jeff Golden/Getty ImagesAndre Ethier's third-inning home run ended up making the difference in the Dodgers' win over the Rockies.
The Dodgers right fielder drove a first-pitch fastball from highly touted Rockies rookie Juan Nicasio halfway up the bleachers in right-center field, right after back-to-back doubles by the suddenly resurgent Rafael Furcal and the still-resurgent Aaron Miles. With that, the Dodgers had erased a 1-0 deficit by putting together the sort of quick-strike rally they used to come up with fairly frequently back in the good ol' days of 2009, before Frank McCourt's problems began and the franchise went into the tank.
For all the things that can be blamed on McCourt, though, it's hard to put Ethier's recent power outage on him. The reason for that depends on whom you ask, and various theories abound. And the thing is, Ethier is having a decent season. A good one, really. I mean, even if he was only an injury-replacement All-Star, he was still an All-Star, for the second year in a row, and that has to count for something, right?
Still, there's no denying that the Dodgers have missed the long-ball threat that Ethier used to be in the middle of their lineup. This was his first home run since he hit two in the first-half finale against the San Diego Padres on July 10, and he hasn't hit more than three in any month this season.
"I just want to see him swing the bat good and have good at-bats," said Dodgers manager Don Mattingly, whose 2½-year stint as the Dodgers' hitting coach coincided with Ethier's evolution as one of the league's premier power hitters. "I know he is going to hit his share [of homers] if he has good at-bats day in and day out and sticks to his plan. The homers are going to come through that swing, because he has that great swing."
Ethier, in what seemed to be a playful put-on, told reporters after the game that he was going to swing for the fences for the rest of the year, which is pretty much the opposite of what Mattingly said he wants to see. But you can make the case that, for all the production Ethier has provided the Dodgers, they still have missed his power.
To wit: The Dodgers began the day ranked 11th in the National League in home runs with 67, putting them on pace to hit 108 for the season, which would be their lowest total in 19 years. Ethier's two-run homer was his 10th of the season, putting him on pace to finish the year with 16, potentially his lowest total in four years. He also has 47 RBIs, which projects out to 75, again his lowest total since 2007.
Meanwhile, what facet of the game has undermined this Dodgers season more than any other? Lack of offense, of course.
It would be wholly unfair to put all of that, or even a large percentage of it, on Ethier. He is hitting .299, after all; his 24 doubles are right around where you would expect him to be at this point in the season; and he still has a solid, if unspectacular, on-base percentage of .372. And with runners in scoring position, a category in which the Dodgers basically have flailed all year, Ethier is batting a perfectly acceptable .296.
More on the Dodgers

For more news, notes and analysis of the Dodgers, check out ESPNLA's Dodgers Report. Blog
"This guy could get on a roll," Mattingly said. "He may go through a period where he hits seven [homers] in 10 days all of a sudden, and then, who knows where he'll end up?"
If Ethier somehow can regain that long-ball stroke that has been so largely absent, perhaps the fourth-place Dodgers (46-56) can at least put on a good show in what is left of this apparently ill-fated season. They can start by making good on what one of my Twitter followers so eloquently dubbed Operation Third Place -- if the Dodgers can somehow sweep this three-game series with the Rockies, they will overtake them in the NL West standings.
Ethier without the home runs is still pretty good, and the Dodgers would be far worse off than they are -- 13 games behind the division-leading San Francisco Giants -- without him. But Ethier with the home-run total we are used to seeing from him -- now that would be a major boost to this Dodgers offense for the rest of the season.
And this offense needs whatever boost it can get.
Tony Jackson covers the Dodgers for ESPNLosAngeles.com.

ESPNLosAngeles.com
Joined ESPNLosAngeles.com in 2010
Covered the Dodgers for the Los Angeles Daily News for more than five seasons
Has covered Major League Baseball on a regular basis for 15 years in Denver, Cincinnati and Los Angeles.