McCourt plan: Own team for a long time
Updated:
April 14, 2010, 6:59 PM ET
ESPNLosAngeles.com
LOS ANGELES -- Frank McCourt made this much clear: He is adamant he is the owner of the Los Angeles Dodgers.
"I intend on owning the team for a long, long time and someday [my sons] are going to be here answering the questions," McCourt said.
The Interview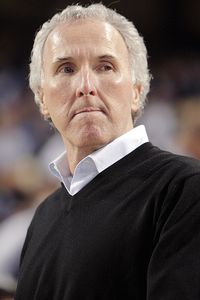 Listen to 710 ESPN's interview with Dodgers owner Frank McCourt. McCourt has been the owner of the Dodgers for six seasons, including four playoff appearances.
Complete interview

Wednesday-Friday
To hear Steve Mason and John Ireland discuss the McCourt interview and other Dodgers news, tune into 710 ESPN's "Mason & Ireland Show,"
from 2 p.m. to 6 p.m. PT.
Mason & Ireland Show

In a wide-ranging interview with 710 ESPN Los Angeles, McCourt answered questions about ownership philosophies, media coverage and his pending divorce from Jamie McCourt, his wife of almost 30 years.
"It's a sad situation when a marriage falls apart, particularly one of duration like Jamie and mine. It's a sad thing, because human beings are involved and families are involved. My boys are doing great, and that's the most important thing in my life right now," McCourt said. "I'm doing fine. Life goes on. I wasn't expecting this, wasn't expecting to go through this, but I'm getting through it. We're all going to be fine.
"Most importantly to Dodger fans, the team is going to be fine. Nothing changed. We've actually had a pretty quiet offseason, otherwise."
Frank McCourt bought the Dodgers in 2004 after unsuccessful bids to purchase the Boston Red Sox and the then Anaheim Angels. In his time as owner -- McCourt prefers "steward" -- the Dodgers have been to the playoffs four of six seasons, including the past two trips to the NLCS.
"This is one of the great franchises -- not just in baseball -- but in all of sports," McCourt said. "The Dodgers have had more fans come through the turnstiles than any other, not just baseball, in all of sports. That's why everyone here works awfully hard to win a championship for our fans."
Some aren't as optimistic. Critics point to the pending divorce and the team's reduced payroll. Documents filed in the divorce proceedings in February between Frank and Jamie McCourt revealed a Dodgers plan that would cut payroll from last season's $132 million to $107 million this season, despite an anticipated boost in revenue.
Frank McCourt sticks to his ownership philosophy in the face of mounting turmoil.
"The great franchises are the ones where there is stability and continuity. So, you have the ability to take a philosophy and implement it over time. Stick with the plan and find the people to help you execute it," McCourt said.
Would he change anything over the past six years?
"Nothing. What I mean by that: I needed to learn. And part of learning is making mistakes. Buying a ballclub is not like buying an automobile. You don't open the glove compartment and pull out the owner's manual to have your questions answered. There's no such thing."