Scully's voice is the constant for fans
Updated:
July 5, 2011, 4:41 PM ET
ESPNLosAngeles.com
We asked for your Los Angeles Dodgers stories -- the roots of your fandom, what the team means to you and how you've been affected by the recent play on the field and recent events off the field. Here are just a few of your responses. We'll be featuring more throughout the week.
Do you have a Dodgers story you'd like to share? Send it to our mailbag, and we might share it on the site.
---
[+] Enlarge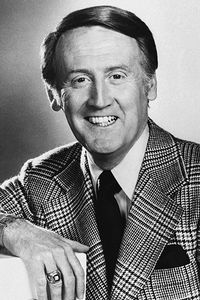 AP Photo Vin's voice kept many young Dodgers fans glued to their radios.
I became a Dodger fan growing up in Santa Barbara in the late 70's, was 8 when they made the World Series in 1978, and that was the first time I remember being really involved with them.
I listened to Vin Scully on a transistor radio when in bed late at night, hanging on every word. I saw them win two World Series, in '81 and '88 when a college freshman in San Francisco. I've been through all kinds of abuse from Giants fans and nothing will keep me from being a Dodger fan, ever.
But this has been, both through some bad luck and through the McCourt bankruptcy, the hardest year to get through I can recall. I think there is some bad mojo over this team, but more importantly some bad financial planning, and both of those things won't change 'til there's new ownership and a new direction. Their farm system is pretty loaded and I am hopeful about the future. But change is good.
Craig Phillips, San Francisco
---
My father took me to a Dodger game when I was 6 years old. We got on a bus in Henderson, Nevada, and rode to the game. When we found our seats, I was in shock. There were my boyhood heroes out on the field warming up. Garvey, Lopes, Russell and Cey. Don Sutton was on the mound. They were playing the Expos. My father bought me a Dodger pennant and some popcorn. We lost the game 7-2, but I had a great time. Up until then, my father and I used to listen to the Dodgers on the radio with Vin Scully calling the games. That's how I learned the game. I am 39 years old now, and I love the Dodgers and Vin Scully still.
Brian Danise, North Las Vegas, Nevada
---
[+] Enlarge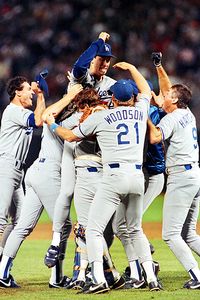 Jayne Kamin-Oncea/US PresswireFans reflect on happier times, like the 1988 World Series title.
I have been a Dodger fan since '77. I was at the beach one summer day and the people next to me had the Dodger game on the radio, while listening to Vin call the game. It was like I was in the stadium with him. That was it, I was hooked on the Dodgers and Vin Scully. I either watched or listened to the Dodgers the rest of that year all the way to the World Series.
From that first game till this year I have been proud call myself a Dodger fan. When they went to the World Series and lost both in '77 and '78 I remained a loyal fan. When they had losing seasons I remained a loyal fan. When they won the championships in '81 and '88 I remained a loyal fan. When Tommy retired as manager I remained a loyal fan. When Mr. O'Malley sold the Dodgers I remained a loyal fan. And through all the manager changes, GM changes and the Fox years I again remained a loyal fan. Now, with the current ownership, I stayed loyal up until this year's season-long fiasco. Now I'm just numb! Thanks Mr. McCourt.
Mike Halverson, Lakewood, Calif.
---
I have been a Dodger fan all my life, born in Brooklyn, N.Y. I am 58 years old, and remember crying when the Dodgers lost to the Giants in a playoff. I was 9 years old and my sister laughed at me because I was crying when they lost, and I jumped on my bike and rode and rode with tears streaming down my face. The Dodgers are and always will be a big part of my life, as they are with my two sons and my 3-year-old grandson (who loves Kershaw). This is a very embarrassing time for all Dodger fans, and the sad part is that it will be a long time before this team recovers from this tragic time.
Fred Kranz, Spring Hill, Fla.
---
More From ESPNLosAngeles.com

For more news, notes and analysis of the Dodgers, check out ESPN LA's Dodgers Report. Blog
Having being born in 1991 I have only been alive for a limited amount of success for the Dodgers, but they mean much, much more for me. I remember going to games with my father and two older brothers several times each season. Now that I am in college in Northern California (boo Giants!) I don't get to see as many games at Dodger Stadium as I wish. However, the memories of Mike Piazza hitting a towering home run in my first Dodger game, yelling "Rauuuuul" when Raul Mondesi came to bat, Hideo Nomo taking forever to throw one pitch and Shawn Green hitting home runs then giving away his batting gloves -- wishing one day maybe I would sit there and be that kid -- still hold a place in my heart. It goes beyond the players and their highlights. It boils down to watching a baseball game on a warm summer night, enjoying a Dodger Dog with family at Dodger Stadium, one of the most beautiful places on Earth.
Michael Laubacher, Oxnard, Calif.
Click here for more Dodgers stories from our readers. Send yours to our mailbag, and we might share it on ESPN L.A.