Commentary
Clippers stop the unstoppable
Updated:
January 10, 2010, 9:57 PM ET
By
Kevin Arnovitz
| ESPNLosAngeles.com
It's always treacherous for a basketball team to circle a small subset of games on the schedule and declare those contests the be all and end all of a season.
But it wasn't lost on the Clippers that their calendar year began with consecutive matchups against the NBA's three most talented shooting guards -- Brandon Roy, Kobe Bryant and Dwyane Wade.
"I kind of noticed that," Clippers head coach Mike Dunleavy said prior to Sunday's game against the Miami Heat at Staples Center.
[+] Enlarge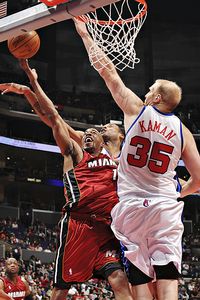 Noah Graham/Getty ImagesChris Kaman and the Clippers shut down the Blazers, Lakers and Heat over a seven-day stretch.
With the Trail Blazers, the Lakers and the Heat coming into Staples Center over a seven-day stint, Dunleavy was charged with the unenviable task of devising a defense to stop the unstoppable.
"You've got your individual defenders on those guys," Dunleavy said, "but your team defense is really the responsible party because those aren't guys you can stop one-on-one. They're all going to get their points."
Virtually every perimeter defender on the Clippers' roster took turns staying in front of the troika of scorers, but Eric Gordon drew the primary assignment each of the three games. Gordon readily acknowledged that playing defense against the league's most dynamic scorers is often a matter of damage control -- and the true test of a team's defensive mettle.
"When you're playing guys like that, they can shoot the ball whenever they want," Gordon said. "My job is to make sure they miss as many shots as possible, and break their rhythm."
By all accounts and every measure, Gordon & Co. got the job done.
Monday night, Roy was held to six points on 3-for-12 shooting from the field without a single trip to the free throw line. A couple of nights later, the Clippers' defense turned Bryant into a volume shooter who hit only 10 of his 30 shots from the floor. Then on Sunday, the Clips kept Wade in check. The Heat's superstar scored 24 points -- below his season average of 27.1 points per game -- and got to the line only three times (he's averaging nearly 10 free throw attempts per game).
Most important, the Clippers won all three games in convincing fashion.
"We've been able to establish an identity and an attitude, and that's really happened for us on the defensive end," Clippers point guard Baron Davis said. "Our wings are doing a great job of accepting the challenge, and our bigs are doing what they're supposed to do on the inside, and that's protect the paint."
Dunleavy is widely known as a defense first coach who preaches strong base defense with strategic traps against the league's most lethal perimeter threats. All week, his team followed that blueprint. The Clippers' aggressive double-teams smothered their targets. The defensive rotations behind those traps were precise. And on the occasions when Roy, Bryant and Wade broke through the front line of the defense, the Clippers' big men arrived promptly from the weak side.
"Guys are sharing the workload," Clippers defensive ace Marcus Camby said. "We've been trapping, helping out our 2-guards, and covering for one another."
Choreographing an effective NBA defense like the one the Clippers have been throwing at opponents lately is a collective effort, which might explain why the vibe around the team has been so mutually encouraging. A perceptible -- though cautious -- optimism has taken root in the bowels of Staples Center this past week. Although the Clippers experienced some fleeting moments of success earlier in the season, the current four-game winning streak feels different.
"We're starting to mature," Davis said. "We're starting to trust each other out there, and our chemistry is starting to get better."
Differentiating between a real breakthrough and temporary improvement is always a tricky balancing act for a team, but the Clippers' defensive trifecta against the league's premier perimeter studs coupled with a fluid offense has infused the locker room with a hopefulness not seen in years.
The Clippers' ascendance shouldn't be attributed entirely to the defense. Though they'll never be mistaken for Western Conference offensive juggernauts like Phoenix or Denver, the Clippers have found some things that work. Much of that begins with Davis and that old basketball truism, "K.Y.P." -- know your personnel.
"Baron has been doing a great job of running the show for us," Dunleavy said. "He has a better sense of where everybody is and what they do, and where their spots on the floor are."
Enter Clippers center Chris Kaman.
"Our chemistry is coming together," Davis said of his relationship with the big man. "Chris and myself have been working the pick-and-roll well."
Kaman seconded the sentiment.
"Baron can pretty much get anyone the ball in a position to score," Kaman said. "And that's been huge for me."
Both Davis and Kaman are big personalities, and each loves to talk on the floor. The duo practically needs a kitchen timer to hold an on-court conversation. But out of that old married couple shtick has come a serious working relationship that's producing dividends on the scoreboard. With Gordon and Rasual Butler stretching the floor to give Davis and Kaman room to work and shooters to kick the ball out to on the perimeter, the offense is operating far more efficiently.
If you want to understand the Clippers' improvement in a numeric context, there's no better subject than Davis. He's draining almost precisely the same number of field goals per game as he did last season -- 5.5 versus 5.6. He's hitting his jump shots at the exact same clip -- an effective field goal percentage of 39. Davis' 3-point field goal percentage? It was 30.2 percent in 2008-09 versus 30.8 percent this season.
The difference for Davis this season has been his willingness to forgo the contested 22-footer off the dribble and force the issue inside. Whether it's because he's lighter, healthier or more motivated, Davis is more apt to attack the defense and he's finishing at the rim at a considerably higher rate. And when he encounters collapsing defenders in the paint, Davis is a very willing passer. When his shot wasn't falling Sunday afternoon against Miami, Davis became a distributor, dishing out 14 assists, many of them spectacular.
"[Davis] has been delivering the ball and creating really good opportunities for a lot of our guys," Dunleavy said.
Davis is posting the highest assist rate of his career and embodies the most important feature of the Clippers' improved look: They're simply a smarter, more selective offensive team.
The Clippers hit the road this week for games against Memphis, New Orleans and the Lakers. The big wins at home have been promising, but the true measure of the team's growth will be its ability to beat potential rivals for those final playoffs seeds away from Staples Center.
How will the Clippers know if their current progress is for real?
"Ten games from now we'll be able to tell," Davis said.
Ten games is an eternity in the slog of the NBA's regular season, but for the first time in a long while, the Clippers can't wait to take the floor for each and every one of them.
Kevin Arnovitz is an NBA contributor for ESPN.com and ESPNLosAngeles.com and the author of ClipperBlog.
ESPN.com
NBA writer for ESPN.com since 2008
Former contributor and editor at NPR