Commentary
Clippers struggle to settle on a style
Updated:
February 2, 2010, 4:33 PM ET
By
Kevin Arnovitz
| ESPNLosAngeles.com
Academic debates can be invigorating when it comes to setting public policy or exploring the meaning of the universe. But for professional basketball teams, fundamental differences in philosophy between coaches and star players can be fatal.
With the Clippers sputtering through a 1-5 road trip -- including losses to the NBA's two worst teams -- it's no coincidence that old rifts between Mike Dunleavy and Baron Davis have resurfaced in print.
As basketball minds go, Dunleavy is a classic structuralist -- a coach who maintains that a set offense with drawn-out plays gives an offense the best chance to succeed.
Baron Davis is a right-brain point guard who believes that intuition and spontaneity, not a dry-erase board, should guide an offense. Davis' best seasons came under fellow iconoclast Don Nelson, whose offenses can be best described as "organized chaos" -- emphasis on the chaos.
[+] Enlarge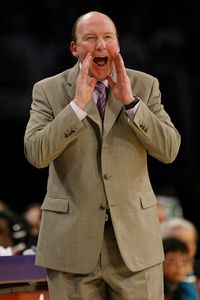 Stephen Dunn/Getty ImagesMike Dunleavy believes in a set offense and running plays.
Most of the time, Dunleavy and Davis downplay the idea that they have competing worldviews, but when the Clippers struggle, it isn't long before veiled comments emerge.
After the Clippers came out of the gate 1-6 in Davis' first seven games as a Clipper in November 2008, Davis told the Los Angeles Times, "There's definitely a disconnect there. I've never had so many plays in my entire career."
Fourteen months later, with the Clippers playing their worst basketball of the 2009-10 season, Davis has again suggested that the team's recent failures can be chalked up to a stale and lethargic offense. According to Davis, the Clippers made a game of it in Minnesota in the third quarter because the offense was "free-flowing" without the constraints of the thick playbook.
When confronted with questions about the team's offensive identity over the past 14 months, Dunleavy has rejected the idea that the open discussion about the Clippers' offensive identity is an either/or debate. The coach insists he's all for easy transition buckets, and he can routinely be heard on the sidelines yelling, "Go, go, go," when his team collects a long miss on the defensive glass. For Dunleavy, all this hubbub is irrelevant unless the team can get the defensive stops and rebounds to push the ball up the floor.
This isn't a conversation that affects only coach and point guard. Center Chris Kaman, who has missed the past two games with a strained left ankle, has become a focal point of the Clippers' offense, and he thrives in a more deliberate offense.
"I'd rather play in the half court, where I can see everything come together -- I know where I'm going to be and know where my teammates are going to be," Kaman said in November.
So who's right? Are the Clippers leaving money on the table by handcuffing their point guard, or does a more methodical offense designed to create shots for specific players -- like Kaman -- maximize the team's assets?
Davis' impressions about the stagnation that plagues the Clippers in the half court are certainly accurate, but it's not because the offense isn't getting opportunities to open things up. According to Synergy Sports, only seven teams in the NBA use a higher percentage of their possessions in transition (Philadelphia is the NBA's most frequent transition team) than the Clippers.
It will also come as no surprise that given Dunleavy's affinity for working Kaman and Davis in the post, the Clippers rank fifth in the league in percentage of possessions used on plays classified as post-ups. (The Lakers are tops in this category.)

2010 STATS
GM

47

PPG

16.4

RPG

3.3

APG

8.0

FG%

.402

FT%

.833
If tempo and flow aren't the primary source of the Clippers' problems, what is?
There's one constant that plagues the Clippers no matter what kind of offensive possession they're choreographing:
Turnovers.
Only Charlotte and Boston squander a greater percentage of their possessions coughing up the ball. For the Clippers, these turnovers come in all shapes and sizes. For instance, 296 bad passes have been thrown on the Clippers' end of the floor -- in stark contrast to the 221 by their opponents. They've committed 95 offensive fouls but have drawn only 68 on the other end.
In a league in which the average possession produces slightly more than one point for the offense, the 1.52 differential between the Clippers' turnovers and their takeaways effectively spots the opposition more than three points per game.
Whether these turnovers occur on lazy cross-court passes on the fast break (the Clippers have suffered an epidemic of turnovers in transition on their current road trip), or on shot-clock violations because they can't create an open look for a shooter, the Clippers will have to close that gap if they want to cure their offensive woes.
This isn't to say proponents of a more free-flowing offense are wrong. The freedom that Davis covets not only motivates him to make plays on the offensive end but seems to energize his defensive play as well. But Dunleavy also has a case when he points to Kaman's ability to score one-on-one down low and Davis' ability to back down smaller, weaker point guards as two of his best offensive resources.
The evidence suggests that both sides are getting what they want, which means this difference in approach is a problem only if the Clippers make it one.
ESPN.com
NBA writer for ESPN.com since 2008
Editor of the TrueHoop Network
Former contributor and editor at NPR
adidas Youth Los Angeles Clippers CLIMAWARM Royal 3-Stripe Pullover Hoodie Shop »