Commentary
Rare recognition
Chris Kaman's first All-Star Game didn't come without sacrifice
Updated:
February 15, 2010, 3:22 AM ET
By
Arash Markazi
| ESPNLosAngeles.com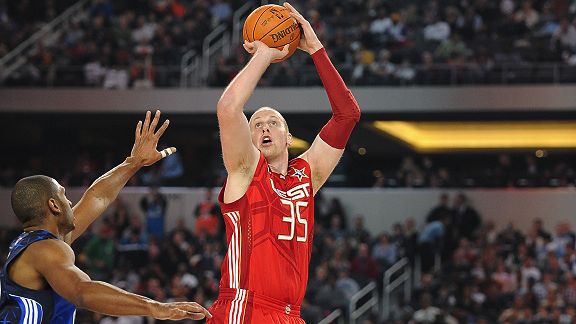 Noah Graham/NBAE/Getty ImagesClippers center Chris Kaman worked hard all summer to be considered an All-Star.
ARLINGTON, Texas --
Chris Kaman
never thought this day would come. He knew it should have, and he did everything in his power for it to come but he never thought there was anything he could do to break the red, white and blue stigma covering his body every time he scored 20 points and grabbed 10 rebounds for the Clippers.
As if he needed any further confirmation he was stuck in basketball purgatory and would never get the recognition he deserved, when the NBA All-Star ballots were released three months ago, Kaman, who was leading all centers at the time with 21.7 points and 9.6 rebounds, was not even among the 12 Western Conference centers on the ballot.
"Once I got left off the ballot I didn't think I would make the team," said Kaman, who made his All-Star debut Sunday as the East beat the West 141-139 in front of a record crowd of 108,713. "I said I have to go make vacation plans because I didn't think it would happen."
Kaman had already booked a three-day vacation in Lake Tahoe with his girlfriend when he got the call last week that he would be an injury replacement after initially being left off the All-Star team.
"I wasn't even thinking about it after I didn't get selected," said Kaman, who finished with four points and three rebounds in 10 minutes. "I was just looking forward to going on vacation, but I had to change my plans after I found out. I'm glad I did. It was a good change of plans."
Instead of being in Lake Tahoe Sunday, Kaman found himself on the court at Cowboys Stadium as only the fifth Los Angeles Clipper to be selected to the All-Star Game and only the ninth player in franchise history to play in the game. After sitting out the first quarter, Kaman entered the game with 7:03 remaining in the second quarter and connected on his first basket, a 16-foot jump shot over the outstretched arm of Al Horford five minutes later. His highlight play came when he and his German national teammate Dirk Nowitzki passed the ball back and forth to each other twice before Kaman dunked it.
Before arriving in Dallas, Kaman, who actually had two flights canceled and a third charter delayed before getting into the city Friday night, asked Nowitzki what he should expect from his first All-Star Weekend in Nowitzki's backyard. He also tried to gauge Nowitzki's interest in playing for the German National team at the FIBA World Championship in August.
"I talked to Dirk to see what's going on and how to make it through this crazy weekend," Kaman said. "I want to play with him again but it's still up in the air. It's on him. I know that's a lot of pressure for him, but if he plays, I'm going to play so German fans need to get on Dirk to play."
Kaman came in for Pau Gasol to see his first action on Sunday. That was slightly ironic considering Kaman made some disparaging remarks about Gasol after the Lakers forward was selected to the play in the game instead of Kaman. Gasol had missed 17 of his first 46 games when the selections were announced. Kaman said he didn't believe Gasol should have been picked after playing "like 20 games this year" and suggested that the only reason he was selected was because he played for the Lakers.
"I talked to [Gasol] yesterday in the elevator and I just told him congratulations," Kaman said. "I didn't say he didn't deserve to be an All-Star. I just felt that a guy like myself, Zach Randolph or David Lee, who have played so many games and so many minutes, and for a guy who had only played half that to jump right into the All-Star Game, it's tough. It hurts. You work so hard in the offseason and you expect more. It wasn't that I was mad or frustrated at Pau; it was just that it's a long season and I felt that it was unfair for guys to miss a bunch of games to get in. There should be some type of criteria."
Gasol said he was over the comments Kaman made but admitted it was slightly awkward finding himself playing with him for the first time in his career after everything he had said.
"Circumstances and coincidence and things happen that way," said Gasol, who finished with 13 points and six rebounds in 20 minutes. "I'm happy I'm here. I'm happy for everybody else that is here. It's pretty ironic how things turn out sometimes but that's over. I think it was an unfortunate comment on his part. I think he realized that afterwards. We all make unfortunate comments sometimes. He might have been right but it's not on him to decide or make that call."
Kaman reiterated after the game that he thought Gasol was an All-Star player but he simply felt he and other players who had played more games and more minutes and had better numbers deserved to be in there over him.
"I thought I deserved to be there when you look at my numbers and how hard I worked during the summer," Kaman said. "There are those guys that are always going to make it, those guys that are always on the edge, and then there are the guys who don't have a chance."
Kaman did everything in his power over the summer to make sure he had more than a chance to make the All-Star team this year. After missing a career-high 51 games last season with a left foot injury Kaman practically lived in the practice facility -- complete with a full-length NBA court, weight room and film room -- he recently built near his home in Grand Rapids, Mich., for three months during the offseason. He watched almost six years worth of game film from his career to figure out what he needed to improve on and spent a couple of hours every day adding new moves to his arsenal.
The biggest change Kaman, who is ambidextrous and shoots about as many times with his right hand as he does his left in the paint, made was simply taking open shots when they were available and passing the ball and getting in better position when he wasn't. Far too often Kaman would dribble one too many times or make needless moves in the paint instead of taking a shot.
While Kaman might not have been able to showcase much of his talents during his first All-Star Game he may have been able to recruit some possible free agents that can help the Clippers next season. One in particular actually came up to Kaman during practice before the game.
"What's up man?" Kaman said as LeBron James gave him a hug. "You got my money?"
"Yeah," James said. "See me in the locker room."
"He owes me money," Kaman said. "He's one of the top five highest paid players in the NBA and he can't give me my money. I'm trying to figure out what's going on. It's a $100. In the rookie game six years ago we did half court shots and everybody put money in and he was the only one out of all the rookies that didn't pay me. The No. 1 pick turned out to be a cheapskate. I don't know what he's doing with his money."
Perhaps, James could pay Kaman back by joining the Clippers in the offseason.
"That would be fantastic," Kaman said. "He put Cleveland on the map. Maybe he can do the same for us. I'd let him slide if he did that."
Arash Markazi is a reporter and columnist for ESPNLosAngeles.com.
ESPNLosAngeles.com
Former columnist and writer after five years with Sports Illustrated
Markazi has also written for Slam, King, Vibe and Playboy
On board of directors for Jim Murray Memorial Foundation.