Commentary
82 reasons to take a deep breath
The NBA season is long, and to the players and coaches, it's a marathon and not a sprint
Updated:
February 23, 2010, 7:04 PM ET
By
Arash Markazi
| ESPNLosAngeles.com
Ron Artest doesn't circle any games on his calendar when the schedule comes out. He doesn't run to his computer, print it out and sit down with a highlighter to mark every "big game." He's lucky if he can even name the Lakers' next opponent. On this night, he can't. (It's Memphis, Ron. You play them on Tuesday.)
Now I know I'm supposed to tell you certain games on the Lakers' calendar mean more than others. For example, Thursday's game against the Boston Celtics should be more important than Tuesday's upcoming game with the Memphis Grizzles or last Tuesday's game against the Golden State Warriors. The media would have you believe that with TNT nationally televising the game and ESPN breaking it down as though it were already the NBA Finals. Ticket brokers would have you believe that, charging more than quadruple the face value for the privilege of being in attendance. And fans calling into sports talk radio shows, using words such as "must win" and "barometer game," would certainly have you thinking that the future of both teams' season depended on the outcome of a game held Feb. 16.
"

Coaches have 82 of them. Tomorrow we play Portland. I don't know if there's truly anything like a barometer game because you could be playing well and win a game and it looks like you're great, and the next week you're not playing well.

"

-- Boston coach Doc Rivers when asked if he circles big games on his calendar
The truth is the Lakers' 87-86 loss to the Celtics was simply another game during an 82-game season that holds no more or less weight than any other game on the Lakers' schedule. As heartbreaking as the loss was for the short-handed Lakers, who nearly beat the Celtics without Kobe Bryant, it will be forgotten by both teams by the time you read this sentence, and it will hold absolutely no weight on how anyone will view these teams if they meet again in the Finals.
I know this goes against the grain of everything I should be writing as a sports columnist. There are still 26 games left in the regular season, which means there are at least 26 more occasions when I'm supposed to tell you how important and significant the most recent game is compared to the others, but quite honestly that's not true. Everything the Lakers do from now until the playoffs is simply a dress rehearsal for the "real season."
If the regular season held as much weight as people think, the Orlando Magic should have swept the Lakers in the NBA Finals last year, and the Portland Trail Blazers would be heavy favorites to beat the Lakers (or at least take them to seven games) if they met each other in the first round of the playoffs this year.
"Coaches have 82 of them," Celtics coach Doc Rivers said, when asked if he circles "big games" on his calendar. "Tomorrow we play Portland. I don't know if there's truly anything like a barometer game because you could be playing well and win a game and it looks like you're great, and the next week you're not playing well."
Rivers knows that better than anyone else. The Celtics had the best record in the league after they defeated the Magic this season in a "big" Christmas Day game. After that game, however, they went 6-11 in their next 17 games, dropping to the No. 4 seed in the Eastern Conference. What does that mean? Not much in my book. Anyone who still thinks the Magic and the Hawks, which swept the season series against the Celtics, are in better position to make the NBA Finals than a healthy Boston team come playoff time is putting too much stock in the regular season.
It's always fun and nostalgic to see the Celtics and Lakers play each other, but aside from being a ratings grab for networks and a money grab for ticket brokers, the outcome of the game doesn't change my opinion of either team. If the Celtics had lost the game would that have been it for them? Were we supposed to write them off because they lost a mid-February game on the road to the Lakers?
[+] Enlarge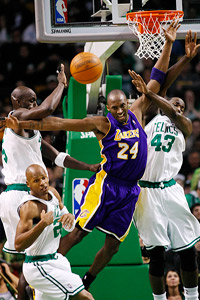 Greg M. Cooper/US PresswireThe Lakers and Kobe Bryant won at Boston 90-89 on Jan. 31. That was game No. 47 for the Lakers.
"It's great for the fans to have these keynote games, but you can't put a lot on those games as a barometer for what the season's about," Lakers coach Phil Jackson said.
This isn't like the NFL or college football, in which you play once a week over three months and every game means something. The Houston Rockets may have won 22 straight regular-season games two years ago, second best in league history, but what did that really matter after they were eliminated by the Utah Jazz in the first round of the playoffs?
The league obviously needs these so-called signature games to create excitement for fans and the league's media partners. It probably wouldn't be smart if it changed its slogan from "Where Amazing Happens" to "Where Nothing Important Happens Until The Playoffs."
"Games are sold based on who's playing and where the games are being played at, but for us doing our jobs every night is most important," Celtics guard Ray Allen said. "We just play the games. We don't look at benchmarks or anything. You just play the games each day as they come."
As cliché as it may sound, it's the truth. The NBA season begins in October and if your goal is to play through June, you can't get up for every game against a rival as though it's the playoffs. There are going to be nights when you win by 20, lose by 20, beat a team you're supposed to lose to and lose to a team you're supposed to beat. And the truth is, if you're a good team, you won't put too much stock into any one of those games.
"Throughout the season we want to play a certain way all the time so it makes no difference who we play," Lakers forward Lamar Odom said. "You just take it game by game and practice by practice. It's 10:30 for practice and 11 o'clock for the bus and that's what you're worried about day-to-day. I always tell people the season goes by so fast every year you're in the league."
As much as the Lakers want to beat the Celtics every time they play them, Lakers forward Pau Gasol summed it up best after the loss when asked the proverbial "Did this game have a playoff atmosphere to it" question.
"No," he said. "Tonight was just another game in the regular season."
Fifty-six down, 26 more to go before we finally get to the season that really matters.
Arash Markazi is a reporter and columnist for ESPNLosAngeles.com.
ESPNLosAngeles.com
Former columnist and writer after five years with Sports Illustrated
Markazi has also written for Slam, King, Vibe and Playboy
On board of directors for Jim Murray Memorial Foundation.