Commentary
Lakers-Nuggets reflection
Los Angeles should see Denver in the mirror
Updated:
February 28, 2010, 3:47 PM ET
By
Dave McMenamin
| ESPNLosAngeles.com
The Nuggets team that comes into Staples Center on Sunday to play the Lakers should look awful familiar to Kobe & Co.
And not because Denver has already played (and beaten) Los Angeles twice this season.
No, this Nuggets team should seem eerily déjà vu-ish because it is basically the same team that the Lakers were last season.
The Lakers had the awful aftertaste from that 39-point season-ending loss to Boston in 2008 in their mouths all season long in 2008-09 and they could only extricate it by winning. They spit a little bit out when they beat the Celtics on Christmas Day, cleared their palates a little bit more when they went up to the TD Garden and won on Boston's home court and finally got the full Moet mouthwash rinse in June by winning the championship.
Denver's 27-point season-ending home loss to L.A. in Game 6 of the Western Conference finals was as embarrassing as it gets. The Nuggets had a 1-0 lead in the series and tied the series 2-2 with a 19-point win in Game 4 and there they were, just two wins away from the Finals, not even giving themselves a chance to compete, let alone win, in the series finale.
[+] Enlarge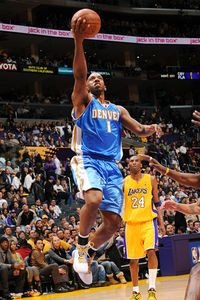 Andrew D. Bernstein/NBAE/Getty ImagesChauncey Billups scored 39 points against the Lakers in Denver's last trip to Staples Center.
The Nuggets have been using the Lakers as a measuring stick ever since L.A. swept them out of the first round of the playoffs in 2008. When the Nuggets came to Los Angeles during the regular season last year and lost, Carmelo Anthony, who was on the verge of tears, buried his head in his hands in the locker room after the game for a good 15-20 minutes and was as inconsolable as I've ever seen him.
This season, he's had the chance to flash that megawatt smile of his when the Nuggets played (and beat) the Lakers, first by 26 at home with him in the lineup and then by 13 on the road with him sidelined with an ankle injury.
Just like the Lakers felt like they should have beaten the Celtics had they not blown a 24-point lead in Game 4, the Nuggets feel that they're a better team than the Lakers. Unlike most of the league who struggle with the Lakers' size, the Nuggets trot out the 6-foot-11 Nene, 6-foot-10 Chris Andersen and 6-foot-9 Kenyon Martin, who are near equal in size and above and beyond in attitude when it comes to matching up with the 7-foot Pau Gasol, 7-foot Andrew Bynum and 6-foot-10 Lamar Odom.
If the Nuggets didn't already have enough to play for -- Anthony salvaging his reputation as a mastermind on the court instead of being known as a knucklehead off of it; Chauncey Billups making Detroit regret its decision to choose Allen Iverson over him with every 3-pointer he buries; Nene playing with the effervescent joy that only a cancer survivor knows -- now they have another scare, with head coach George Karl fighting treatable throat cancer that caused him to miss a game this week to receive chemotherapy.
The Lakers had some built-in excuses for their two losses against the Nuggets so far this season -- Gasol was out with a hamstring injury the first game and Bryant was dealing with a tender left ankle in the second game while Billups went off for a career-high 39 points, including nine 3-pointers -- but there's nothing to lean on Sunday if L.A. loses again.
Bryant has questioned his team's hunger this season, most recently after the team's loss in Cleveland last month, while Denver's looked downright ravenous in wins against Cleveland, Boston and Orlando as well as the success they've had against L.A.
The Lakers, meanwhile, have looked lackadaisical, sleepwalking through wins against Memphis and Philadelphia.
Maybe when the Lakers look in the mirror Sunday and see the team they used to be, they can become that once again.
Dave McMenamin covers the Lakers for ESPNLosAngeles.com
ESPNLosAngeles.com
Lakers and NBA writer for ESPNLosAngeles.com since 2009
Began covering the NBA for NBA.com in 2005-06
Syracuse University graduate