Commentary
Kobe's shooting through the pain
Playing, and winning, with broken bones is nothing new to Bryant
Updated:
April 19, 2010, 7:42 PM ET
By
Dave McMenamin
| ESPNLosAngeles.com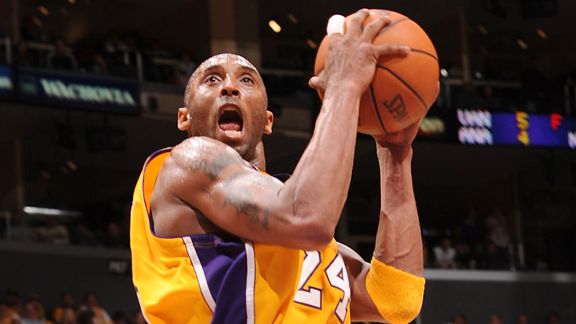 Andrew D. Bernstein/Getty ImagesKobe has been playing through all sorts of ailments over the course of his basketball career.
"One of the most legendary stories out there …"
That's how Kobe Bryant's high school coach, Gregg Downer, starts to answer a question about whether Bryant displayed the same disregard for injuries as a teenager on the Lower Merion Aces as he does now as a 30-something on the Los Angeles Lakers.
Sure enough, a long time ago on a coast far, far away, Bryant was up to the same tricks he is today, putting mind over matter and basketball over body.
"We're practicing a day before the [Pennsylvania] state semifinal against Chester," Downer continues. "There was a scrum for a loose ball in practice, and a little 5-8 kid of mine named Leo Stacy went diving for the ball, and so did Kobe. Kobe broke his nose."
With Bryant only two wins away from finishing his high school career with a state championship trophy, there was no chance he would sit out. None. Especially not against a powerhouse like Chester (from which the Orlando Magic's Jameer Nelson would graduate four years later). Downer said the team's immediate concern was finding a fitted mask for Bryant to wear while keeping the injury under wraps so Chester wouldn't know about it.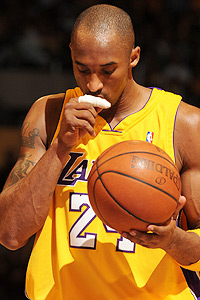 Andrew D. Bernstein/NBAE/Getty ImagesBryant blows on his broken finger before shooting a free throw against the Oklahoma City Thunder on Dec. 22.
"We played at the Palestra that particular game, and Kobe had the mask on in warm-ups, and he came into the locker room right before the game was ready to start, ripped the mask off, threw it against the wall and said, 'Let's go play,'" Downer says. "That was an example way back then of how physically and how mentally tough he is. He played the last two games with a broken nose, and we were probably one well-placed elbow back then from having our state championship dreams come to an end."
Fourteen years later, as the Lakers prepare to open their 2010 postseason with the Oklahoma City Thunder on Sunday, similar stakes exist for Bryant's current team.
The Lakers are one well-placed hack to Bryant's right index finger from having their repeat dreams dashed. The finger has been fractured since Dec. 19 when a pass from Jordan Farmar was deflected by Minnesota's Corey Brewer, causing the ball to smash the tip of Bryant's finger and jar a shard of bone loose.
He has played 52 of the Lakers' final 61 games this season since that injury occurred, just like in 2007-08, when Bryant played in the final 35 games after he suffered an avulsion fracture of his right pinky finger when he caught his hand in Jason Kidd's jersey in New Jersey.
At times, you would hardly know there was anything wrong with the dominant digit on his shooting hand. Bryant had a 10-game stretch right after the injury in which he averaged 36.8 points on 131-for-269 shooting (48.7 percent) and the Lakers went 8-2. At other times, the invasive tape job covering the splint on his finger was too much for even Bryant to overcome. With his legs tiring and his touch gone because of the tape on his finger, Bryant finished the season averaging 22.3 points on 21-for-70 shooting (30 percent) in his last three games, and the Lakers went 1-2.
"

I'm Bruce Willis, man.

"

-- Bryant after playing with a strained knee he suffered against Oklahoma City on Dec. 22
The Lakers are also one misstep on top of Bryant's size-14 left foot from having to win 16 games in the playoffs without their team leader, his 27.0 points per game and his penchant for hitting game-winning shots. That actually happened this season, when Lamar Odom accidentally stomped on Bryant's foot Feb. 3, reinjuring Bryant's left ankle, which had been twisted against Philadelphia on Jan. 31.
And if Bryant somehow makes it through the first round without his finger suffering any more damage, or the second round with his ankle no worse for wear, his back spasms could always act up as they did Jan. 12 in San Antonio on the first night of a back-to-back. It caused Bryant to fly his massage therapist from Santa Monica to Dallas on a red-eye flight to meet him at his hotel at 5 a.m. to start working on his back so he could play against the Mavericks that night.
There's always the threat of his right elbow acting up again. He hit his funny bone Dec. 26 in the third quarter against Sacramento, and his arm went numb and he couldn't bend his elbow. He stayed in the game and hit two crucial 3-pointers in double overtime to help lift L.A. to victory.
His left knee could cause him problems again. He strained it against Oklahoma City on Dec. 22 when his leg bent like a pipe cleaner, but he shrugged it off after the game and uttered the one-liner that sums up how he's kept moving forward through this injury-riddled season: "I'm Bruce Willis, man."
Bumps and breaks
Kobe Bryant has had to fight through a particularly grueling season of injuries. Here's a rundown:
Injury: Avulsion fracture of right index finger
Date: Dec. 11 vs. Minnesota
How it occurred: Pass from Jordan Farmar deflected by Corey Brewer off the tip of his finger
Games missed: April 13 vs. San Antonio, April 14 at L.A. Clippers
Injury: Strained left knee
Date: Dec. 22 vs. Oklahoma City
How it occurred: Landed awkwardly in fourth quarter
Games missed: None
Injury: Strained right elbow
Date: Dec. 26 in Sacramento
How it occurred: Hit his funny bone in third quarter
Games missed: None
Injury: Back spasms
Date: Jan. 12
How it occurred: Came down awkwardly after attempting fadeaway shot with Manu Ginobili guarding him
Games missed: Fourth quarter Jan. 12 at San Antonio, second quarter Jan. 13 at Dallas
Injury: Sprained left ankle and sore peroneal tendon
Date: Jan. 29 at Philadelphia
How it occurred: Collision with Elton Brand … reinjured Feb. 3 vs. Charlotte when Lamar Odom stepped on his left foot
Games missed: Feb. 6 at Portland, Feb. 8 vs. San Antonio, Feb. 10 at Utah, Feb. 14 at NBA All-Star game in Dallas, Feb. 16 vs. Golden State, Feb. 18 vs. Boston
Injury: Swelling in right knee
Date: No specific date, but had right knee surgery twice on the knee in the past: in 2003 to relieve swelling and in 2006 to clean out scar tissue and loose cartilage
How it occurred: Wear and tear
Games missed: April 8 at Denver, April 9 at Minnesota
Of course, his right knee, which has been surgically repaired twice, could balloon again, too. He sat out four of the Lakers' final five games to alleviate swelling in the knee and try to strengthen his finger. He said his right knee feels "much improved" after the time off, but when you've logged more than 1,000 games and 37,000 minutes in the league, as Bryant has, the benefits of rest don't last as long as they used to.
When Lakers coach Phil Jackson was asked Friday how Bryant felt after his short respite at the season's end, Jackson said succinctly, "I think he feels very confident about what he can do."
Even though Bryant saw his consecutive-games-played streak come to an end at 235 back in February and went on to miss more games this year (nine) than he did in his last four seasons combined (seven), another story from Bryant's past suggests he won't miss a game in the playoffs, even if his body starts falling apart worse than the McCourts' marriage.
When Bryant was a junior in high school and L.M. lost in the state playoffs, Downer told his star pupil that there was a player named Vince Carter down in Florida who just helped his team win a high school tournament while playing with a broken arm. The coach's point was that if this Carter kid could win while he was injured, imagine what Bryant could do when healthy if he put his mind to it.
"I probably was just trying to use that as motivation and use that analogy that you can still do some good things," Downer says, barely able to recall the tale. "You just got to fight through the injuries."
The message has stayed with Bryant throughout his career, from the time he beat his old Lakers teammate John Celestand in a game of H-O-R-S-E -- Celestand played with his natural hand and Bryant with his left because his right wrist was broken and in a cast -- to the time he scored 30 points in the playoffs against Sacramento after coming down with food poisoning the night before the game.
Earlier this season, Carter was told about the impact he had on the high-school-aged Bryant that stayed with him through all these years.
"Really?" Carter said excitedly. "I'll take it."
Ironically, Carter has gone on to play in only 852 out of a possible 1,034 games (82.4 percent) as a pro, while Bryant has played in 1,021 out of a possible 1,116 (91.5 percent). But even Carter knows that playing hurt in the playoffs should be a given.
"I think the excitement and the energy that revolves around the playoffs is motivation enough [to play]," Carter said. "Unless there is something like a broken leg, broken finger or torn something, those are the only things that keeps players from playing in the post season."
Unless you're Bryant, that is. He played the last four months with a broken finger already. Why stop now?
Dave McMenamin covers the Lakers for ESPNLosAngeles.com.
ESPN.com
Cavs and NBA writer for ESPN.com
Covered the Lakers and NBA for ESPNLosAngeles.com from 2009-14 and the NBA for NBA.com from 2005-09
Syracuse University graduate
ROAD TO REPEAT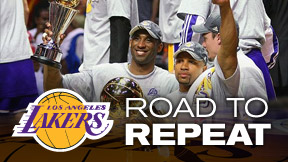 PHOTO GALLERY
STORIES AND COLUMNS
24/7/365: ALL ABOUT KOBE
LAND O' LAKERS BLOG
OWNER JERRY BUSS
710 ESPN PODCASTS