Commentary
Vitti is Lakers' inside man
The trainer has the knowledge that comes with 26 years on the inside
MANHATTAN BEACH, Calif. -- These two or three hours are supposed to be his. Not just today, but every day. The other 21 hours belong to the Lakers, but there's a window after practice between 2 and 4 p.m. or so, when Gary Vitti just might be able to get away, or step away from the never-ending task of keeping the NBA's most glamorous team camera-ready.
Time for a nap or a long lunch. Maybe a run along the beach or coffee with his wife. Time to be something other than the longest-tenured trainer with a single NBA team.
On this day he's traded in his free time for a photo shoot at his Mediterranean-style beach house on one of the picturesque hills in Manhattan Beach. For the past 26 years he's been the guy sitting next to the famous guys, one seat down from Pat Riley or Phil Jackson, and the first one on the court whenever Magic Johnson or Kobe Bryant tweaked an ankle.
You know his face, but not him. Which is the point of this interview and photo shoot, until we get interrupted by the blaring of his cell phone.
He's in the middle of a story about Shaquille O'Neal that's too colorful for this website to publish, and he's on a roll. We're all laughing way too loudly for a Wednesday afternoon. But when the phone rings he stops mid-sentence.
"

[Kobe] could've played back in the 1980s. Not all these guys could've played back in the day. But he for sure could. And not just played; I mean played.

"

-- Gary Vitti
"It's either my wife or Kobe," he explains.
Vitti and his staff have essentially been working around-the-clock during these playoffs on no fewer than three of Bryant's body parts -- knee, ankle and finger -- which are aching and/or arthritic.
"Kobe was in very early this morning with Judy Seto, our physical therapist, getting treatment," Vitti says. "He's very aggressive in his approach to things, so you have to kind of dole it out as it's needed otherwise he'll go 100 miles an hour.
"I always like to keep a [trump] card in my back pocket to play when we need it, which we kind of came down to a need-situation just recently. Coming off the two losses in Oklahoma City, we had to win."
Vitti won't say what card he played with Bryant before Game 5, but it obviously worked.
"He's bright about what's going on right now," Vitti says. "If Kobe believes in you, he'll follow you, and right now he's following."
The challenging part of treating Bryant, though, is that it takes a lot for him to decide whatever pain he's feeling is bad enough to call Vitti. So when he does call, the phone must be answered.
"He could've played back in the 1980s," Vitti says. "Not all these guys could've played back in the day. But he for sure could. And not just played; I mean played.
"He's got this old-school mentality of 'I put a uniform on, and once I choose to do that, then there are no excuses.' "
The phone rings twice before Vitti picks it up, and I'm feeling as if I should step out of earshot. (This interview is supposed to be all-access, but even all-access has limits.)
Vitti turns his back to us, says something quietly, then hangs up the phone.
"Kobe?"
"No," he says, cracking a little smile. "My wife calling to remind me to take the scallops out of the freezer."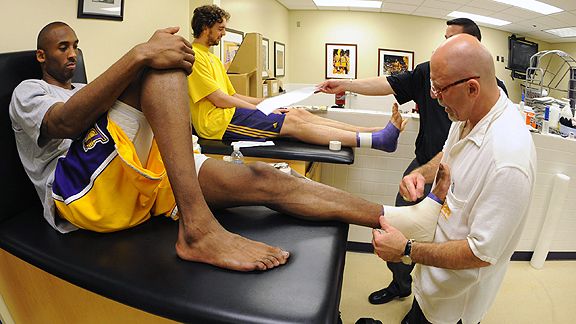 Andrew D. Bernstein/NBAE/Getty ImagesKobe Bryant and Gary Vitti have a relationship full of respect and admiration.
But that's all I'm telling you
Vitti has held this job longer than five of the players on this year's team have been alive. Pat Riley hired him back when the Lakers were still trying to figure out a way to beat the Boston Celtics, and he's basically seen or taped the ankles of every player who has worn a Lakers uniform since.
He can tell you about the toughest and the wimpiest athletes he's treated. Who had the biggest feet and who had the smelliest. He can tell you, but he won't. Because that's not how you go about keeping a job like his for 26 years, through three championship iterations and "the insignificant years" in between.
"

It's remarkable he's been there as long as he's been there. A lot of trainers in this league burn out after a while. It's probably one of the most difficult, detail-oriented assignments in the NBA. The trainer, like the head coach, has to be on 24/7 and 365.

"

-- Pat Riley on Gary Vitti
"It's remarkable he's been there as long as he's been there," Riley says. "A lot of trainers in this league burn out after a while. It's probably one of the most difficult, detail-oriented assignments in the NBA. The trainer, like the head coach, has to be on 24/7 and 365.
"You have to be unique, and Gary was. He was a multitasker, and I sort of turned everything over to him, and I knew that department was handled very well."
Coming into this assignment, I figured Vitti would have to be one of three personality types to stay in this job as long as he has: principled and honest, politically shrewd or charming.
I figured wrong. He is all three.
"I think the Buss family -- and the general managers I've worked with, the coaches -- our value systems are all in line with each other," he says.
"A player is an asset, just like your home is an asset. You certainly don't want to sacrifice your investment for some sort of short-term goal, and I think that the people I work with, and the players I work with, always have had the same opinion.
"Both sides have to trust you."
The third floor of Vitti's home is a shrine to the seven NBA championships the Lakers have won during his tenure. Autographed jerseys from Lakers greats like Bryant, Kareem-Abdul Jabbar and Pau Gasol hang from the walls, along with shoes from Larry Bird and a clipboard from Riley.
Almost everything in this room is a gift, given without him asking, and inscribed with messages of gratitude. He is proud, but a little shy about showing them off.
It is his job to keep them healthy. The better he does it, the less attention he should receive.
When I ask about the message Riley has inscribed on the clipboard, he reads it aloud, then asks that we not make a big deal of it.
"I believe it is my job to voice my opinion," he says. "If you [as the head coach or a player] decide not to do what I say, then it becomes my job to make you right and me wrong. My ego can't be involved."
Next time you're in Italy
About 45 minutes into lunch I begin to understand why so many Hall of Fame players and coaches hand Vitti autographed jerseys and memorabilia to show their gratitude.
The waitress has just brought out our main course and he's already given me tips on the best type of espresso machine to buy, what diet will help me drop 10 pounds by the summer and offered to introduce me to his friends and cousins who will show me the best places to go the next time I'm in Italy, not that I've even scheduled this trip yet.
IT'S L.A., AND IT'S LIVE

For more about the Lakers and coverage of the complete Los Angeles sports scene, visit ESPNLosAngeles.com. »
"Wherever you want to go," Vitti says, as if everyone is this hospitable. "I go there every year for three weeks in August. It's the only vacation I get. My mom and dad were an arranged marriage. They immigrated to New York from a village called Settefrati, which is in the mountains about 90 minutes southeast of Rome.
"I went back in 1984 to find our house and it had been abandoned. No one had lived there in 30 years. Birds were flying in and out. I went back and told my dad, 'This is horrible. We should fix this.' So I bought it in 1987 and restored it completely. It's 400 years old and it's in the new part of town. The village itself is 2,000 years old."
He's rolling again, only this time the story can be published. But again we are interrupted.
Memphis Grizzlies center Marc Gasol has spotted us in the patio of Petros, a popular Greek restaurant in Manhattan Beach.
"Hey, Gary," Gasol calls out. "How are you? What's going on?"
I'm confused. This is Marc Gasol, not Pau. How does he know Gary?
Pau is actually in the back of the restaurant at the same time, having a business meeting.
"Hey, your brother is in the back room," Vitti shouts across the restaurant.
"I don't want to see him," Marc says, laughing.
"I know, I know," Vitti says. "You came to see me, right?"
"Of course," Marc says.
As it turns out, they met last summer when Vitti had to interrupt his vacation in Settefrati to fly to Spain and inspect Pau's injured finger. Vitti spent three days with the Spanish national team, checking out the elder Gasol's recovery from surgery and reporting back to the Lakers brass on the extent of the injury.
"Pau owes me three days' vacation," Vitti says. "And I will collect."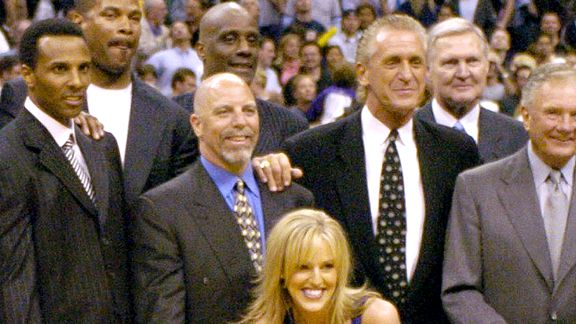 Kirby Lee/WireImageIt was Pat Riley who persuaded Gary Vitti to return to the NBA. They remain close.
Staying two steps ahead of Riles
Actually, Vitti never wanted this job. Well, sort of. What he wanted out of life at the moment Riley called him in 1984 was to finish his Ph.D. and work as a college professor. He'd done the NBA thing already, working with the Utah Jazz from 1981-82, back before Jerry Sloan or John Stockton and Karl Malone.
"When I was with the Jazz they were horrible," he says. "So when Pat called, I wasn't sure I wanted to do it. I wanted to be a college professor.
"Then Pat says to me, you can do everything you want to do and you can do it with the greatest athletes in the world. I made the move because of that comment, and I fell in love with the NBA and the Lakers and Los Angeles, and the rest is history."
He fell in love because of the character of the men he worked with.
"Those guys, Jerry West, Pat, Magic, James Worthy, those guys taught me what it really was to be a champion," Vitti says. "And when you're around that every day, that's all you want to do."
Not that working for or with those men was always or ever easy.
"They all knew I was crazy," Riley jokes. "Gary knew I was a little bit off the wall, [assistant coach] Bill Bertka, all those people I worked with knew I was one of those coaches who was very intense and at any moment, temporary insanity could enter the room. They learned how to deal with it, and you appreciate it over the years."
Riley may have recruited him, but once Vitti signed on his standards were incredibly high.
"I think that if you come up with Pat, losing is not an option," Vitti says. "You never lay down; it's a thousand miles an hour. It's very intense.
"I was always trying to stay two steps ahead of Pat. It used to bother me if Pat had to tell me what to do. It meant I didn't think of it before."
Like?
"Well, like back in the '80s when we'd play Boston. If you were there in the winter they'd open up all the windows and it'd be like a meat locker in there. If you were there in the summer, they'd close all the windows and turn the heat on.
"It was miserable in there. So one day I got this idea bring air conditioning units like they use on the sidelines in the NFL."
It was a fantastic idea, except for one thing.
"Yeah, we plugged them into the wall and it basically tripped the whole grid in the Boston Garden," Riley says, laughing at the memory. "They were pretty p----- off. But we didn't care.
"Maybe it was paranoia on our part, but we had too many negative experiences with them. So whenever we went in there, we brought all our own stuff, scheduled all our own practices. I mean, I wouldn't even drink the Gatorade in that place if they left a bucket of it out there for us."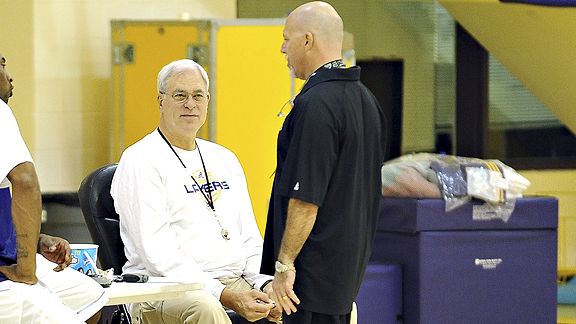 Noah Graham/Getty ImagesGary Vitti has been a confidant to two legendary NBA head coaches.
The two maestros
Outwardly, his current boss couldn't be more different. Where Riley was all hard-nosed discipline, intensity and slicked-back hair, Phil Jackson believes in guided meditation before games, giving safe harbor to the wayward souls of the NBA, and Birkenstocks at practice.
But Vitti sits close enough on the bench, and in the inner circle, to know how unimportant those differences actually are.
"They're both maestros," Vitti says. "And it's trying to get everyone to do things the right way, the way you want them done, the way you see the music
"They both do it, but they do it differently. Phil may look really calm and composed on the outside.
"But he's constantly swinging that baton like a conductor and pointing it at certain people in the orchestra. So if you're in the violin section and you're off, he's pointing that baton at you. Pat does that too, but it's more of a shotgun effect.
"Pat, no matter how hard you're working, Pat's working harder than you, and he gives that off. You feel it and you have to get on that energy carpet and fly with him.
"Where Phil looks like he's not fired up, but he is. And if you're not at his intensity, he takes that baton and pokes you with it."
The staff
He starts working every morning around 7 or 8, checking e-mails and researching whatever issues his players might be going through at the time. These days Vitti is more of a conductor too, managing a staff of six, whom he made me promise to list and emphasize how important they are: athletic performance director Chip Schaefer, assistant trainer Marco Nunez, athletic performance coordinator Alex McKechnie, physical therapist Judy Seto, massage therapist Marko Yrjovuori, and equipment manager Rudy Garciduenas.
Back when Vitti was hired, he held all of these roles. Taping ankles, doing laundry and designing strength programs. Everything.
"The job has changed," he says. "The game is different. Everything has evolved."
Magic
What hasn't changed and what never will is his favorite player to put on a Lakers uniform.
"Earvin 'Magic' Johnson is the most special human being I've met on the planet," Vitti says. "If you're in a room and he walked in, you would feel better."
They are close to this day, bonded by a quarter-century of friendship and by one of the most difficult situations either has ever encountered.
Vitti gets emotional just thinking about what happened to his friend in 1991. Back when everyone knew something was wrong with the Lakers great, but only seven people really knew how serious it was: Vitti, Johnson, Johnson's wife, Jerry Buss, Jerry West, Johnson's agent Lon Rosen and Lakers team physician Dr. Michael Mellman.
[+] Enlarge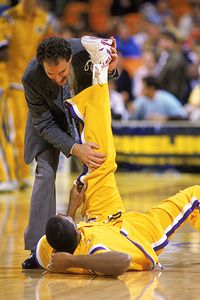 Mike Powell/Getty ImagesGary Vitti and Magic Johnson were participants in the education of players and, to some degree, of society about HIV.
For two weeks, while the diagnosis of Johnson's HIV-positive status was being checked and rechecked, Vitti was in knots. The information would soon become public, but while it was private it bore a hole in the pit of stomachs.
"I was scared; he wasn't. He was tough. I said to him, 'Earv, I'm having a really, really tough time with this,'" Vitti says, his voice cracking at the memory.
"He looked me straight in the eye and said, 'Look, when God gave me this disease, he gave it to the right person. I'm going to do something with this.
"And he has. It's unbelievable what he's done with it. But at the time, it was awful because we just didn't know that much about it [HIV]."
As soon as the diagnosis came in, Vitti began to study and research. Initially, the Lakers and Johnson decided it was best for him to retire, both for his health and the health of his fellow players.
When Johnson made a comeback a year later, the real learning began. Every piece of research anyone found said that Johnson should be able to play basketball, without incident and without presenting a risk to his teammates or opponents.
Still, some players were scared and resentful. During an exhibition game in 1992, Vitti and Johnson began to change all that.
Johnson was forced to come out of the game with a small cut on his forearm. Vitti came over to check out the cut. It was so small you could hardly see it. More of a scratch than a cut, so Vitti pulled out a cotton swab, left his gloves in his pockets, and treated Johnson as he would any other player.
"Gary could've been fired that day, but it was the right thing to do," says Rosen. "And looking back, in a strange way he kind of showed everyone about the disease by doing that."
Of orange tile and Lakers gold
It is impossible to simply go to Gary Vitti's house. First, you have to follow him from the Lakers training facility in El Segundo after practice, flooring it as he zips down Sepulveda Boulevard in his green rebuilt 1982 Alfa Romeo.
Like his house in Italy, and his house in Manhattan Beach, Vitti has lovingly restored what had been broken or beleaguered.
More on the Lakers

For more news and notes on the Lakers, check out the Land O' Lakers blog from the Kamenetzky brothers. Blog
"This house was all orange," he says before we get to his memorabilia collection, or the interview. "It was a dump when I bought it, but I saved one of the original orange tiles just so I'd remember what it was."
I'm torn. He's about to tell another great story, you can tell. But I can't help psychoanalyze.
"You know, Gary, if was a psychologist and not a reporter. I might start connecting the dots and say, 'Hmm … you fix cars and houses and memories. Maybe that's why you became a trainer? To fix people?' "
He smiles, knowing I've got him but confirming nothing.
The second floor of his beach house is an homage to his past and present. Photos of his parents and artwork from all over Italy and by his own hand hang on the southern walls.
Outside he's built a terrace with views of the Pacific. On the western-facing wall are photos of his wife, Martha, and two daughters.
A spiral staircase leads to his ode to the Lakers. A quarter-century of mending and tending to this town's greatest athletes.
I want to go up there, but can tell Vitti still has more to say about the orange tile. About what he's built for himself, and why. Then, of course, his cell phone squawks. It's a text message this time.
"Kobe?"
"No, not Kobe. But it's about Kobe," he mumbles.
"He OK?"
"Yes," Vitti says. "Kobe is the toughest player that I've ever worked with.
"I'd have to manipulate him to choose not to play. If I tell him not to play, that would convince him that he could play. Like when he broke his finger, I figured he was done for six weeks and he was like, 'I can do this.' It was kind of like a new challenge for him."
"So who's the text message from?" I ask. "Phil?"
Vitti looks up and smiles at me, but says nothing. There's a reason he's had this job for as long as he has.
Ramona Shelburne is a columnist and reporter for ESPNLosAngeles.com
ESPN.com
Senior writer for ESPN.com
Spent seven years at the Los Angeles Daily News
ROAD TO REPEAT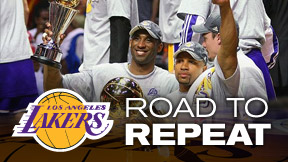 PHOTO GALLERY
STORIES AND COLUMNS
24/7/365: ALL ABOUT KOBE
LAND O' LAKERS BLOG
OWNER JERRY BUSS
710 ESPN PODCASTS
Adidas Youth L.a. Lakers Kobe Bryant #24 Home Gold Replica Jersey Shop »