Commentary
Kobe-LeBron still not in the cards
The Finals matchup everyone wanted goes by the wayside with the Cavs' ouster
Updated:
May 13, 2010, 11:41 PM ET
By
Arash Markazi
| ESPNLosAngeles.com
It will forever go down as basketball's version of Dan and Dave. A rivalry manufactured on Madison Ave. and idealistically played out in boardrooms like children toying with puppets.
Kobe versus LeBron is dead -- again -- and sadly we may never see it.
As the country searches to find the deeper meaning of LeBron James being humbled in the postseason, another embarrassing playoff exit for a player who seems to be regressing in the clutch since being swept out of the NBA Finals three years ago, I'm still coming to grips with the death of the Kobe Bryant-LeBron James Final we've been promised for the past two years.
LeBron will be fine. I'm not worried about him or his legacy. He will re-sign with Cleveland or go to New York, continue to make millions of dollars and establish himself as one of the greatest basketball players ever. Whether or not he finishes his career with a handful of championship rings is inconsequential to me and something I'm not going to lose any sleep over until he tearfully retires without a title. I'm sorry if I'm not ready to write the review of a play halfway through Act I.
[+] Enlarge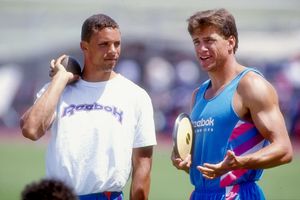 Tim DeFrisco /Getty ImagesDan O'Brien, left, and Dave Johnson were part of a Reebok advertising campaign that never realized its potential for the 1992 Barcelona Olympics.
We still have at least 10 more years to shape and mold LeBron's legacy. I know we'd all love to gift-wrap and mail in the career of a 25-year-old player in a quick 30-second sound bite or a 30-inch column, but it can't be done and I won't do it.
LeBron's career will not be defined by one playoff series. He'll recover, but what we lost tonight and might never get again is Kobe versus LeBron in the NBA Finals, which is not only a huge loss for the NBA but for both of their legacies.
No matter what LeBron ends up doing in the offseason we can all agree the odds of him reaching the NBA Finals next season aren't as much of a foregone conclusion as we had previously thought. If he returns to Cleveland, the Cavaliers, after being eliminated before the Finals despite having the best record in the league the past two seasons, have to make major changes to get past the Celtics and more important the Magic. If he goes to New York, the Knicks' rebuilding process will be even more daunting.
Meanwhile, Kobe will turn 32 in August and has already shown the wear and tear of a player in the back end of his career. If we were going to get Kobe versus LeBron in the Finals it had to be last year or this year. If we end up getting it two or three years from now it will be like watching Robert De Niro and Marlon Brando in "The Score." It might not be terrible, but you'll always wonder how amazing it would have been if they were both in their prime.
The truth is Kobe needs LeBron and LeBron needs Kobe. As manufactured as their rivalry may be, they need to face one another to validate their accomplishments during a time when you are judged by your competition as much as your talent. Yes, Kobe finally won a championship without Shaquille O'Neal last season when the Lakers beat the Magic, but how much bigger would the victory have been viewed historically and by his critics if he had taken down LeBron in the process? It would have been infinitely more memorable if Kobe had his hands raised while LeBron was walking off the court with his head down behind him.
IT'S L.A., AND IT'S LIVE

For more coverage of the complete Los Angeles sports scene, visit ESPNLA.com. »
All great stories have heroes and villains, ebbs and flows, drama and intrigue and that's what Kobe versus LeBron potentially represented. It represented everything we miss about the NBA during the 1980s when we'd have either Magic versus Bird, Magic versus Dr. J, Bird versus Dr. J or Magic versus Isiah every year for a decade. These weren't distinctly separate characters who never played one other; they were intertwined and were ultimately judged by how they fared against each other on the biggest stage. That's why the league was so transcendent then. Anyone sitting down to watch the NBA Finals back in the '80s knew who the top two players facing each other were. It was like a heavyweight boxing match, back when people actually knew who the heavyweight champion was.
The days of having those kinds of rivalries in the NBA are as dead as a big-time heavyweight title fight in boxing.
If Kobe were to beat Orlando in the Finals again this year and win his fifth championship, it would certainly add to his legacy, but it wouldn't be remembered as fondly by history or silence his critics as much as a win over LeBron (not to mention Shaq) would.
The same goes for LeBron.
A few years from now if he finally wins the title but does so against Brandon Roy and the Trail Blazers, it would still be a great moment but not the same as taking down Kobe and the Lakers. The fact Michael Jordan's first championship came against Magic and the Lakers at the Forum did as much to cement his legacy as anything else he did during his career.
So don't worry about LeBron and his legacy. Call me crazy, but something tells me the kid will be just fine. But take a moment to remember the rivalry that never was and may never be -- Kobe versus LeBron. It's a rivalry that will continue to be played out in bar rooms, talk shows and ill-fated ad campaigns but sadly never on the court the way it should have been.
Arash Markazi is a reporter and columnist for ESPNLosAngeles.com.
ESPNLosAngeles.com
Former columnist and writer after five years with Sports Illustrated
Markazi has also written for Slam, King, Vibe and Playboy
On board of directors for Jim Murray Memorial Foundation.