Commentary
Earth, meet the Lakers
The Lakers played well. The Suns played better, and it may be what the Lakers needed
Updated:
May 24, 2010, 12:15 PM ET
By
Arash Markazi
| ESPNLosAngeles.com
PHOENIX -- What? You were expecting another double-digit rout? Planning for another anticlimactic sweep? Had already made plans for the NBA Finals to start early?
You weren't alone.
But something strange happened on the way to another lackluster conference finals game we all thought we knew the outcome to before it began. Both teams actually showed up to play. It might be a foreign concept on the East Coast, but it really is amazing how good a game can be if one of the teams doesn't roll over and play dead after the conclusion of the national anthem.
As a result, the Phoenix Suns beat the Los Angeles Lakers 118-109 in Game 3 of the Western Conference finals, which, momentarily anyway, put a stop to the litany of Lakers-Celtics preview stories you were supposed to start seeing today.
[+] Enlarge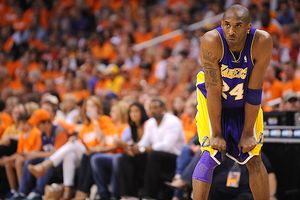 Noah Graham/NBAE via Getty ImagesKobe Bryant scored 36 points, had nine rebounds and 11 assists in the Game 3 loss in Phoenix.
In the end, the outcome and the fight the Suns showed in protecting their home court may pay bigger dividends for the Lakers than any blowout could have. Sure, the Lakers would have loved to sweep their way into the NBA Finals, winning ten straight and making it look effortless night after night, but they would have likely experienced the same fate as the Orlando Magic this season and the Cleveland Cavaliers last season after sweeping through the first two rounds of the playoffs before getting shell-shocked in the next round.
Despite what's going on in the Eastern Conference finals right now, the playoffs aren't supposed to be easy. You're supposed to be tested and challenged. You're supposed to face some adversity and get hit in the mouth a couple of times and fight back. The Lakers never experienced that before facing the Celtics two years ago when they came in as heavy favorites and eventually paid the price. While the Suns aren't likely to take the Lakers the distance, back-to-back sweeps would have been the worst possible fate for the Lakers heading into a Finals rematch with the Celtics.
Phoenix isn't the ideal team to prepare the Lakers for the Celtics. Then again, no team is, unless the Lakers have a time machine and can go back and face the 2008 team that embarrassed them. Even that bunch might not be as good as the current Celtics. Yet for one night anyway, the Suns and the "Beat LA!"-chanting crowd at US Airways Center did their best to prepare the Lakers for what might be in store for them in Boston.
IT'S L.A., AND IT'S LIVE

For more coverage of the complete Los Angeles sports scene, visit ESPNLA.com. »
It all added up. The aggressiveness of Amare Stoudemire, who scored 42 points and grabbed 11 rebounds. The feistiness of Robin Lopez, who in addition to scoring 20 points, ran into Derek Fisher and "accidentally" hit him in the head with his elbow. The elusiveness of Steve Nash, who scored 17 points and dished out 15 assists.
The Lakers will have to be able to deal with all that and more against the Celtics, and they'd better get used to it now before they find themselves in an 0-2 hole like the Magic have and like the Lakers did in the Finals two years ago, because by then it's too late.
"These guys have been through a lot of adversity and we know what it takes, and we know what it takes as a unit to respond," said Lakers forward Ron Artest. "We're not getting ahead of ourselves or thinking ahead. We know we're going to get some tough games in the playoffs and we're ready."
The Lakers, who have only completed 13 sweeps in 101 best-of-seven series in franchise history, have already faced some adversity in this postseason. They lost back-to-back road games in the first round of the playoffs against Oklahoma City and responded with the eight-game winning streak that was snapped Sunday. While the Lakers would rather not have to fight back from another 2-2 series tie, they also couldn't continue blowing teams out by an average of 16 points as they had in the past three games and expect to be ready for what awaited them when they faced the Celtics.
"We expected this," said Lakers forward Pau Gasol. "It was very much expected, but I think we could have done better defensively. But hopefully we'll be more ready for Game 4. We've just got to be more aware of what's going on out there and the strength of your opponent."
ROAD TO REPEAT

ESPNLosAngeles.com chronicled the Lakers during the NBA playoffs with photos and game coverage. The gallery »
When you're getting ready for a heavyweight fight, the last thing you want is to be continually patted on the back while feasting on overmatched sparring partners who simply cave in every time you hit them. Watching tapes of a series of one-sided beatings not only builds a false sense of confidence but also a false sense of invincibility, which will surely be jarred the first time you find yourself in trouble and try to think back to the last time you were in such a predicament. The next thing you know, you're down on the canvas wishing you had sparred against guys who actually had some fight in them.
The Suns might not be the best sparring partners, but at least they're making the Lakers sweat now.
"This is good for us. We're going to have to learn how to fight back," Artest said. "Nothing comes easy. Even when it looks like it comes easy, it's really hard. We'll be back and we'll be better because of this."
Arash Markazi is a columnist and reporter for ESPNLosAngeles.com
ESPNLosAngeles.com
Former columnist and writer after five years with Sports Illustrated
Markazi has also written for Slam, King, Vibe and Playboy
On board of directors for Jim Murray Memorial Foundation.
ROAD TO REPEAT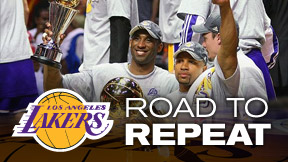 PHOTO GALLERY
STORIES AND COLUMNS
24/7/365: ALL ABOUT KOBE
LAND O' LAKERS BLOG
OWNER JERRY BUSS
710 ESPN PODCASTS