Commentary
Spare parts run like new
Suns GM Steve Kerr duct-taped a group of unlikely castoffs into contenders
PHOENIX -- There are a lot of executive-level chairs in the NBA that get very lonely and very warm every winter: all the well-thought-out plans from the offseason having unraveled as quickly as the weather turns; all the public cries for a flogging, if not a firing, growing louder by the loss.
Winter is about the only time of year in Phoenix when the weather cools off some, but for Suns general manager Steve Kerr, December 2008 was as hot and uncomfortable as any day in July.
"I was taking a complete beating," Kerr said. "It wasn't a whole lot of fun last year. First of all, the criticism was deserved. I didn't do a good job. But with that said, I also know circumstances dictate a lot in this league. We had a team that was probably on the way down when we made the [Shaquille O'Neal] deal, and we tried to salvage it and swing for the fences.
"Once we took that shot and failed, we had to fix it."
So began one of the most successful reclamation projects the NBA has seen in the salary-cap era. Kerr dismantled, then reassembled the Phoenix Suns into the unlikely Western Conference finalists you see preparing to take on the Lakers in Game 4 on Tuesday night at US Airways Center.
Kerr insists he always had an idea of how the salvage operation should be done, which spare parts could be picked up off the unappreciated ends of other teams' benches, which former prospects could find new life on the receiving end of Steve Nash's passes.
But during the early phases of Kerr's construction project, it all seemed a little haphazard.
"From the beginning of the season, everybody was counting us out," said Suns guard Jason Richardson.
"They were saying Steve and Grant [Hill] were too old; they were saying guys like me and Amare [Stoudemire] were overrated, maybe overpaid too; and everybody else was just throw-ins.
"So in a sense, we've always thought it was us against the world. We couldn't care what the outside world thought about us. We thought we were a good team and could have a special season, and we're proving that now."
Still, you've got to give Kerr and his staff credit for their vision.
Now that everything has worked out well, it's easy to talk about how guys at the end of every team's bench can be polished up and shine in another system. But if that were always the case, every expansion team would be making the playoffs, not drawing pingpong balls in New York in mid-May.
It takes a certain eye to recognize which castoffs can be successfully recast in another system. Just look at the Suns' bench:
• Channing Frye: A lottery bust with the Knicks who played his way out of the rotation in Portland, signed a two-year, $3.8 million deal with his hometown Suns this winter and proceeded to drill 172 3-pointers during the regular season.
• Louis Amundson: The former D-Leaguer didn't play in more than 16 games in either of his first two seasons in the league, with Utah and Philadelphia, but has become a second-unit mainstay with the Suns because of his athleticism and hustle.
• Goran Dragic: The Spurs drafted the Slovenian point guard with the 45th pick in the 2008 draft, then traded his rights to the Suns for basically nothing. He's been brought along slowly since then, but flourished in limited action this season while being groomed to take over for Nash when he retires.
• Jared Dudley: The former Boston College star shot just 22 percent from behind the 3-point arc as a rookie but was fourth in the NBA in 3-point field goal percentage with the Suns this season (45.8 percent).
And it's not just the bench. Many people believed the Suns reached by drafting starting center Robin Lopez 15th overall in 2008, but he has blossomed offensively and become a key contributor in just his second season.
And as productive as Richardson has always been offensively, the trade that brought him and Dudley from Charlotte to Phoenix in December 2008 was wildly unpopular at first because the Suns had to give up crowd-pleasing role players Raja Bell and Boris Diaw.
Even the normally stoic Nash was downcast in the first few days after that trade, fearing a rudderless, overly reactive future as he approached the final few years of his career.
Kerr understood the frustration but had to trust his instincts. As much as it pained him to give up Diaw's versatility and Bell's intensity, the Suns needed more perimeter scoring, and the GM felt that Dudley's toughness and defensive ability would eventually make up for the loss of Bell.
"We've got a good scouting department," Kerr said. "I know Jared's been perceived as a throw-in to that deal, but he was no throw-in. Charlotte really valued Jared. We haggled over him for a while in that deal."
As much as this is a story about creative vision, it is also a story about opportunities seized. Ask an NBA player if he can score 20 points and be an All-Star someday if given enough minutes, and most likely it will take less than 10 seconds for him to say "yes."
No matter how dusty the road these castoffs took to get to Phoenix, they each arrived feeling as if they belonged.
"I think someone's trash is another man's treasure," Dudley said. "Certain people just work in certain systems.
"Channing, as you can tell, is flourishing in an opened-up system where he can shoot the ball. In Portland, he wouldn't even be allowed to shoot it. I wasn't even allowed to shoot the ball from 3-point range when I was in Charlotte, and now I'm one of the league leaders in 3-point shooting.
"Plus, Alvin [Gentry, the Suns' coach] gave us all confidence, like, 'Hey, I'm not going to take you out. You're going to play through your bad mistakes because I want you guys improving and to become successful.'"
Ramona Shelburne is a columnist and reporter for ESPNLosAngeles.com
ROAD TO REPEAT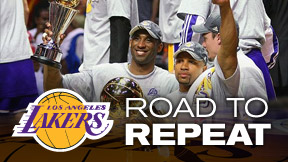 PHOTO GALLERY
STORIES AND COLUMNS
24/7/365: ALL ABOUT KOBE
LAND O' LAKERS BLOG
OWNER JERRY BUSS
710 ESPN PODCASTS