Commentary
Lakers hit 'Easy' button in win
L.A. dismantled the Boston in every way possible in Game 1, making it look simple
Updated:
June 4, 2010, 3:19 AM ET
By
Dave McMenamin
| ESPNLosAngeles.com
LOS ANGELES -- "That was easy."
It's the Staples office supplies store chain's slogan, but it applied to what went down on the Staples Center court Thursday in the Lakers' 102-89 Game 1 win to start the NBA Finals.
After all of the buildup, all of the banter about the Celtics being too tough for the Lakers, their defensive schemes too deceptive, their historical series edge (winning nine out of 11 meetings) too steep, their Big Four too formidable, Boston looked about as beatable as another green jersey-wearing gang: the Washington Generals.
(Yes, those Generals, the Harlem Globetrotters' cupcake opponent they've been embarrassing all these years.)
The Lakers crushed the Celtics just about every which way you can beat a team in a 48-minute basketball game. They outrebounded that supposedly Teflon-tough Boston front line of Kevin Garnett, Kendrick Perkins, Glen Davis and Rasheed Wallace by 12, outscored them in the paint by 18 and held an unreal 16-0 advantage in second-chance points, that stat alone accounting for more than the final margin.
"I thought the Lakers were clearly the more physical team today," Celtics coach Doc Rivers said. "I thought they were more aggressive. I thought they attacked us the entire night."
[+] Enlarge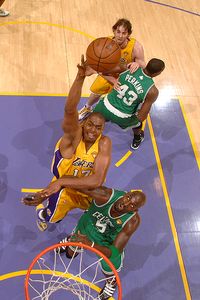 Andrew D. Bernstein/NBAE via Getty ImagesAndrew Bynum goes up for a shot against Kevin Garnett in Game 1 of the 2010 NBA Finals. Even a limping Bynum put up good numbers against the Celtics.
What made success so simple for the Lakers, and what became the disheartening aspect of the game that tempted us to think we could be strapping ourselves in for the most competitive best-of-seven in the last decade, was that the Celtics didn't attack back.
The Lakers opened up an 11-point lead midway through the third quarter and never let it dwindle below nine the rest of the way, even having it balloon to 20 headed into the fourth.
By the time it was over, L.A. topped triple digits in scoring against the Boston defense that had allowed 100 points or more just four times in the 17 games it played in the postseason to get to the Finals.
Shannon Brown was asked how the win tasted after the game.
"It tastes all right," Brown said. "It don't really taste like steak and potatoes, but it's kind of like chicken."
And really, how could a game like that come off as gourmet?
Boston's "Ubuntu" was booty.
The Celtics shot just 43.3 percent from the field to the Lakers' 48.7 percent and made just 1 out of 10 3-point attempts as opposed to the Lakers' 4-of-10 mark.
Winning Game 1 ended up being as easy for L.A. as the job of the JumboTron operator at Staples Center, who knows he can win over the home crowd at any point by flashing a shot of Jack Nicholson up on the screen.
The 13-point win left the Lakers wanting more.
"I thought we fell asleep at times," Artest said.
IT'S L.A., AND IT'S LIVE

For more about the Lakers and coverage of the complete Los Angeles sports scene, visit ESPNLosAngeles.com. »
Can you blame them? The Celtics didn't pose a challenge worth staying fully awake for.
"We can play a lot better," Artest added.
If they do and the Celtics don't improve in tandem, what's Game 2 going to look like?
Was there a single matchup that Celtics fans can be satisfied about?
Pau Gasol's 23 points, 14 rebounds and 3 blocks dwarfed Kevin Garnett's 16 points, 4 boards and lone swat-back. Gasol single-handedly won a tip drill over both Garnett and Perkins in the third quarter, summing up how easy it was for the Lakers to get whatever they wanted.
All-Star Rajon Rondo finished with 13 points, 8 assists and 6 rebounds, but the 35-year-old Derek Fisher kept pace with 9 , 3 and 3.
Kobe Bryant shot under 40 percent in four out of the six games in the 2008 Finals because he was flanked wherever he went by one, two or sometimes even three Boston defenders. He scored 30 on Thursday, flushing two-handed dunks to finish fast breaks uncontested and sniping in 9 of 10 free throws because Ray Allen couldn't do anything to stop him from driving but foul.
Allen finished with just 12 points as his five fouls kept him tethered to the bench.
A limping Andrew Bynum finished with 10 points and 6 rebounds, while a perfectly healthy Perkins could manage just 8 and 3.
The Lakers' bench shot a pedestrian 7-for-16 from the floor and still hung with the Celtics' second unit, which ended up outscoring its counterpart only 16-15, even though Boston's reserves played a total of 79 minutes to the L.A. bench's 65.
ROAD TO REPEAT

ESPNLosAngeles.com chronicled the Lakers during the NBA playoffs with photos and game coverage. The gallery »
It took all of 27 seconds to see that this time would be different from 2008, when Ron Artest showed how easy it was to get inside Paul Pierce's head by tangling him up and having Pierce retaliate by pulling him down to the floor, drawing double-technical fouls with 11:33 showing on the first-quarter clock.
Pierce, who averaged 21.8 points, 4.5 rebounds and 6.3 assists per game in those Finals, taking home the MVP, finished with 24, 9 and 4 in Game 1, but 13 of those points came in the fourth, when the closest the Celtics could get it to was a 10-point game.
Pierce is the same guy who proclaimed at All-Star Weekend in Dallas that he was "one of the greatest shooters in NBA history" after winning the 3-point contest and went on to chastise a Lakers ball boy at the players' association party later that evening (the message, somewhat paraphrased and cleaned up for language: "I'm coming for you! I'm going to be raining 3s on y'all next time I come to L.A.").
Pierce has come to L.A. to play the Lakers twice since then. He went 1-for-4 from deep on Feb. 18 and 0-for-4 Thursday.
Artest, meanwhile, shot 3-for-5 on 3-pointers on the night.
The Lakers are up 1-0 and Phil Jackson-coached teams are 47-0 all-time when they win the first game of a series.
"I wish I felt good [about that]," Jackson said. "I wish I had put it in the bank, so to speak ... We've got a lot of work ahead of us, but it's nice to know that that's on our side."
Game 1 in the books, 48-0 looming ... It can't be that easy, can it?
Dave McMenamin covers the Lakers for ESPNLosAngeles.com
ESPN.com
Cavs and NBA writer for ESPN.com
Covered the Lakers and NBA for ESPNLosAngeles.com from 2009-14 and the NBA for NBA.com from 2005-09
Syracuse University graduate
The NBA Finals On ESPN.com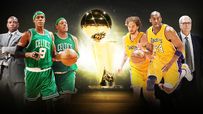 Follow ESPN's NBA coverage on Twitter
LATEST FINALS CONTENT
SERIES PREVIEWS
PLAYOFF FEATURES
FINALS PAGES
VIDEO
AUDIO