Commentary
Defense leaves Lakers in Game 5
The defending champs broke from their mantra; are now a loss from losing the series
Updated:
June 14, 2010, 9:03 AM ET
By
Dave McMenamin
| ESPNLosAngeles.com
BOSTON -- The Lakers' countdown to capturing a second consecutive championship came to a jarring halt Sunday night.
After Los Angeles let Boston shoot 56.3 percent from the floor in a 92-86 Game 5 loss, the white board in the visitors locker room was missing the phrase "2 More," which head coach Phil Jackson had written after Games 3 and 4 of the NBA Finals.
Even more conspicuous was the absence of the Los Angeles defense.
"The offensive part of the game kind of comes and goes," said Kobe Bryant, who saw his 38-point night -- including a masterful 19-point third quarter -- go to waste because four Celtics scored in double figures, and seven of the nine Celtics who played shot better than 50 percent from the floor.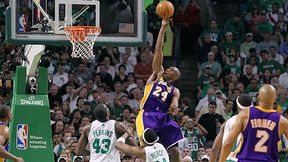 Ronald Martinez/Getty ImagesKobe Bryant's 38 points looked great on the stat sheet, but the Lakers couldn't defend well enough to support Bryant's scoring.
"I just thought defensively we weren't very good at all," Bryant seethed afterward. "We didn't get any stops. They got layup after layup after layup, and you can't survive a team that shoots 56 percent. We're normally a great defensive team."
Andrew Bynum's benching, caused by swelling in his right knee, was cited by many as the reason the Celtics waltzed through the paint in the second half of Game 4, but Bynum played 32 minutes in Game 5 and it made no difference; Boston players routinely slashed to the rim for easy looks.
"We weren't getting stops," Bynum said. "[Bryant] went nuts, but we couldn't stop them, just like the other team [couldn't stop him]. The game comes down to being able to get stops, and we're not doing that."
The Lakers allowed Boston to outscore them in the paint by a margin of 14, and the Celtics racked up exactly half of their total points for the game -- 46 -- at the rim.
The Lakers were beaten in transition as well, scoring only three fast-break points to the Celtics' 14.
With control of the series hanging in the balance, the Lakers let the Celtics score on more than half of their field goal attempts -- the first time in 21 games this postseason they've allowed an opponent's final accuracy mark to land north of .500.
"You never want to give up that number; we haven't the whole year," said Ron Artest, who had carved the word "defense" into his hair in three different languages earlier in the season.
After the game, a frustrated Jackson was left to explain what the concept of defense entails.
"Basketball is a pretty simple game," Jackson said. "You try to stay between the basket and your man."
The Lakers didn't, and the Celtics had a field day down low.
IT'S L.A., AND IT'S LIVE

For more coverage of the complete Los Angeles sports scene, visit ESPNLA.com. »
"It's a matter of will and awareness" said Pau Gasol, after playing his worst game of the series, finishing with an ineffectual 12 points and 12 rebounds. "If we're going to give something up, it doesn't have to be layups. We can live with some long jumpers, not with layups."
Since Game 1, when the Lakers won the points-in-the-paint war 48-30, the Celtics have outscored Los Angeles 186-130 on the inside.
Two lapses Sunday summed it all up for L.A. The first came against Rajon Rondo in the final minute. With 38.9 seconds left in the fourth quarter, and after they had cut a 13-point deficit down to just five, the Lakers employed a full-court press. But they didn't include anyone back as the deep man, protecting against a home run pass. Paul Pierce leaked out toward half court, Kevin Garnett lobbed the ball to him, Rajon Rondo streaked ahead and Pierce whipped it out to Rondo for a fast-break layup to extend the lead to seven points.
In the second lapse, the Lakers had been able to cut the lead to five again, but this time allowed Rondo (a 61 percent free throw shooter in this year's playoffs) to work 10.2 seconds off the clock without being fouled, and to get the ball to Ray Allen (shooting 86 percent from the free throw line), who ended up taking the foul with 18.4 seconds left and hitting two free throws to put Boston back up by seven.
"It was a critical time for us to get stops and run as a team and for guys to get into it," said Lamar Odom, who had two of the Lakers' nine steals. "We just couldn't get none. Tonight was a game where if we're getting stops, we would be talking about how Kobe got into it and how everybody else kind of followed after that, but we couldn't get stops. It's always the defensive end. This is the NBA Finals. You talk about the Super Bowl, the World [Series], in baseball it's pitching and defense, defense, defense. It's always the defensive end. We have enough guys that can score and play. It's always the defense."
Other than forcing Rajon Rondo into seven turnovers, the Lakers did little to limit the Celtics' Big Four.
Rondo finished with 18 points on 9-for-12 shooting. Allen had 12 on 5-for-10 shooting from the floor.
Even the Lakers' former defensive player of the year, Artest, couldn't prevent Pierce from scoring 27 points with an efficient 12-for-21 line.
ROAD TO REPEAT

ESPNLosAngeles.com chronicled the Lakers during the NBA playoffs with photos and game coverage. The gallery »
Kevin Garnett was one of the Celtics' culprits who initiated things inside, scoring 18 points on 6-for-11 shooting.
"I know they were shooting a high percentage," Jackson said, "but it gets that way when you shoot layups in this game."
Defense has been the Lakers' mantra ever since Boston bullied them defensively in 2008. As recently as Game 4 of the Western Conference finals, Bryant emphasized how crucial it was, denigrating L.A.'s defense eight times in his postgame remarks after the Suns had scorched them for 115 points.
Garnett came up to the postgame podium Sunday and was asked how it felt to be just one win away from a second championship in three years.
"I thought the defense was consistent tonight throughout four quarters," Garnett answered, evading the question.
He knows what wins championships.
And the Lakers know the only way their title-defense countdown of "2 More" can start again will be by making stops.
Dave McMenamin covers the Lakers for ESPNLosAngeles.com. Follow him on Twitter. http://twitter.com/mcten
ESPNLosAngeles.com
Dave McMenamin spent five seasons as a staff writer for NBA.com in New York and Los Angeles before joining ESPNLosAngeles.com to cover the Lakers and the NBA.
The NBA Finals On ESPN.com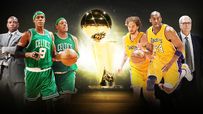 Follow ESPN's NBA coverage on Twitter
LATEST FINALS CONTENT
SERIES PREVIEWS
PLAYOFF FEATURES
FINALS PAGES
VIDEO
AUDIO