Commentary
Lefties left out
Zach Randolph and Lamar Odom are two southpaws deserving All-Star consideration
Updated:
February 7, 2011, 3:51 PM ET
By
Dave McMenamin
| ESPNLosAngeles.com
MEMPHIS -- What once was a game about Pau Gasol and how he performed against his younger (but bigger) brother Marc and Pau's former franchise has evolved into a potential playoff matchup.
The Memphis Grizzlies are a half-game behind the Portland Trail Blazers for the final spot in the West, and the Los Angeles Lakers are a half-game behind Dallas for the No. 2 seed.
With the older Gasol coming into Monday's game against the Grizzlies averaging 26.3 points and 11 rebounds in his past three games, Lakers coach Phil Jackson didn't take his normal opportunity to needle his All-Star forward after practice Sunday.
[+] Enlarge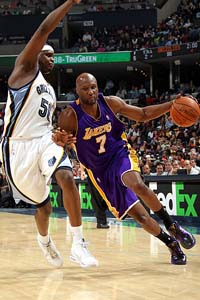 Joe Murphy/NBAE/Getty ImagesLamar Odom and Zach Randolph, two nice guys who got snubbed from the All-Star team this year, will meet each other again in Memphis.
"I think he carried the day with his brother," Jackson said, conceding the sibling rivalry to Pau, rather than ribbing the elder Spaniard for being pushed around by his baby bro. Pau's increased productivity coincided with a talk he had with Kobe Bryant about increasing his aggressiveness. Bryant summed up the talk by saying he'd like to see more of the "black swan" side of Gasol.
Jackson offered words of acceptance for Gasol's "white swan" ways, knowing that his play will sometimes leave the Lakers feeling unfulfilled, but never embarrassed.
"He is who he is," Jackson said. "We're not going to make him into [Kevin] Garnett. He's not going to go around punching guys in the balls. He's too nice of a guy."
And so, with Gasol being appreciated for what he does, the focus of Monday's game should shift to two other nice guys who weren't given enough appreciation in the All-Star voting.
Memphis forward Zach Randolph is averaging 20.3 points and 13.3 rebounds per game this season (third-best in the league) but did not make the cut as a Western Conference All-Star. He was edged out at forward by Denver's Carmelo Anthony and Oklahoma City's Kevin Durant (voted in as starters by the fans) and Gasol, San Antonio's Tim Duncan, Dallas' Dirk Nowitzki, Minnesota's Kevin Love and the Clippers' Blake Griffin (voted in as reserves by the coaches).
"He doesn't try to do anything that's going to be with athleticism," Jackson said of Randolph. "He uses smarts and quickness and has a good touch obviously and he's strong, so he can be posted up yet really manipulate and get around down there; he has good footwork. He's probably playing the best team basketball of his career.
"We try to shrink the court so he doesn't feel like he has a whole lot of space in there to amble around. If need be, we'll come and double-team him."
More on the Lakers

For more news and notes on the Lakers, check out the Land O' Lakers blog from the Kamenetzky brothers. Blog
The Lakers' Lamar Odom was similarly snubbed; he is averaging 15.3 points (up 4.5 points from last season) on 56 percent shooting (eighth-best in the league) along with 9.5 rebounds per game.
Jackson had praise for Odom, too, using a term to describe the 12-year veteran that would appear in a Super Bowl commercial later Sunday as the name of Simon Cowell's new show.
"I always think Lamar is the X factor for us," Jackson said. "When he has an elevated game, it puts us beyond contention for a lot of teams."
Jackson's point about Odom is perfectly illustrated in how he performed against Memphis in two losses to the Grizzlies this season; he averaged just 7.5 points.
"That's a fair assessment," Odom said. "When I have good games scoring the ball, rebounding the ball, it seems to give the team energy. ... [Considering] the makeup of our team's energy, where we get it from and where we gain it from, I would say that it's important for me to play well."
Odom said he planned to attack Randolph, but Odom could lose some of the element of unfamiliarity. Aside from their both being All-Star snubs, Odom and Randolph are also both left-handed players.
"It's always an advantage," Odom said. "Think about it. It takes guys a while to get used to it [on defense] because you don't play against lefties. You just don't play against them, you don't see them enough. Just like lefty pitchers. You always have an advantage.
IT'S L.A., AND IT'S LIVE

For more coverage of the complete Los Angeles sports scene, visit ESPNLA.com. »
"This is some of the things I don't know if I should be giving away to you guys so you'll write about them. A lot of people don't talk about it when it comes to left-handed players."
But maybe even more than the battle of southpaws, what's left of the Lakers-Grizzlies matchup when you take away the Gasol Bros. angle is the back-to-back champs facing the only team other than San Antonio to beat them twice.
"The crew has grown up," Jackson said. "They've grown up and are playing well."
The Lakers' losing for a third time to a team they could end up facing in the first round would show how things have changed.
Dave McMenamin covers the Lakers for ESPNLosAngeles.com. Follow him on Twitter.
ESPN.com
Cavs and NBA writer for ESPN.com
Covered the Lakers and NBA for ESPNLosAngeles.com from 2009-14 and the NBA for NBA.com from 2005-09
Syracuse University graduate