Commentary
Mamba bites the Boston Celtics
Kobe Bryant skewered the Boston defense in the second half, sealing the Lakers' win
Updated:
February 11, 2011, 3:27 PM ET
By
Dave McMenamin
| ESPNLosAngeles.com
BOSTON -- Just more than a week ago, Magic Johnson publicly lobbied for the Lakers to shake things up, expressing the need for the team to go outside its roster to improve for the stretch run.
Thursday, on his new Twitter account (@MagicJohnson), Johnson offered up a far less drastic suggestion for what the Lakers could do to beat their hated rivals from Boston.
[+] Enlarge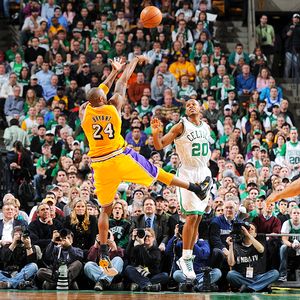 Brian Babineau/NBAE/Getty ImagesKobe Bryant's 20-point second half skewered the Celtics' defense and lifted his team to a tough victory in Boston.
"It's a good game," Johnson tweeted in the second half, "but if the @Lakers are going to win Kobe has to take over!"
Bryant had just three points on 1-of-3 shooting at halftime, and the Lakers trailed by eight. L.A.'s big men were going early, with Andrew Bynum and Pau Gasol scoring a dozen points apiece, but Bryant was mostly passive, picking up three assists but merely measuring the Celtics' defense instead of poking and prodding to see what was there for him to flourish.
"The game wasn't coming to me," Bryant said, "so I took it."
Bryant scored 20 of his game-high 23 points in the second half and shot an efficient 9-of-17 for the game.
He would never blame it on being gun-shy, but he would have every reason to be. On Jan. 30, the last time the Lakers played the Celtics in an embarrassing 109-96 home loss, Bryant shot the ball on 10 straight possessions in the fourth quarter, making only four, and picked up an offensive foul on an 11th as Boston built on its lead.
He ended up scoring 41 points but took 29 shots to get there, and L.A. fell to 0-2 on the season when Bryant went for 40-plus.
Phil Jackson said in the following days that it was Bryant's responsibility to make the plays at the end of the game. Even the normally reserved Gasol openly questioned Bryant's shot selection, saying that the team was OK with him going for broke in spurts as long as he didn't forget about his teammates the rest of the time.
On Thursday, Bryant took over just as Johnson implored him to, patiently sitting on the bench for the first seven minutes of the fourth quarter as he watched the reserves build a nine-point lead and then cling to a three-point cushion when Bryant stepped onto the floor with 5:04 remaining.
"I don't think about anything," Bryant said of his time waiting to be subbed in. "I just watch the game. I'm not really thinking about much. When I get in there, let's go to work."
More on the Lakers

For more news and notes on the Lakers, check out the Land O' Lakers blog from the Kamenetzky brothers. Blog
And go to work he did, blitzing Boston with a personal 6-0 run in less than two minutes of playing time to pad the Lakers' lead back up to nine.
Turnaround jumper from the elbow -- good.
Another jumper from the elbow -- money.
An elusive drive to the hoop ending in a layup -- bucket.
He tinkered with the elbow jumpers in the third quarter as well, and even though he missed a couple, he knew that it was a shot he could get before the Celtics' defense could stick its clamp down on him.
"They're just used to me catching and isolating all the time," Bryant said. "I caught it and shot it. It's tough to double that."
And it's tough for a defense to deal with Bryant when he is playing with his head rather than just putting his head down and looking to score at all costs.
"Kobe kind of dissected them," Ron Artest said. "He kind of played like a Peyton Manning role at the end, just really sealed the deal with big shots."
Peyton Manning is a new one. Bryant's fourth-quarter performance of eight points on 4-for-6 shooting along with an assist in just five minutes on the floor felt more like John Elway executing a two-minute drill to perfection.
"It just seemed like the right time to do it," Jackson said of his decision of when to put Bryant back in.
IT'S L.A., AND IT'S LIVE

For more coverage of the complete Los Angeles sports scene, visit ESPNLA.com. »
Of course it was the right time. With all due respect to Henry Abbott's statistical breakdown of Bryant's fourth quarters throughout his career, is there really any other person you want with the ball in a clutch situation?
It was only appropriate that Bryant's closing flurry came on the heels of Ray Allen's record-breaking 3-pointer in the first quarter to give him the all-time mark of 2,561 for his career. For more than a decade everybody in the gym has known that Allen is an elite outside shooter, yet no one has been able to do anything to stop him. The same goes for Bryant with the game on the line. There's not a person around who isn't aware of Bryant's credentials as a closer, and yet he continues to put games on ice time and time again.
"Once he saw there was a chance to win, Kobe was going to be Kobe," Celtics head coach Doc Rivers said.
Now, if the Lakers can adopt the same sense of when to strike as the Black Mamba, they can get their three-peat bid back on track.
The win over Boston was about more than keeping L.A. unblemished at 3-0 on its current seven-game road trip. It was a reminder that the Lakers' lackadaisical 1-6 record to start the season against the league's elite teams can be easily erased from their reputation by winning games like these as the season becomes a march to the playoffs.
Magic Johnson didn't tweet anything after the game. Much as he did to the Boston crowd, Bryant seemed to have left him speechless.
Dave McMenamin covers the Lakers for ESPNLosAngeles.com. Follow him on Twitter.
ESPNLosAngeles.com
Lakers and NBA writer for ESPNLosAngeles.com since 2009
Began covering the NBA for NBA.com in 2005-06
Syracuse University graduate