Commentary
Trevor Ariza looks back fondly
The former Laker, now with the Hornets, has had to grow up fast in his NBA career
Updated:
March 26, 2011, 11:51 PM ET
By
Dave McMenamin
| ESPNLosAngeles.com
MARINA DEL REY, Calif. -- On Saturday, just a couple of miles away from Westchester High School where he played his prep ball, New Orleans Hornets forward Trevor Ariza reflected on the few years that have passed since he left the Los Angeles Lakers.
"I think I have more confidence as a player now," said Ariza, lounging in the lobby of the Ritz Carlton. "When I got to L.A., I rarely would look at the basket and playing [with the Lakers] got me a lot of confidence. So, when I played in Houston and this year in New Orleans, there's just a total different confidence, different demeanor about myself."
The Lakers host Ariza's Hornets on Sunday in a potential first-round Western Conference playoff preview. Los Angeles has a 1 1/2-game lead on Dallas for the No. 2 seeding, while New Orleans has a two-game lead over Memphis for the No. 7 seeding.
[+] Enlarge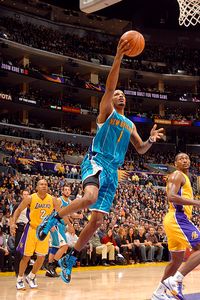 Noah Graham/NBAE/Getty ImagesTrevor Ariza has been with five NBA teams in seven seasons since coming out of UCLA.
Going into the season, the Hornets were expected to finish near the bottom of the conference with All-Star Chris Paul's future with the franchise in question after an off-season toast at Carmelo Anthony's wedding and Monty Williams making his first go-round as an NBA head coach.
They battled all season to establish themselves, starting off 12-1 and bouncing back from a brutal 4-8 mark in February before losing David West, their leading scorer and second-leading rebounder, to a season-ending ligament tear in his left knee.
"It's just another thing we've had to deal with," said Ariza, who had 16 points and six rebounds in a win against the Phoenix Suns on Friday -- the Hornets' first game without West. "Throughout this year there's been so much that's been going on in New Orleans and around that organization that we've kind of gotten used to playing with our backs against the wall."
Before Ariza allowed himself to fully embrace the hypothetical of coming back home to play the Lakers in the playoffs, he alluded to the difficult nine-game stretch New Orleans has remaining before it can clinch a playoff spot. Of the nine games, five are against teams in position to make the playoffs (L.A., Portland, Dallas and Memphis twice) while two more are against team nipping at the Hornets' heels to secure one of the final playoff spots in the West (Houston and Phoenix).
"We just got to get there first," Ariza said of going up against his former teammates. "If we get there, anything can happen."
The Hornets' success this season in the face of not only the expected NBA obstacle of player injuries, but also amid the uncertainty that came from the league purchasing the team from owners George Shinn and Gary Chouest in December, mirrors Ariza's career path.
After a bright freshman season at UCLA, he declared for the NBA draft and fell to the second round to New York. He made the Knicks' roster but was traded to Orlando during his sophomore season. He began to mature with the Magic, but was traded to L.A. after a season and a half.
Now just 25 years old, he's already with his fifth NBA team in seven seasons.
"I think I've had to grow up a little faster than I would have just playing in L.A.," said Ariza, who signed a five-year, $33 million free agent deal with Houston in the summer of 2009, opening the door for the Lakers to sign Ron Artest. "I know more now. We have a lot of younger players that really haven't been deep in the playoffs or in the thick of things. Since I've been there, I guess I can use that experience and share it with my teammates."
More on the Lakers

For more news and notes on the Lakers, check out the Land O' Lakers blog from the Kamenetzky brothers. Blog
Ariza was vital to the Lakers' championship run in '09, averaging 11.3 points while shooting 47.6 percent on 3-pointers as the team's starting small forward. Not only did he seal two wins in the conference finals against Denver with late steals, he averaged 15.5 points, seven rebounds and two steals per game on the road in Games 4 and 5 to close out Orlando.
Ariza was coming off a broken foot in 2008 when the Lakers lost to Boston in the Finals and played a total of just 35 minutes in the six-game series against the Celtics. Had he been healthy, the Lakers could be looking at a four-peat this season instead of just a three-peat.
"He definitely could have helped us, especially in Boston guarding [Paul] Pierce and Ray Allen," said Lamar Odom who lit up, and declared, "That's my guy!" when asked about Ariza. "There were some guys on that team in the playoffs when we made the run that we didn't get too much out of and I think Trevor would have been a guy that just could have helped. He's fearless."
Like the future scenario of playing the Lakers in the playoffs, Ariza was guarded when exploring some revisionist history.
"You never know what the outcome would have been," Ariza said. "I know what the outcome was -- we lost. But, I think it would have been a different situation if I was able to contribute a little bit more."
Still, even without the Boston series being something for him to brag about, Ariza had a strong impact on the Lakers in the short amount of time he was with the team. When the Lakers played in New Orleans this season, Ariza came to the visitor's locker room with his son to greet his former teammates and both Phil Jackson and Kobe Bryant said they've paid close attention to his career since he changed teams.
"I love home. I love my time when I was here. I love those guys," Ariza said.
So, should L.A. and New Orleans meet in the playoffs, will he be calling up Odom and Bryant to get dinner in between games?
"Hell no," Ariza said with a smile. "[I'll say] I'll talk to you after the series is over."
Dave McMenamin covers the Lakers for ESPNLosAngeles.com. Follow him on Twitter.
ESPN.com
Cavs and NBA writer for ESPN.com
Covered the Lakers and NBA for ESPNLosAngeles.com from 2009-14 and the NBA for NBA.com from 2005-09
Syracuse University graduate